There was a time, not too long ago, when it took a lot of convincing to get consumers to consider secondhand. Now, both consumers and the retailers that serve them are quite willingly jumping on the resale bandwagon, driving an already hot sector toward even further growth.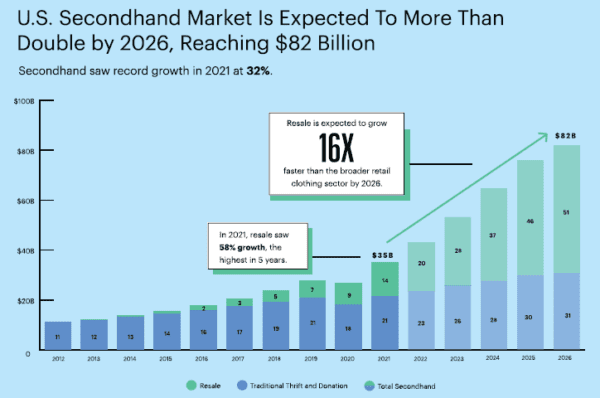 The U.S. secondhand market is projected to double in the next five years, reaching $82 billion by 2026, according to ThredUP's 10th annual Resale Report, conducted in partnership with GlobalData. And while North America remains the leader, resale is now clearly a global phenomenon: the worldwide secondhand apparel market is expected to grow 127% and hit $218 billion by 2026.
"I remember many years ago debating inside the business whether 'thrifting' was a good word in the mind of the customer," said ThredUP President Anthony Marino in an interview with Retail TouchPoints. "[In this year's report] three in four of the shoppers we spoke to self-identify as 'thrifters' — they actually use that word. It forces you to consider the ramifications for the future of shopping when you have a generation of customers who think of themselves as thrifters and are focused on value, sustainability and this style of buying."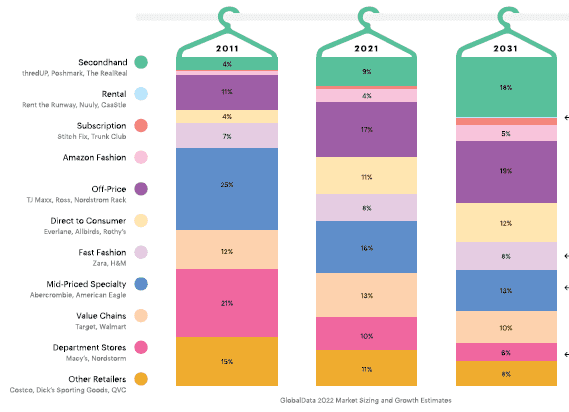 The "thrifters" cohort is growing steadily, with 41% of consumers now saying that when they shop for apparel, secondhand venues are their first stop. A whopping 81% of first-time thrifters said they plan to spend the same amount or more on secondhand in the next five years. Because of this, secondhand is expected to increase its "share of closet" more than any other sector over the next 10 years. At the same time, the rental and fast fashion sectors are expected to remain relatively flat, and department stores, value chains and mid-priced specialty retail will lose ground.
A number of factors will fuel resale's upward trajectory in the coming years, including:
The ever-increasing number of retailers and brands launching their own resale initiatives, up 275% YoY;
A growing supply of product combined with value pricing, which is creating a flywheel effect that is only amplified by current economic conditions; and
An improving experience that is steadily making resale a viable alternative to fast fashion among consumers trying to balance style and sustainability.
Retailers and Brands Take the Baton
Consumer demand was the driving force behind the last decade of growth in resale, but the next wave will be led by retailers and brands, said Marino. "When I started working at the company about 10 years ago, businesses like ThredUP were the vanguard for resale," he recounted. "We were working to convince anybody who would listen that buying used could be as good as new. But now it's clear that retail executives are not just listening to what their customers want, they're acknowledging it in their strategies."
The ThredUP report found that the number of brands with resale initiatives increased 275% YoY in 2021, with 52% of retail executives now saying they consider resale table stakes. Among the retailers that have launched resale programs in the just the last six months are The North Face, DICK'S Sporting Goods, Lululemon, PacSun, Allbirds, IKEA and Crocs.
"[Retailers] want to get into the resale game because it can open the door to new customers, it can generate profits on day one and it can be more sustainable — that is the triumvirate of drivers," said Marino. "But they want to do it in a way where after a year or two of being a resale, [they see] a halo and not a dilutive effect. Probably the number-one fear of many brands around resale is that it will cannibalize the purchase of new products — they're still in the business of selling new clothing, let's not kid ourselves. [So now we're seeing] brands look for ways to manifest their DNA in a resale experience and do it in a way that's creative for the brand."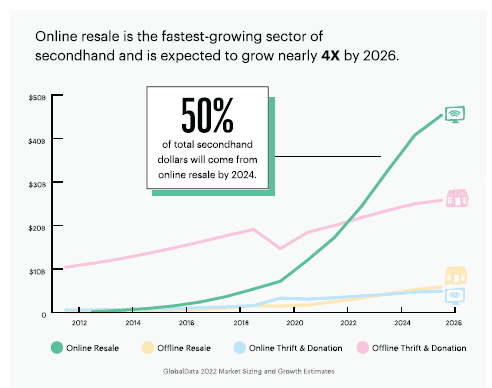 The role that technology has played in this growth, both on the consumer and retailer side of the equation, is significant — 70% of consumers say it's easier to shop secondhand now than it was five years ago. And just as online marketplaces have made it easier for consumers to enter resale, technology is doing the same for retailers, including ThredUP's own resale-as-as-service offering (RaaS) as well as solutions from other RaaS providers including Trove, Recurate and Archive.
"The fact that retailers and brands are driving so much of this growth says a lot about the future of resale, because great secondhand product now won't just be available on ThredUP and sites like it, it'll be available at your favorite brands and retailers," said Marino. "When great product is convenient to buy, you buy more of it."
The Macroeconomics of it All
The fact that thrifting is now trendy doesn't fully account for the huge growth in the sector — economics have also played a big role. "Macro conditions over the past four or five years have been a kind of double accelerant on resale," said Marino. "When we were all home quarantining it became very obvious to millions of people across America that they had a lot of stuff in their closets, and they weren't wearing the majority of it. That opened up this seemingly endless flow of supply — that was the first accelerant. The second is that economic uncertainty has a powerful effect on all of us. Whether it was the economic uncertainty early in the early days of the pandemic or the rise in inflation now, customers start to seek value. Value is always in fashion when economic uncertainty is high."
Resale has been in the unique position of offering solutions to both of these problems. Apparel is one of the top five categories where consumers said they are most feeling the impact of inflation, with grocery, gasoline, restaurants and household bills also making the list, according to the ThredUP report. And perhaps not surprisingly, within those five categories, apparel and restaurants are where consumers are making the most cuts (food and electricity have to come first, after all).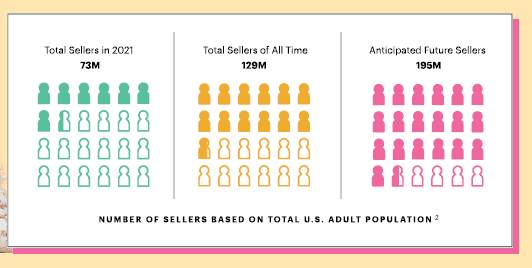 The result is that consumers are turning to secondhand to get their fashion fix — 80% of consumers said they are buying more secondhand apparel compared to 49% who said they are buying more apparel overall, and 25% of those surveyed said they'll consider buying more secondhand if prices keep rising.
Not only are consumers buying more used goods, they're also selling more — 57% of U.S. consumers (73 million) resold an item of apparel in 2021, and ThredUP anticipates that number will reach 195 million in the future. All of this fuels the resale flywheel.
Balancing What You Want with What You Believe
While the rise of conscious consumption has been well documented and discussed in recent years, the ThredUP report found that many consumers, especially younger ones, were having a hard time living up to their own ideals.
"One thing that really stood out to me [in the report] was this tension in the minds of younger shoppers who shop fast fashion," said Marino. "Shoppers love the cheap thrills of fast fashion, but their conscience weighs on them. [Our study found that] 65% of those who bought their first thrifted item last year said they want to quit buying fast fashion. That is another growth inflection — you have a whole generation of younger shoppers saying, 'I'm addicted to this fast fashion stuff, but give me another way out and I'll walk through the door willingly.'"
Consumers also reported problems with switching to sustainable brands, including issues with size inclusivity, the higher price points these lines typically command and concerns about greenwashing. As a result, secondhand is quickly becoming a viable option for environmentally conscious consumers that want to ditch their fast fashion habit without breaking the bank or compromising their style standards.
"Fast fashion continues to be incredibly cheap and convenient," said Marino. "We have to make resale an amazing value and just as convenient if consumers are going to make that switch."