With the UN Climate Change Conference COP26 making headlines from Glasgow and the high-flying performance of the Allbirds IPO earlier this week, all eyes seem to be on sustainability. For many retailers, a key way to reduce their environmental impact and boost their sustainability street cred has come in the form of resale and refurbishment services.
This week alone, three major retail brands announced efforts in that direction: IKEA is expanding its resale program to 33 stores in the U.S., Crocs has rolled out its own resale initiative with help from ThredUP, and UGG debuted a refurbishment program in partnership with NuShoe.
IKEA Takes 'Buy Back & Resell' Service National
IKEA is launching its Buy Back & Resell service in 33 stores across the U.S. following a pilot at its Conshohocken, Pa. store in September 2021. IKEA Family members will have the opportunity to sell back their gently used IKEA furniture in exchange for an IKEA store credit at participating stores. These secondhand products will be sold in the stores' AS-IS section, and customers can now shop secondhand items when online as well.
"The Buy Back & Resell pilot in Conshohocken had positive results — 100% of product brought in was resold versus recycled," said Jennifer Keesson, Country Sustainability Manager of IKEA U.S. in a statement. "By expanding the service to more stores across the U.S., we hope to inspire more IKEA Family members to participate and further showcase how sustainable living can be obtainable and affordable for the many."
IKEA U.S. also is promoting Green Friday, a sustainable alternative to Black Friday, with promotions throughout the month of November that include discounts on sustainable products and the launch of Sustainable Living Shops at all stores nationwide. These dedicated sections will focus on accessible and affordable products and solutions among the existing IKEA assortment that can help customers take small steps to reduce their climate impact and household costs by using less energy, reducing single-use products, creating less waste, using less water and caring, repairing, reselling and recycling. 
IKEA also is testing additional sustainable living solutions including buy back and take back services, in-store circular hubs and online platforms for secondhand products. Last year, more than 155,000 pieces of furniture were returned, recovered and given the chance of a new life.
"For me this is personal; we all need to take responsibility for climate action," said Jesper Brodin, CEO of Ingka Group, which owns IKEA, in a statement. "As a business we are deeply committed to become climate positive by 2030, and through our actions we managed to reduce our own footprint. In addition, we want to make more sustainable choices affordable and accessible for people and invite everyone to be part of the solution. With small changes in everyday life — reducing energy, water and waste — we can have a big collective impact."
Crocs Partners with ThredUP for New Resale Offering
Casual footwear brand Crocs has launched a new Clean Out program enabled by ThredUP's Resale-as-a-Service (RaaS) solution. Designed to give "pre-loved" items a second life, the program is part of Crocs' commitment to become a net zero company by 2030.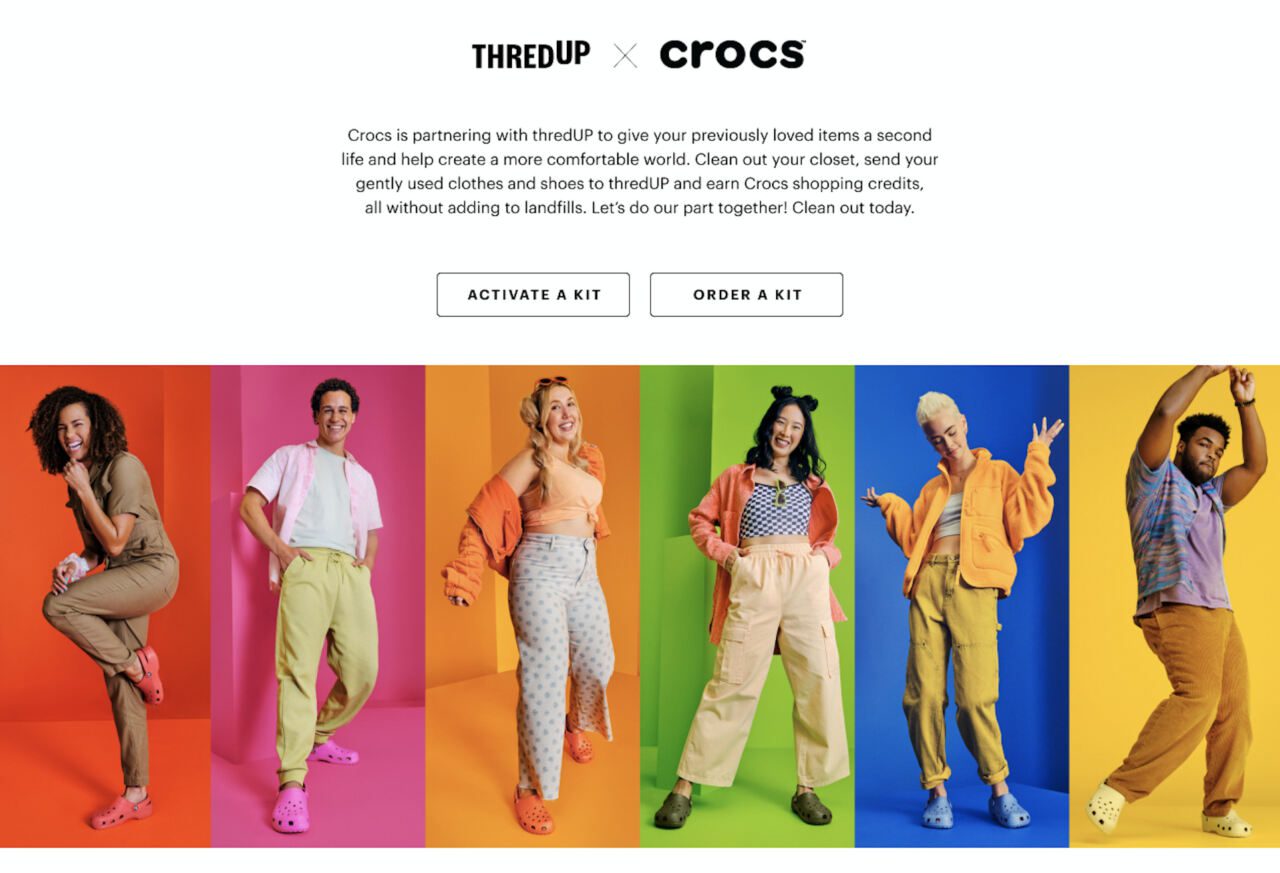 Crocs customers in the U.S. can now generate a prepaid shipping label and fill any shippable box with apparel, shoes and accessories from any brand, then ship it for free to ThredUP for resale. While it's encouraged, customers aren't required to donate Crocs shoes to participate in the program. Once the items are received, sellers receive a Crocs shopping credit. For a limited time, Crocs will provide an additional bonus to encourage customers to participate that can be used both in-store and at Crocs.com.
"Crocs shoes are incredibly durable and perfectly built for a second life, so encouraging customers to consider reuse is extremely important to us," said Michelle Poole, Brand President at Crocs in a statement. "Crocs and ThredUP are both committed to keeping products in use and out of landfills, and we're thrilled to partner with ThredUP to reduce our environmental footprint and bring us one step closer to achieving our net zero goal by taking action to create a more comfortable world."
UGG Gives Boots a Second Life (and Aims to Build Brand Loyalty in the Process)
As part of its Feel Good brand journey toward a "more regenerative world," UGG has launched a refurbishment program, UGGrenew, in collaboration with shoe repair company NuShoe. The program aims to help customers extend the life of their boots by restoring them by hand with authentic UGG materials. In addition to bolstering its sustainability efforts, UGG "views this as a great opportunity to build a long-lasting, direct relationship with its loyal customers."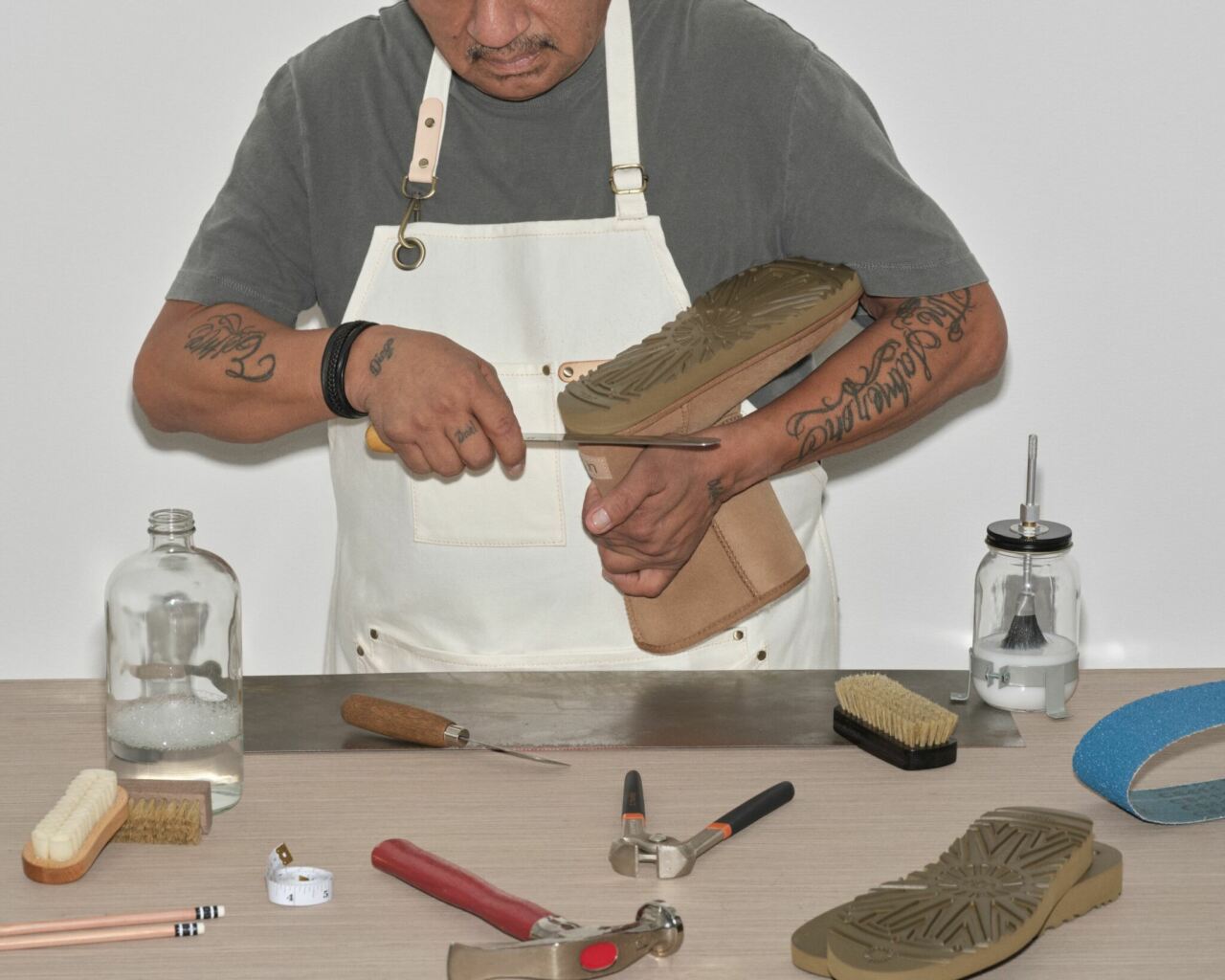 UGGrenew offers three levels of service:
Renew ($80): For a complete handcrafted restoration, NuShoe will update the boots with new bindings and a fresh Treadlite by UGG outsole. Additionally, the service carefully steam cleans the shoe inside and out with naturally derived detergents, helping lift stains, remove odor and condition the leather.
Restore ($60): Careful steam cleaning of the shoe inside and out and replacement of the old sole with a brand-new UGG outsole.
Refresh ($40): Steam clean only.
Because of the handcrafted nature of the service, NuShoe's capacity is currently limited to 100 pairs per day, but the company intends to scale the program to enable service of almost a quarter million pairs per year by 2023.
"UGG has made so many strides over the last year identifying key pillars to create a brand that makes a positive impact through tangible results," said Dave Powers, President and CEO of UGG parent company Deckers Brands in a statement. "We will continue putting the people, the planet and our products at the forefront of our decision-making. UGG is committed to being a more regenerative brand — one that prioritizes long-term value over short-term gain by restoring the health of people, communities and the planet."