Three years ago, electronics were by far the top product category that consumers bought online, but new research from Feedvisor shows the impact of consumers becoming more comfortable shopping online and new tools emerging to enhance the digital shopping experience.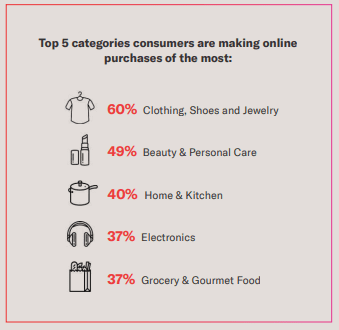 In a survey of 2,000 U.S. consumers, Feedvisor found that 60% of consumers make their most online purchases in the Clothing, Shoes and Jewelry category (#1), while 49% of consumers purchase the most in the Beauty and Personal Care category (#2). Electronics has dropped to the fourth position, after Home & Kitchen (#3). Rounding out the top five categories is Grocery and Gourmet Food.
Categories like apparel and grocery had been historically slower to expand online, primarily because of the difficulty of testing products like clothes and produce in a digital environment. But a combination of necessity (i.e. COVID) and new digital tools is moving the needle. In particular, retailers' adoption of interactive shopping features such as AR, VR and livestreaming is helping make consumers increasingly comfortable buying these kinds of high-touch products online.

That said, the survey found that consumers still prefer to make many of their purchases IRL, highlighting the continuing importance of strong omnichannel offerings. According to the survey, 47% of consumers plan to buy more products in the Grocery and Gourmet Food category at physical stores, while 41% of consumers plan to buy more items in the Clothing, Shoes and Jewelry category in person.
"Brands and retailers must cultivate a seamless integration of both their online and offline experiences, focusing on innovation and modified store experiences that feature digitally integrated, frictionless shopping," said Feedvisor in the report.