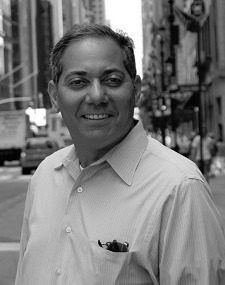 With the ability to "take the best of the store experience and customize it for the individual…VR will be how people shop in 10 to 12 years," said Lyron Bentovim, President and CEO of New York City-based The Glimpse Group.
In this exclusive Q&A, Bentovim shares his insights and expertise, based on his work with technology entrepreneurs and startups. The Glimpse Group is a platform company comprised of 10 startups focusing on a variety of Augmented Reality (AR) and Virtual Reality (VR) products.
Retail TouchPoints (RTP): What are the most compelling reasons for retailers to implement AR capabilities?
Lyron Bentovim: It can create a direct 1:1 relationship with the consumer that is personalized. AR provides a two-way ability for the consumer to connect with the brand in a personalized way, and for the brand to communicate directly with the consumer, telling them more about their story.
AR also will strengthen the brand-retailer relationship in the future. If the brand brings the experience into the store, it gives shoppers a reason to go to the store. Brands should look to localize the AR activation and work in partnership with the retailer to incentive shoppers — gamify the experience. For example, if the grocery store knows you just bought toothpaste, they can incentive you to buy a toothbrush or another related product.
RTP: Can you talk a bit more about how retailers can use gamification with AR?
Bentovim: It's no longer about just getting a burger at McDonalds — there is a social and incentive aspect to shopping today. Yesterday I was speaking with a bedding retailer that is incentivizing shoppers by offering them an immediate 5% discount on their purchase, via a virtual coupon, after they research five mattresses in-store. By taking shoppers on a treasure hunt of sorts within the store, they become more committed at that store and are less likely to leave without buying and go to a competitor to complete the purchase.
The AR technology allows retailers to know what people are looking at and see how it correlates to their buying decisions. Then you can provide a discount at the right time, for the right product. Unless you have an excellent sales staff, you can rarely do that without this kind of technology.
RTP: You're estimating that VR will reach retail saturation in the next 10 to 12 years. What's holding it back?
Bentovim: The hardware. We are very early in the tech cycle. Like the cell phones late 1980s — you need to get the hardware to the point that it is commonplace. Software-wise if a retailer came to us today — we can recreate a flagship store in VR, but no one has the hardware at home so it defeats the cause. Most of the big players spending a lot of money on VR today are focusing on hardware. Even Facebook spent $2B buying Oculus because they understand that they have to get the hardware in the hands of all the consumers.
If you look at Apple, Google, Samsung, Sony, Microsoft, Intel, Facebook — all are focusing on pushing hardware on VR and AR — with the hope and intent to become major players. Today, Apple is enabling AR capabilities in their browser. And we expect Google to add it to the Chrome browser.
RTP: Are there any retailers right now that are on the cutting edge when it comes to AR and VR?
Bentovim: IKEA is one that comes to mind. They are trying to be very innovative in their thinking. IKEA has done a good job of leveraging AR correctly to promote their brand and increase their sales.
RTP: Which industry segments will be on the forefront of AR/VR technology implementations?
Bentovim: Probably initially hard goods will leverage the technology. You can really capture the essence of hard goods products and show people how it will look in their homes. Apparel retailers will be safe for a few more years. Clothing is hard to model on your body using technology. It's hard to put on a blouse or dress in AR or VR and have it look natural.
RTP: Where do you see the greatest potential for AR and VR in the future?
Bentovim: The biggest area, for me, is training. The sky is the limit. You can recreate any scenario in VR and give people the opportunity to train in a real-life scenario. For example, a security guard at Grand Central Station can't do a real drill for a bomb scare, but we can create that scenario in VR. In retail, it can be used to assess potential hires' capabilities. Using VR you can give them an assignment and see how well they complete it before you hire them.