Retailers, brands and manufacturers are discovering some good news on the sustainability front: it's remarkably flexible. Individuals and companies are finding that they can apply the lens of sustainability to virtually any part of their operations — from the raw materials used to make products to how those products are packed for shipping to handling the waste that comes from unsold food.
Retail TouchPoints has identified five recent examples of sustainability in action:
1. Seeking a Double Benefit: Capturing Carbon to Create Raw Materials
Trees "eat" carbon dioxide and turn it into the cellulose they need to grow (which is one of the reasons deforestation presents such an enormous challenge to sustainability). Rubi Laboratories is seeking to mimic this natural process in the lab, and it has partnered with Walmart to pilot technology that captures carbon at the retailer's facilities and turns it into fibers that could be used to create what would be the ultimate in sustainable apparel — garments that would effectively be not just carbon-neutral but carbon-negative.
At this point, the pilot is testing whether the Rubi technology could be integrated at a larger scale in the Walmart supply chain with the effective capture of carbon emissions. Simultaneously, a brand pilot will be testing the fiber's performance in a prototype garment, with the goal of producing garment samples and, if successful, a larger apparel collection that would be sold in Walmart stores.
2. Growing Crops Using More Earth-Friendly Methods
Another Walmart initiative addressing sustainability at the very beginning of product lifecycles is the retailer's recently launched collaboration with PepsiCo. The two corporate giants will invest $120 million over seven years to establish and scale financial, agronomic and social programs designed to accelerate the adoption of regenerative agriculture practices on more than 2 million acres of farmland in the U.S. and Canada. The goal is to deliver approximately 4 million metric tons of greenhouse gas emission reductions and removals by 2030 — roughly equivalent to the amount of electricity needed to power nearly 780,000 homes for one year.
"Farmers know their business better than anyone else, and what we hear from them is that for regenerative agriculture to make business sense, three things need to happen," said Jim Andrew, Chief Sustainability Officer at PepsiCo in a statement. "They need economic support, social and cultural support, and agronomic support. This strategic collaboration with Walmart will advance our shared goal to have farmers' backs as they transform farming in a way that benefits the planet and people."
3. Generating Energy from Unsold Food
At the other end of the product lifecycle, initiatives to find alternate uses for items — including unsold items that would otherwise go to waste — can have a strong sustainability impact. Giant Food, a 165-store supermarket chain operating in the mid-Atlantic states, has processed 30.8 million pounds of wasted food in its first year of collaboration with Divert, mitigating nearly 1,400 metric tons of greenhouse gas emissions.
Divert and Giant Food launched the wasted food recycling program in 2022 to cut the amount of organic waste going into landfills. Giant's stores mark down, repurpose or donate unsold and still edible food to local food banks whenever possible, but for food that can't be repurposed or donated, Divert is able to recycle it and process the food into renewable energy.
The program, now operating chainwide, processes an average of 500 pounds of wasted food each day per store, and the two companies plan to expand the partnership in the coming year.
"Wasted food is a major contributor to greenhouse gas emissions and can cost the average grocery store about $40,000 in lost profit daily," said Ryan Begin, CEO and Co-founder of Divert in a statement. "Giant Food shares our commitment to tackling these issues through wasted food prevention and food donations that benefit our environment, communities, and ultimately, retailers' bottom lines."
4. Combining Sustainability with Accountability
The common denominator for all sustainability efforts is that they must be measurable. This is particularly important for publicly traded companies, many of which now routinely report their ESG (environmental, social and governance) activities in annual reports. But measurability is critical for any company, large or small, in order to benchmark progress and ensure that the actions they're taking are really making a difference.
Brooks Running recently launched two sustainability initiatives that each incorporate measurement. The maker of performance running footwear and apparel has introduced its Restart recommerce program in partnership with Trove, which will allow gently used footwear to be refurbished and resold, extending the life of the gear while providing a revenue source for future sustainability programs.
The retailer also has partnered with TrusTrace, a supply chain traceability platform, to enhance visibility across its manufacturing supply chain, helping it identify and mitigate risks to both responsible sourcing and business continuity.
By the end of 2022, all of Brooks' Tier 1 factories were using TrusTrace, and the company has now invited more than 200 lower-tier factories to participate in the platform. In the future, Brooks will use TrusTrace at the individual product level, enabling more transparency to consumers about where and how the products are manufactured while also improving the efficiency of chain-of-custody data collection for compliance with laws and regulations.
5. That's a Wrap: Minimizing Packaging Offers Multiple Benefits
The best sustainability efforts have multiple positive impacts. Using only the minimal amount of packaging required for any given order saves on packing materials, but it also means that retailers and courier companies are not using fuel to ship air. Smaller boxes also mean delivery vehicles can be packed more tightly, making each trip more efficient and planet-friendly.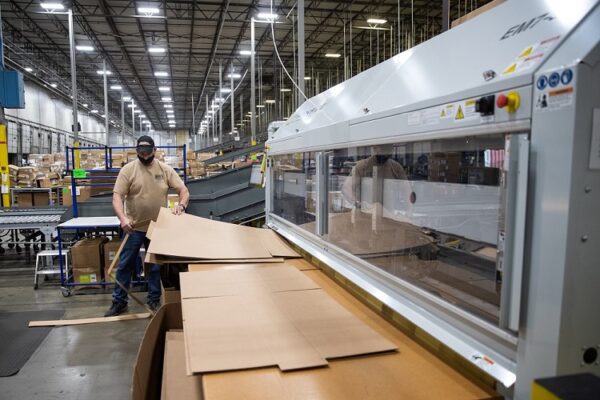 Retailer Northern Tool + Equipment leveraged technology from Packsize International that creates an optimally sized box for any product or combination of products that the retailer is shipping.
"About 40% of the product we sell is shipped, and it could be a wrench or a 3,000-pound pressure washer," said Shaun Bunch, SVP of Supply Chain Operations at Northern Tool in an interview with Retail TouchPoints. Size wasn't the only issue: "They don't make boxes [in the shape of a] snow shovel, for example, so we were often 'Frankensteining' boxes together," Bunch added. "We were causing a lot of waste in terms of the amount of air we were shipping, not providing the right-sized boxes for customers and making it a bad experience for employees finding a way to make it work."
Adopting this technology has had that desired multiplier effect, Bunch added: "On an annualized basis, we're seeing a 30% reduction in corrugate spend, a 35% increase in trailer cube [space optimization] and a 25% increase in productivity. There's also been a reduction in product damaged through shipping, because the packaging is so snug, tight and customized."