ThredUP is teaming up with TikToker Nava Rose to launch the Dump Fast Fashion Shop, an online secondhand storefront to help consumers thrift for Valentine's Day and beyond. The company also continues to grow its resale-as-a-service offering, with specialty retailer Francesca's tapping ThredUP to power its new resale offering.
The Dump Fast Fashion Shop was inspired by ThredUP's Wardrobe Resolutions Survey, which found that more than one in three consumers (36%) are resolving to quit fast fashion in 2023. Rose is one of them, with the TikTok star resolving to forgo shopping from or partnering with ultra-fast fashion brands this year — and hoping to inspire her fans to do the same.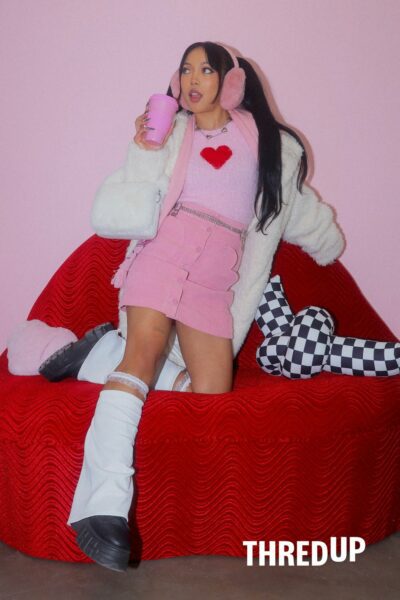 "I really believe in 2023 we have to start living more ethically," said Rose in a statement. "And trust, I know what it's like to feel like fast fashion is the only option when you've got a $20 budget. Been there, done that! But we (and the planet) deserve clothes that last, you know? This 2023, I'm making big changes. Together with ThredUP, I'm committed to ghosting fast fashion. New fast fashion is getting zero of my coin this year!"
Rose's V-Day shop on ThredUP is inspired by the TikTok fashion trend "Rom-Com Core," an homage to powerful female main character energy. The shop features three distinct looks that Nava thrifted on ThredUP. Shoppers can thrift Nava's style using the platform's What They Thrifted tool, which utilizes AI to surface hundreds of close matches from ThredUP's inventory.
The Dump Fast Fashion Shop is only the latest salvo in ThredUP's ongoing war on "fast fashion addiction." In June 2022, ThredUP responded to a SHEIN pop-up in San Francisco by offering Bay Area customers 40% off their first ThredUP purchase and free shipping if they pledged not to shop the SHEIN pop-up event. Then in August 2022, ThredUP launched a helpline inviting Gen Z to call in for support in resisting fast fashion.
"Gen Z's passion for sustainability continues to be at odds with their fashion consumption habits," said Erin Wallace, VP of Integrated Marketing at ThredUP in a statement. "Our latest data shows that 2023 may be the year that this generation finally quits ultra-fast fashion for good, and we are here to support them. We're thrilled to partner with Nava Rose — her DIY ethos, love of thrift and fashion-forward style make her the perfect person to help our customers discover guilt-free Valentine's Day looks to kick off those wardrobe resolutions."
Another way ThredUP is helping shoppers kick their fast fashion habit is through its resale-as-a-service platform. Francesca's is the latest retailer to join the ThredUP fold with its new Forever Francesca's resale program. Francesca's customers can now shop for secondhand apparel, shoes and accessories at Francescas.Thredup.com, and resell pre-loved items from any brand to earn Francesca's shopping credit.
"We are aware of the environmental impact apparel has on our planet, and our work with ThredUP in launching Forever Francesca's is an important first step in doing our part to make a difference," said Jann Parish, Chief Marketing Officer at Francesca's in a statement. "Our millennial and Gen Z customers value their ecofootprint but they also come to our boutique for a fun opportunity to find something unique — resale is the perfect blend of both of those experiences. This strategic alignment with ThredUP allows us to innovate how we go to market and offer customers unique product solutions that meet their shifting demands."