Over the last few years, sustainability has become increasingly important to consumers. But as is often the case, shoppers' actual actions still lag behind their intentions, according to a new study from the IBM Institute for Business Value (IBM IBV) in association with the National Retail Federation (NRF). The study found that while 62% of respondents said they are willing to change their purchasing habits to reduce their environmental impact (up from 57% two years ago), only 31% said that sustainable products made up most or all of their last purchase.
"For consumers and companies, the top-of-mind awareness and relevancy of sustainability continues to increase, everything is running steadily that way, yet there continues to be this gap between what we say and what we do," said Karl Haller, a Consumer Center of Competency Leader at IBM in an interview with Retail TouchPoints. "The question for retailers is how to eliminate that dissonance that's happening in the consumer's mind. How do you help them behave in the way they think they want to behave; what closes that gap?"
IKEA and Grove Collaborative are two retailers that seem to be well on their way to answering that question. Executives from both companies spoke at the2022 NRF Big Show, which took place Jan. 16-18 in New York City, where they shared their approaches to sustainability both at the corporate and consumer levels:
Both companies are looking for ways to appeal to both "purpose-driven" and "value-driven" consumers as they navigate the varied priorities that go into shoppers' purchasing decisions;
Going back as far as 20 years, IKEA has baked sustainability into its DNA, working to find ways to deliver eco-friendly products at affordable prices; and
Grove Collaborative is working to move the CPG industry forward and meet consumer demand with sustainable products that don't sacrifice quality.
Moving the Sustainability Needle
While several distinct consumer cohorts support sustainability, their underlying motivations — and actions — can differ significantly. The IBM IBV study, based on responses from 19,000 consumers across 28 countries, identified the two largest groups:
"Purpose-driven consumers" — shoppers who seek out products and brands that align with their values and are willing to change their habits to reduce environmental impact; and
"Value-driven consumers" — shoppers that seek out value, convenience and products or services that will simplify their lives, and therefore are less inclined to change their habits to reduce their environmental impact.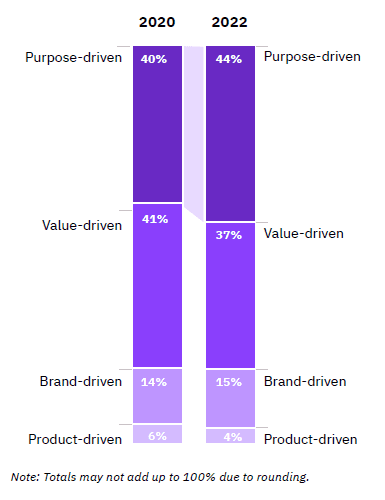 "With the value-driven consumer, the only way to close that 'intention-action' gap is same price, same quality, same selection, same convenience — there have to be no trade-offs," said Haller. "The purpose-driven consumers are where it starts to get interesting; these are the people who you can move the needle with."
Fortunately, the balance between purpose- and value-driven consumers is shifting. Purpose-driven consumers now make up the largest segment of respondents in the 2022 IBM IBV study, at 44%, up from 40% in 2020. They have overtaken the value-driven segment, which accounted for 37% of respondents in the 2022 study. 
IKEA: Putting Sustainability at the Core of the Business
Another piece of good news for the planet: Even among value-driven consumers there are opportunities to close the intention-action gap, by making it easier and more affordable to shop sustainably without sacrificing quality. IKEA is a poster child for easy, affordable sustainability, although the company didn't get there overnight, according to Javier Quiñones, CEO and Chief Sustainability Officer of IKEA U.S., who spoke at the NRF Big Show.  
"We didn't start with sustainability recently, it's part of our DNA," said Quiñones. "Back 20 years ago we had this little corner that we still have today called As-Is, where customers can buy products that have been [discontinued or were used for display] at a reduced price. So [our sustainability efforts] started many, many years ago — it's part of the way we do things and how we believe we need to do business. It's so important that sustainability is integrated into your business model and into the vision."
Those efforts have expanded greatly over the past two decades. They now encompass everything from producing the energy for its operations at its own solar and wind farms — IKEA today actually produces more energy than it uses — to eliminating everything but LED lightbulbs from its assortment, and steadily finding ways to decrease the price of those bulbs. When IKEA began selling LED bulbs in 2015, standard bulbs cost $7 to $8 each, Quiñones recounted. Today, IKEA customers can buy LED lightbulbs for as little as $1.29.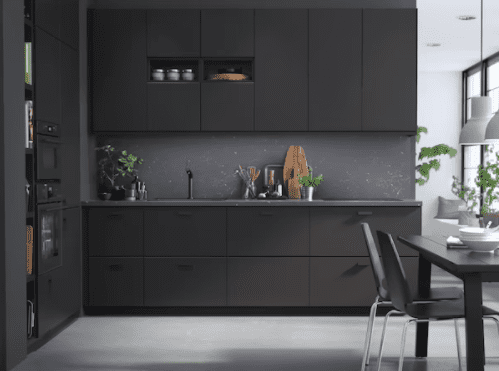 "We want to make sustainability affordable for the many and not only for the few," Quiñones said. "It goes from end to end. From the design of the product — deciding what the material is going to be, how it's going to be sourced and from where — to the operations and making sure that our buildings are powered by green energy."
Other sustainability initiatives Quiñones touched on include:
The company's Kungsbacka line of kitchen cabinetry made out of recycled plastic bottles (which Quiñones used to design the kitchen in his own home);
The new Buy Back & Resell service to promote product life circularity;
The rollout of electric vehicles across its delivery fleet (already launched in several major cities, including New York) that will encompass the retailer's entire delivery operation across the world by 2025; and
All the way down to the brand's renowned meatballs, which Quiñones said have 3% of the environmental impact of regular meatballs.
For Quiñones, taking real action on sustainability begins at the top: "[Sustainability has to be a] leadership issue and not only a business priority," he said. "It will only happen through leaders that stand up and take action and are fully committed. It's a good first step to have a Sustainability Manager next to the other functions, but it's really when you integrate sustainability [into existing leadership roles] that you'll see movement. Instead of pushing it from the sides, move it to the core of the business, because then the decisions that you make are filtered through that agenda."
To see Quiñones' commitment to that ideal, one need look no further than his own dual job title.
Grove Collaborative: Meeting Consumer Demand
Another brand built around a sustainability mission is Grove Collaborative, which creates eco-friendly household and personal care products. Grove Collaborative has staked its claim to the title of the "first plastic-neutral retailer in the world," with a product range that has eliminated the need for plastic (think refillable glass spray bottles instead), and a focus on plastic-neutral and carbon-neutral delivery.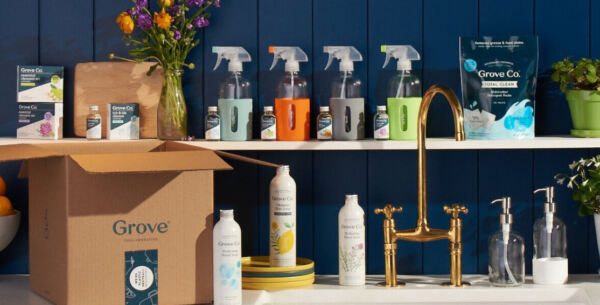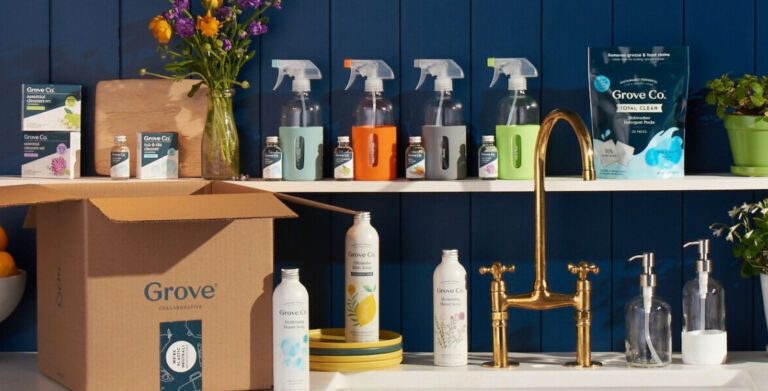 "This is a very interesting moment in retail and CPG," said Luana Bumachar, VP of Owned Brands and Innovation at Grove Collaborative in a session at the NRF Big Show. "It's the first time I've seen consumers ahead of the industry, demanding change, and we've been pretty slow [to respond]."
Bumachar would know, having spent the bulk of her career at CPG giant Unilever. Now at Grove Collaborative, her goal is to move that needle. "We don't do incremental innovation," she said. "We continue to rethink and redesign the category. We don't need to be category leaders, but we need to lead the category."
Crucial to Grove's success, however, is that innovation doesn't come at the cost of quality. According to Bumachar every product the company creates needs to meet this trifecta:
Consumer-centric — "It's not about what consumers want today, but what they'll want tomorrow."
High performing — "If you deliver products that perform sub-optimally, consumers will move on."
Sustainable — "You don't have to compromise on performance to get sustainability, and vice versa."
The brand, which started as a pure-play DTC, now has a national brick-and-mortar presence through a partnership with Target that Bumachar said goes beyond the traditional retailer-CPG relationship because of the companies' shared missions and values.
For a company like Grove, with products that come at a slight premium and aren't sold at every corner store and pharmacy chain, consumer education is key. The brand has to convince consumers of the benefit of spending a little more and perhaps going out of their way to buy its products.
"Education is a very big job for us," said Bumachar. "The industry is pretty greenwashed and it's a very confusing environment," for example understanding which types of plastic are recyclable and which aren't, or whether aluminum or glass are better environmental choices than plastic.
"[We have to both] train the consumer to understand, and also simplify and break things down for them," Bumachar added. "This is part of the transparency movement, and the companies that are the most transparent about both the good and the bad will do well. Consumers are willing to join us on the journey. You don't have to be perfect, just say 'I'm trying my best for now' and they are willing to join you in trying to do the right thing."
In fact, the idea of working together to effect meaningful change is central to Grove's sustainability philosophy: "Innovation and collaboration go hand in hand, especially if you want to change the industry," said Bumachar. "You can't pretend you want to do it yourself; that's why 'Collaborative' is our last name. This is a community movement, not an individual one."
Quiñones expressed the same sentiment in his session: "It's extremely important that business leaders share what we do, and that we discuss together how we can do more, because this is a journey that we will only do together."