Take an increasingly eco-conscious consumer set, combine it with decades-high inflation and supply chain snarls tying up new inventory and you have the perfect recipe for the rise of resale. Sounds simple, but while brands in categories like apparel and luxury goods are eagerly getting in on the resale action, it's actually a hard recipe to get right — especially if you want to make money. And that challenge is exponentially harder in logistically complex categories like furniture.
"Resale is one of the biggest opportunities for any retailer today, but the problem is very hard when you're talking about oversize," said Chris Richter, Founder and CEO of FloorFound, which powers recommerce efforts for oversized products, in an interview with Retail TouchPoints. For product categories including furniture, major appliances, fitness, bedding and DIY, "it's not only a technology problem and a process problem, but it's also a network problem [in terms of logistics and fulfillment]," he added.
Those challenges haven't dissuaded DTC sustainable furniture brand Floyd, which teamed up with FloorFound two years ago to launch its white label recommerce program, dubbed Full Cycle. Founded in Detroit in 2013 "as a reaction to the disposability of furniture," Floyd creates modular beds and sofas that can adapt and grow with customers over time. Since launching the Full Cycle program nationwide in 2021, Floyd already has achieved a 72% gross recovery rate that has also contributed to a reduced carbon footprint for the company.
"We approach sustainability through the design of our products, the sourcing of materials, reducing the carbon footprint of transportation and delivery, all of that, but we also want to be really deliberate after we bring something out in the world to take ownership of the entire lifespan of the product," said Aaron Turk, SVP of Operations and Corporate Development at Floyd in an interview with Retail TouchPoints. "We wanted to find new ways to extend the useful life of our products."
Through its Full Cycle recommerce program Floyd has been able to:
Double down on its sustainability mission by reducing the carbon footprint and landfill contribution of returned and damaged products;
Bring in incremental revenue; and
Connect with a new set of consumers and convert many of them into full-price customers.
The Outsized Problem of Oversize Returns
For the furniture industry in particular, finding ways to resell damaged, used or unwanted items has the potential to create a huge impact. In 2021, 10% of sales in the $80 billion online furniture market were returned, according to Richter and 90% of those returns ended up in landfills. In fact, the EPA estimates 9 million tons of furniture ends up in dumps every year. 
"That's $7 or $8 billion of returns going into landfills or being written to zero because [the retailer is] telling the customer to just keep it," said Richter, who has worked on the tech side of ecommerce for more than 15 years at companies including Convey and Bazaarvoice. "I knew that oversized returns was an unsolved problem and was contributing heavily to landfill pollution and carbon emissions. So I thought, what if we could build a model where retailers could participate in this recommerce revolution and at the same time solve this returns problem for these oversized items."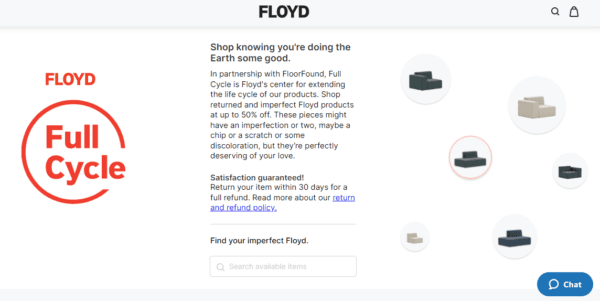 Floyd began piloting its Full Cycle recommerce program with FloorFound in California in 2020 and launched it nationwide the following year.
"We have a pretty low return rate, but there are returns and there are imperfect products that get quality checked out [of the sales cycle] during production," said Turk. "Up until [we launched Full Cycle] we didn't have a great outlet for those items. We would take them back ourselves, set them aside and maybe do a warehouse sale or donate them. We wanted to find a better, more scalable solution, and FloorFound allowed us to do that."
The company already has seen significant economic and environmental benefits in the form of a reduced carbon footprint and a 72% average gross recovery rate on returned items. But the biggest benefit has been for the brand itself, said Turk: "Full Cycle is allowing us to connect with our customer to really validate and show progress on our sustainability journey," he said. "We're not perfect, and we want to show that continued effort and improvement."
"For solid brands that are designing quality products for life, resale is a seal of that," added Richter. "If I'm building products that last a lifetime then why should they only sell one time? They should sell two or three or four or five times. It's all about just building a loyal lifetime customer."
Streamlining the Reverse Flow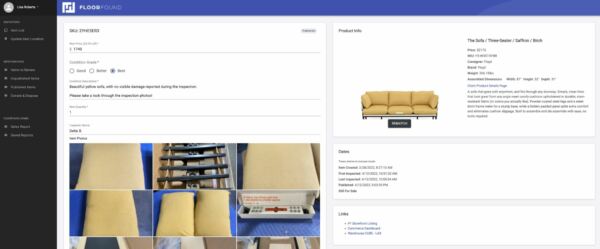 While its benefits are clear, resale processes are complicated. "What makes this really hard for a retailer is their systems were never designed to be optimized for the reverse flow," explained Richter. "We've got thousands of items now coming backwards — we need to get the product data right to begin with, we need to have visibility into the inspections and a process for getting something that's in a one-of-a-kind condition added to inventory with the right description. Making that as streamlined as possible is a big part of the challenge, including automation of all the logistics around that."
FloorFound helps take the work out of that process for retailers like Floyd, Joybird and Burrow with:
A network of 25 warehouses across the U.S. that enable localized pickup, inspection and resale;
Software solutions to handle grading, merchandising and pricing; and
Managing the post-purchase experience once an item is resold.
"We coordinate everything from who's going to pick it up to where it's going to go," said Richter. "Once it gets back to the warehouse, employees use our software to run an inspection process to determine what condition the product is in and how to grade it. We have a platform to review the pending inspection reports and determine the pricing, then we list it for sale on the Floyd Full Cycle website."
In addition to managing the brand's white label recommerce site, FloorFound also handles syndication of product listings across other relevant platforms including AptDeco, Chairish and FloorFound's own marketplace. However, "about 75% of the sales of these items come through the direct brand channel," said Richter. "We mainly operate FloorFound.store to understand buying behaviors and the pricing and promotional tactics that work or don't work."
Bringing in New Customers and Keeping Them Happy
For Floyd, the program offers the added benefit of improving customer acquisition and retention: "75% of the customers that purchase on Full Cycle are new to Floyd and 25% of those customers actually come back and purchase something at full price from us later on," said Turk. "The average time to sell for a product on Full Cycle is eight days, so the demand is extremely high. It allows us to capture some incremental revenue and we're engaging with customers that maybe wouldn't have purchased from Floyd."
One element that's critical for recommerce success is customer service: "Customers will shop brands for recommerce, but when they do they expect the experience to be every bit as good as a new product purchase," said Richter. "We all know [a vast majority of] shoppers say if they have a bad return experience they'll abandon the brand. So we're responsible for that, but then on the downstream side [through the resale process] we're the custodian of our client's brand. It's not just buying furniture online, now you've also got to get comfortable with buying something that's resale. You have to help consumers develop a level of confidence to do that, which is why our satisfaction guarantee is so important."
Looking forward, Turk said Floyd plans to expand its recommerce efforts into replacement and expansion parts in addition to the core furniture items it resells today. Full Cycle currently makes up a very small portion of Floyd's total sales — less than 1% of revenue — but "every week and month that goes by we're increasing the percentage of our returns and imperfect product that we allocate to FloorFound, so we're seeing it scale and provide more and more to the top and bottom line," said Turk.