[Dive even deeper into Babylist's content- and community-driven business strategy in this episode of the Retail Remix podcast with CEO Natalie Gordon.]
Operating a brick-and-mortar baby chain has been tough going of late (if BuyBuy Baby and Babies 'R' Us are any indication), but that doesn't intimidate Babylist Founder and CEO Natalie Gordon, who sees the missteps of legacy chains as an opportunity to reinvent the model.
Her own dismal experiences with legacy retailers when she was expecting are what prompted Gordon to create the ecommerce registry and content site 12 years ago. Now she's planning to take the same fresh approach that has made Babylist a digital sensation and bring it to physical retail.
The brand's first 18,000-square-foot flagship Showroom is set to open this summer in Beverly Hills, Calif. (right around the same time, interestingly, that Babies 'R' Us will be launching its comeback in New Jersey). The prize is a big one, with the global baby market expected to be worth somewhere in the neighborhood of $88 billion by 2026 — and Gordon is betting that she has the vision and street cred to flourish where others have failed.
"I'll be interested to see what [the legacy brands'] new envisioning of [the store experience] is, if it's actually new," said Gordon in an interview with Retail TouchPoints. "It's always been really important for me for Babylist to be the modern option. That's what I was looking for when I started it, and now 12 years later most Babylist users are younger than me; they're almost a different generation. We've shown that we are great at creating the kind of experience people who are becoming parents want online, through TikTok and in the metaverse — this is like very much in our DNA."
Over the last 12 years, Babylist has grown into what Bloomberg estimates is now a $300 million business. The company serves around 8 million families each year with its combination of baby registry, ecommerce shop and product guides and has gathered over 1 million followers on TikTok. In 2022, Gordon said the company logged approximately $900 million in GMV across its own ecommerce site and through partnerships with retailers like Gap and Wayfair.
The company's first retail store will be developed around the same ethos and voice as its digital counterpart, which Gordon describes as "like your big sister — she's a few years ahead of you and she's gonna give you the lay of the land. She knows you're smart and you can figure things out, but you've just never done this before."
To bring that to life in a retail environment, the Babylist Showroom will feature:
A guided experience that walks shoppers through the process of finding everything they need without overwhelming them;
Products placed in real-world settings so they can be easily trialed and tested;
An inventory-light model that focuses on building a registry rather than making immediate purchases (but with a boutique featuring smaller items for gift givers or impulse buys);
Integrated brand activations that give both endemic and non-endemic brands the chance to introduce themselves to parents-to-be; and
Opportunities for customers not in the LA area to still experience the store digitally.
A Little Hand Holding Can Go a Long Way
Making customers cry isn't typically the desired result of any retail experience, but Gordon said she has heard countless stories of expecting parents who had that exact reaction upon entering a baby store for the first time. Gordon's primary goal with the Babylist Showroom is to flip that script. "If we get this right, rather than being overwhelmed, [parents] will have a feeling of being taken care of," she said. "My goal is that this is something parents look forward to — that going to the Babylist Showroom is a milestone of having a baby."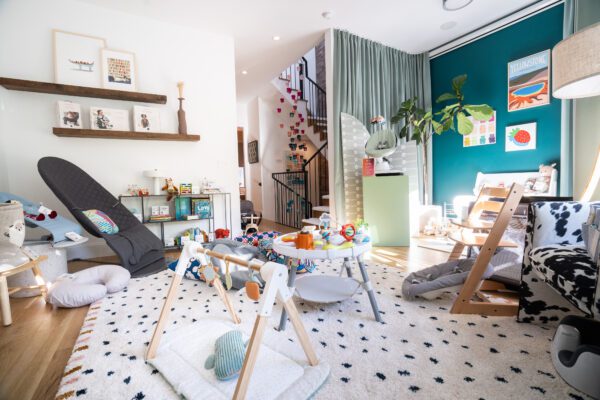 To create that feeling, the store will offer a guided experience with a natural pathway, similar to an Ikea, that begins with creating your Babylist registry. Customers then explore products in a series of spaces designed to look like their real-world counterparts — the kitchen, the nursery, the playroom, etc.
In addition to being able to try out products in real-world settings, customers also will have access to Babylist's wealth of digital content like customer reviews and product details to inform their decisions. "It will be this, dare I use the term, metaverse-style experience — a blending of IRL and digital," explained Gordon. These integrations will be enabled through things like QR codes as well as the store associates, who will play a crucial role in helping shoppers explore and learn.
In fact, the primary goal of a visit to the Babylist Showroom won't be to fill a cart with everything you need, but rather to build your online registry. As the name implies, the store itself will be light on inventory, focusing instead on the experience itself. "It's a place where I can actually see six baby monitors all pointed at a baby and see how they actually work, as opposed to choosing from a wall of boxes," said Gordon. "And then the primary action I take is adding one to my registry."
Which isn't to say you won't be able to buy anything. The Showroom will also feature a boutique featuring the kinds of things "you would grab on the way to a baby shower or stuff you might be dying to take home [after visiting the store] like baby's first outfit," said Gordon. "It's going to be more seasonal and gifting rather than things like the crib."
Selling Confidence Before Products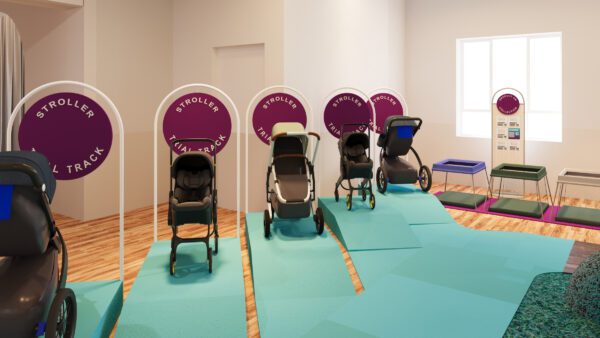 The ability to touch and test products in real-world settings is a key component of the store. "It's not going to be ultra curated, but we really want you to be able to understand the selection and make the right decision for you," explained Gordon. Shoppers will be able to try out highchairs at a table, for example, or test out strollers at different inclines and on different terrains on a "stroller track" and even see how that stroller fits in the trunk of a car.
The LA Showroom won't be the first time that Babylist has tried out this retail model. The company first tested the concept with two "Babylist Cribs" pop-ups in LA and New York where it outfitted two homes with a range of shoppable products. "I walked into our first Cribs event and I was like, we are doing this for real," Gordon added. "We thought people were going to come spend an hour and they were spending multiple hours. They were really engaged in trying out and seeing all the products."
Like Ikea x b8ta (for Baby Products)
The other thing the Cribs pop-ups did was prove the financial model for a permanent store. While the company will make money eventually on products bought through its online store and registry, the store itself opens up a new revenue opportunity in the form of brand activations.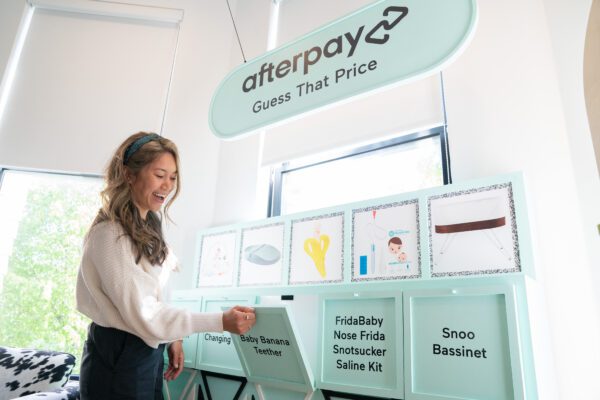 "Cribs gave us the confidence that the business model behind this could work," said Gordon. "We have this trusted audience, and with Cribs we showed that we could create a great experience with partner integrations."
In July 2022, Babylist launched a content studio for brands called The Push that allows brands to connect with Babylist's audience through custom campaigns. Brands will be able to participate in the LA Showroom in a similar fashion, creating custom in-store activations that showcase their products. Among the brands already signed on the participate when the Showroom launches this summer are Baby Jogger, Dorel Juvenile (which owns brands that include Maxi-Cosi, Tiny Love and Safety 1st), Ergobaby, Chicco, BabyBjörn, Million Dollar Baby Co., Frida and Nanit.
Gordon is particularly excited about the chance for non-endemic brands to also create activations in the store — Gap and Wayfair are two that have already signed on. "When people are going through this life stage, they're making so many decisions — life insurance, buying a minivan, all of those things. Babylist has already shown digitally that we can meet the needs of these partners, and the Showroom will be another way to help them connect with this audience."
From LA to the World
Even though the Babylist Showroom will be located in LA, the company plans on making sure that customers all over the country can experience the store through user-generated content (UGC) on social media and an accompanying metaverse experience. (Babylist created similar metaverse experiences for the LA and New York Cribs pop-ups as well.)
As a result, Gordon is anticipating a bump in the number of Babylist registries not just in the LA area, but all over. "We actually think we're going to have more registries nationally because of the UGC component of this," she said. "I think TikTok is going to be filled with regular people all the way up to major influencers who will go to the space, and it's going to have this really big brand halo."
As far as plans for actual physical expansion beyond LA, Gordon said that all depends on how shoppers respond to the first store: "With Cribs we tested, we learned, we showed we could do it and we showed it was financially accretive — that's what we're going to do with the Showroom," she said. "We could learn there's a real, scalable strategy here or that it's great as a standalone, and I'm actually very open to both cases. Our vision is being the generational brand when you're having a baby, serving you and your whole family, so either way this is a step in that journey."
[Dive even deeper into Babylist's content- and community-driven business strategy in this episode of the Retail Remix podcast with CEO Natalie Gordon.]
All images courtesy of Babylist.