Babies 'R' Us will return to brick-and-mortar retail in the U.S. this summer with the opening of its first flagship location since the brand's 2018 bankruptcy. The store will be located at the American Dream mall in New Jersey, alongside the flagship of sister brand Toys 'R' Us, which opened there in December 2021.
After filing for bankruptcy and shuttering all its U.S. stores, the Toys 'R' Us and Babies 'R' Us brands passed through a number of hands before being acquired by current owner, brand management firm WHP Global, in March 2021. Since that time, WHP's revival efforts have primarily focused on the Toys 'R' Us brand, with the opening of the aforementioned U.S. flagship as well as a wide-reaching store-in-store partnership with Macy's.
Now the next item on WHP's agenda is clearly Babies 'R' Us. The chain can already be found online in more than 20 countries and still has more than 100 standalone and co-branded Toys 'R' Us locations outside of the U.S.
"Since acquiring both the Babies 'R' Us and Toys 'R' Us brands in 2021, our mission has been laser-focused on bringing them back to America," said Yehuda Shmidman, Chairman and CEO of WHP Global in a statement. "We achieved that mission for Toys 'R' Us by opening our global flagship at American Dream and through our landmark partnership with Macy's. Our plan to open Babies 'R' Us at American Dream in the coming months is a huge milestone in the return of Babies 'R' Us to the USA, and it sets the stage for a national rollout of Babies 'R' Us in the future."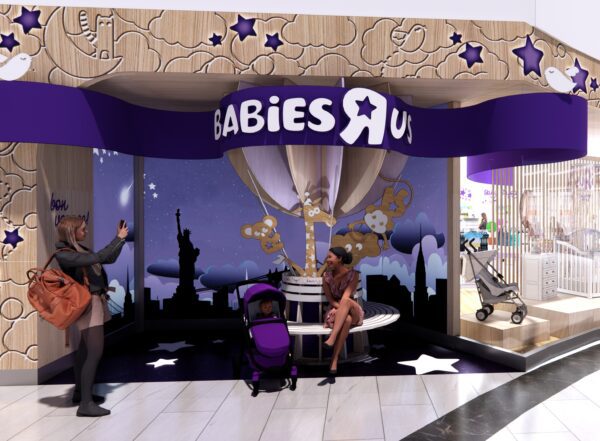 The new Babies 'R' Us flagship will feature a full range of products, services and expertise, as well as new interactive experiences including;
A Stroller Test Track;
A Bon Voyage Photo-Opp station where parents can announce their new arrival; and
A Wishing Tree, where friends and family members can share their well wishes for baby.
Popular in-store features from the brand's past life also will be making a reappearance, including a Baby Registry Lounge; a Nursery Design Center with room set displays; a Learning Center for private events and educational workshops; and a Comfort Zone to feed or change baby.
Ahead of the store opening, Babies 'R' Us will begin to roll out content and resources for new and expecting parents across its digital channels, beginning with a video feature from actress and first-time mother-to-be Gina Rodriguez (Jane the Virgin).
"Following the success of the Toys 'R' Us flagship, which opened just over a year ago, we are thrilled to see Babies 'R' Us back in the U.S. as part of the unparalleled retail experience that can only be found at American Dream," said Don Ghermezian, President and CEO of American Dream in a statement. "We are excited to add the first Babies 'R' Us flagship to our robust retail and entertainment lineup and know that families with young children and expecting parents will be thrilled to have access to this incredible destination for all their baby-related needs."