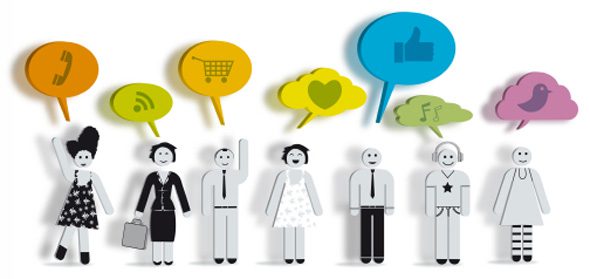 Many retailers may believe they're already doing a fine job of listening to their customers. After all, they see shoppers in their stores; track their online and mobile shopping patterns and eventual purchases; and in some cases, leverage loyalty and customer relationship management programs to paint detailed portraits of who their customers are, as well as the value they represent to the retail organization.
Useful as all these research tools are, they simply aren't capable of keeping up with the newly energized, highly empowered customer. Today's consumer is increasingly aware not only of what she wants but when she wants it, how she wants it delivered and even how much she wants to pay for it. Her expectations around product availability, depth of information, and delivery options have risen sharply, fueled by the immediacy of search engines, smart devices and a crowd of competitors ready to meet the most specialized request.
Virtually all companies and organizations are also contending with the increasing impact of social networks. Research from InMoment reveals that as far back as 2012, nearly three-quarters (72%) of consumers used Facebook to make retail/restaurant decisions, and that half of consumers had tried a new brand due to a social media recommendation. On the negative side, social networks allow any member to provide instantaneous reviews of everything from products to service to store cleanliness, creating a powerful "megaphone" for connected consumers.
These too exert a powerful impact: 70% of consumers trust opinions posted online by their fellow consumers, according to the 2011 Nielsen Global Trust in Advertising Survey. Many retailers have discovered, to their chagrin, that even if they're not really listening to their customers, many others are.
At a minimum, retailers need to step up their game in terms of actively listening to the Voice of the Customer (VoC), simply to stay aware of what's being said about them and to identify weaknesses and trouble spots before they create long-term damage.
That's the basic challenge, but leveraging the VoC also creates opportunities. Retailers can make use of the wealth of information emanating from these rich communication channels to gain an even deeper understanding of who their customers are, and what motivates them to browse and, more importantly, make a purchase. Sophisticated analytical tools can reveal what shoppers really want — even when customers can't verbalize it themselves.
The rewards can be significant: according to Aberdeen Research from 2013, companies that are leaders in "active social listening" have website conversion rates three times as high as followers, and boast customer renewal rates that are nearly 50% higher.
The most advanced retailers will be able to use these hard-won insights to shape their omni-channel strategies, leveraging VoC into Social Relationship Management (SRM) and Social Customer Experience Management (CEM). These retailers will be able to harness their customers' native enthusiasms, creating passionate fans and advocates who will happily spread the good word to their own interwoven web of connections.
Seeking Shopper Input
Forward-thinking retailers are realizing the value of collecting and analyzing shopper feedback. UK department store retailer Debenhams was an early adopter of technology designed to seek out deeper levels of customer information. A program that kicked off in June 2009 put invitations on register receipts that encouraged customers to complete an online survey that asked questions about product range, value for money, quality of service provided, displays and other elements of the customer experience.
These "intelligent" surveys, powered by a solution from InMoment, not only ask questions tailored to the customer's particular experience, they also recognize when a customer is responding negatively to a number of questions. An initiative called "Customer Rescue" provides shoppers the option of being contacted by the store's manager to help resolve their issue. This helps avoid customer defections to competitors and potential negative word of mouth. If their issues can be successfully resolved, such "rescued" customers are more likely to become highly loyal customers.
The "Customer WOW" element of the program asks shoppers if an associate has gone above and beyond expectations. If so, the survey tool generates an e-mail to store managers, allowing them to congratulate the staff member.
Results have been impressive for the 169-store chain: in the first two years of the program, 380,000 pieces of feedback were collected, translating into 25 million data points. More than 50% (nearly 200,000) customers were WOWed by the Debenhams team, and nearly 6,000 customers were "Rescued." Debenhams built up a database of more than 200,000 opted-in customers for future communications, and 22,000 advocates made 2.2 million recommendations to friends and followers via the solution's GoRecommend function.
The Emerging Customer Experience Challenge
Receiving positive feedback and recommendations requires offering a positive customer experience. This has never been a simple task, and it's only become more complicated in an age of sharp competition and rapidly rising expectations. Ernan Roman, President of Ernan Roman Direct Marketing (ERDM), has identified five elements that comprise a high-value customer experience, based on more than 12,000 hours of one-on-one consumer interviews his company conducted across a wide range of companies and brands.
"An improved customer experience means improving the customer experience across every point of contact with the retailer," said Roman. "If consumers today are multi-device and multi-channel, they expect retailers to surround them with a high-value customer experience across all of these points."

Customers want the positive experience to apply to all elements of the retailer's media mix, as well as all departments throughout a retail enterprise. "Creating a good customer experience is not just multi-channel; it has to be organizational," explained Roman. "Customers won't have patience if they run into problems when they call customer service, or have to deal with poor problem resolution or billing issues."

Customers want the high-value aspect of the experience to last throughout the entire relationship, "not just when [the company] is selling or renewing me," said Roman. "We hear over and over again customers saying 'The fastest way to be forgotten is for me to buy from you.'"

Positive experiences must increasingly be driven by customers' individual preferences, particularly around communications. This applies not just to the message itself but to its timing, frequency, and the media mix/vehicle that each customer considers appropriate. "This can't be just a generalized algorithm, it needs to be what each customer has opted in to and expressed to the brand," Roman noted. "And be aware that the way a shopper engages with Amazon might be very different from the way they want to engage with Netflix, or Golfsmith, or Lowe's, or Kroger. There can also be varying preferences among different people living within the same household."

In an age of sensitivity around divulging personal data, if a customer is willing to provide deep, rich personal information, the payback they seek is that they see their preferences driving high-quality personalization of communications and experiences. "It needs to be made obvious to the customer that the retailer collecting information is using it to fulfill its promises, so for example they are no longer sending irrelevant e-mails or catalogs — and the ones they are sending are more targeted to the shopper's individual needs," said Roman.
Improving Active Listening
Improving social relationship management, a key element of using VoC effectively, can boost the positive impact of VoC strategies. This involves moving beyond basic social media monitoring to engage in active listening, which ties what companies learn to specific actions they take in response to their findings.
In one example, Alex and Ani has incorporated active listening into the business structure. The jewelry retailer has added the role of VP of Digital Strategy at the corporate level as well as a social media liaison at each of its 39 stores. Each liaison is charged with staying in constant contact with the social team at HQ. Having these local representatives helps create more relevant campaigns and events, adding to the sense of loyalty that both store and multi-channel customers have with the brand.
"Active social listening combines social media monitoring with an infrastructure of action," according to Social Powers Activate: Engineering Social Engagement to Win the Hidden Sales Cycle, a September 2013 report by Trip Kucera, VP of Client Success and CMO-in-Residence at Aberdeen Group. Active capabilities include processes to "identify and categorize social influences and customer advocates (these are sometimes the same person, and sometimes different), as well as processes to identify specific posts for follow-up engagement. Leaders also put processes in place to route or escalate social posts to the correct department for follow-up, such as sending hot leads to sales or customer issues to support."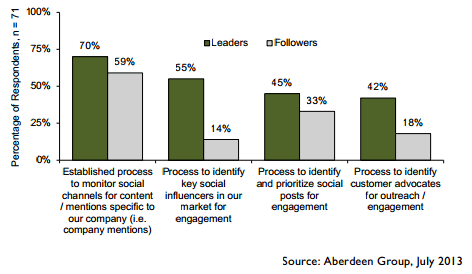 How does this translate into measurable results? Companies that Aberdeen identifies as Leaders (in the top 35% of aggregate performers) achieve the following performance metrics compared to Followers (the bottom 65%).
Leaders have:
A 7.5% average web site conversion rate, vs. 2.4% for Followers;
20.3% average conversion from marketing response to marketing-qualified lead (MQL), vs. 3.5% for Followers;
Average customer renewal rates of 73%, compared with 49% for Followers;
26% year-over-year increase in positive social mentions, vs. 1.6% for Followers;
27% year-over-year growth in unique site traffic, vs. 2.2% growth for Followers; and
13% annual revenue growth, compared with 0.6% for Followers.
Part II of this article will explore how retailers can dig even deeper into the intricacies of social advocacy and VoC, with key tactics for transforming this information into action.