Nike has acquired RTFKT — a company that creates digital artifacts, including "Metaverse-ready" sneakers and other collectibles — for an undisclosed amount.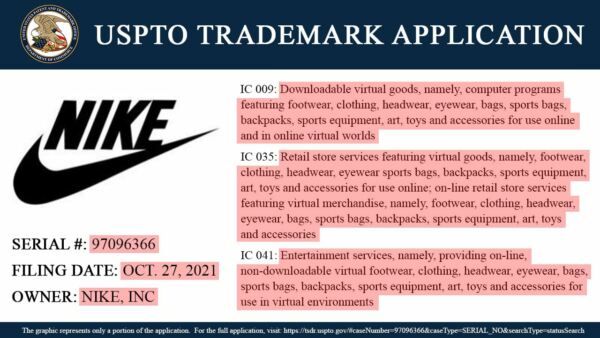 The RTFKT acquisition is the latest Nike move into the metaverse; the company filed a number of trademark applications in early November 2021 that hint at future plans for virtual Nike shoes and apparel. That same month, Nike also debuted a virtual world called Nikeland on the gaming platform Roblox.
"This acquisition is another step that accelerates Nike's digital transformation and allows us to serve athletes and creators at the intersection of sport, creativity, gaming and culture," said John Donahoe, President and CEO of Nike in a statement. "We're acquiring a very talented team of creators with an authentic and connected brand. Our plan is to invest in the RTFKT brand, serve and grow their innovative and creative community and extend Nike's digital footprint and capabilities."
RTFKT leverages the latest in game engines, NFTs (non-fungible tokens), blockchain authentication and augmented reality to deliver next-generation collectibles that merge culture and gaming. In the short time since it was founded in January 2020, RTFKT has made a name for itself with a number of viral digital sneaker designs, memes and collectible exclusives.
"Nike is the only brand in the world that shares the deep passion we all have for innovation, creativity and community, and we're excited to grow our brand, which was fully formed in the metaverse," said Benoit Pagotto, Co-founder of RTFKT in a statement.