The speed at which TikTok has become a focal point of conversation and community in the U.S. has been nothing short of impressive. The social platform debuted in the U.S. in late 2016, and a little over five years on TikTok now sees 1 billion global users monthly. In fact, in 2021 the site got more traffic than Google.
In the U.S., 50 million people visit the site daily, most notably those sought-after younger generations — 37.3% of Gen Z uses the platform at least once a month. Its popularity has come at the expense of other social and entertainment mainstays — Meta CEO Mark Zuckerberg said TikTok is "one of the most effective competitors that we have ever faced." and popular creator Casey Neistat said TikTok poses an "existential risk" to YouTube.
For one company to elicit so much panic from competitors and passion from consumers at the same time is a noteworthy feat. At the 2021 Retail Innovation Conference TikTok's Matt Cleary, the company's Vertical Director for Retail and Restaurants, revealed exactly what it is that makes TikTok tick, and how retailers can harness the power of this unique platform to connect with their customers.
Driving Discovery: #TikTokMadeMeBuyIt
Before we get into the nuts and bolts of how to effectively engage with consumers on the platform, let's take a look at the form commerce is taking on TikTok, which can be summed up in one hashtag: #TikTokMadeMeBuyIt.
This "completely organic phenomenon," as Cleary described it, has racked up more than 8 billion views and counting. "#TikTokMadeMeBuyIt really represents how our community and creators are coming together to fuel not only discovery but trial recommendation, and to contextualize products, brands and services in their life," said Cleary. "Culture is created on TikTok. Things that happen on TikTok naturally matriculate out into the real world, and we're seeing the same thing happen with shopping. The digital experience is driving offline impact."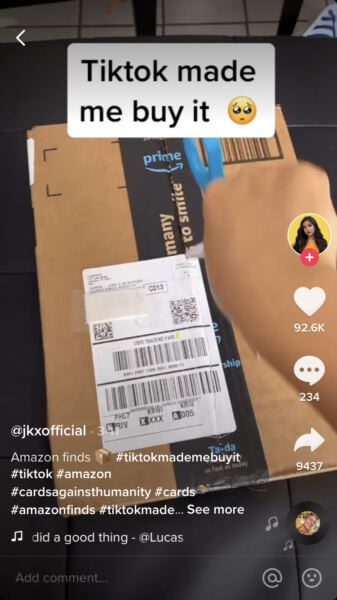 Part of the reason this phenomenon occurs so organically on TikTok is that the platform is designed around discovery rather than peer engagement. TikTok's algorithm uses a content graph rather than a social graph, meaning that what appears in your feed is based on other content you've liked and engaged with, rather than the activity of your family and friends.
"People don't go on TikTok to check in and see what's going on with this one ecosystem of friends, family or peers," explained Cleary. "They go on TikTok to be entertained and to discover something new."
That element of discovery has been key to the success of commerce on the platform, which was only amplified by the pandemic. "With COVID we lost, for a while, that key place for product discovery — the store," said Cleary. "TikTok, and other platforms as well, filled that void, and community commerce has risen out of this opportunity for enhanced product discovery in a shortened purchase funnel. These [online] communities have transformed the customer journey from a linear path of awareness, consideration, research and then discovery, to an ecosystem of engagement that sparks action immediately."
While the actual process of selling on TikTok is an ongoing evolution, it all begins with great content. Here are Cleary's four top tips for creating TikToks that connect, and hopefully convert.
1. Be Entertaining
This may sound obvious, but it gets at an essential feature of the TikTok platform — it's not about social engagement like Facebook or Snapchat or Instagram, it's about entertainment. Case in point, on average users spend almost a movie's length amount of time on the platform every day.
"We look at ourselves as an entertainment platform," said Cleary. "Our community comes to TikTok with this intent to watch and enjoy. You talk about 'checking' other platforms, but you 'watch' or 'create' TikToks. TikTok is sound on, it's full screen, and that level of engagement is just unmatched when you think about other platforms or other experiences that happen on your device — you can't really be on TikTok and do anything else."
2. Be Real
It's a general tenet of almost all social media that consumers are looking for authenticity from the brands they encounter in these personal spaces. However, this is perhaps even more important on TikTok, which is built around the idea of community and co-creation.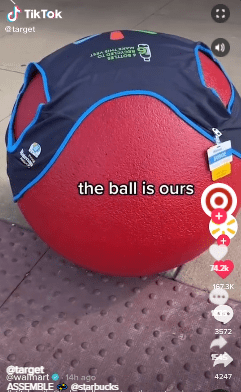 "Our community is naturally very inclusive, and they expect brands to be the same way," said Cleary. "They like it when brands are unpolished or show a side that's a little bit different. It's not always just the successes either, sometimes the fails are just as engaging and entertaining — they show a true side of yourself that resonates with the community. It doesn't have to be perfect, you don't have to overthink it, it's more about being participatory than being perfect."
As an example, Cleary pointed to the "war" between Target and Walmart. It began with a video of a Target associate holding a Walmart shopping cart hostage and giving Walmart 24 hours "to respond." Walmart did, posting a "stitch" (a response video) with an image of a Target ball engulfed in a Walmart vest. The volleys continued back and forth for several days, with both retailers ultimately emerging as winners. "Both Target and Walmart saw a significant increase in their follower count, which ultimately is people on the platform saying 'You get this, you get us, and we want to come along for the journey,'" said Cleary.
3. Make it Native
With so many social media platforms out there, brands can be forgiven for trying to optimize their content efforts by using the same material in multiple places. However, this strategy can backfire on TikTok, said Cleary. The format and style of TikToks are so different than those of other platforms that it works best when you create content specifically for the site, although it could also be repurposed elsewhere. "You just can't lift and place from other platforms," said Cleary. "That doesn't always resonate on TikTok because the community is so engaged. They sniff out like, 'Oh, this is actually just a TV ad.'"
Before you create anything, make sure you have a good feel for that special TikTok style: "You have to be comfortable and understand what already is working on the platform," advised Cleary. "Whether it's organic or promoted, all content shows up in the same feed, so in order for it to resonate, it should look and feel the same way that other users' content looks and feels."
4. Keep on Posting
If you haven't gotten the gist yet, the TikTok community is highly engaged, which means you have to be too; posting-and-running won't do. Not only do you need to engage with the responses you get to your own content, you should also be tuned in to larger trends happening on the platform and join in on other conversations, especially if they relate to your brand or sector.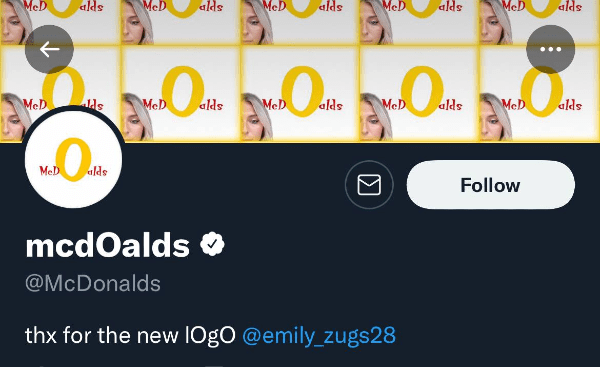 "TikTok now is moving from just a way to reach customers with a message, to listening to them to understand what you should be putting out there," said Cleary. "We've seen success from brands that have actually crowdsourced ideas, from ideation all the way to product. That's incredibly powerful, but that doesn't happen unless you're engaged on the platform and listening and participating."
Another important thing: "You can't take yourself too seriously," added Cleary. A great example is how brands got in on the action when artist Emily Zugay decided to do comedic redesigns of their logos (including TikTok's). McDonald's even went so far as to replace its logo with the redesigned version on all its social handles.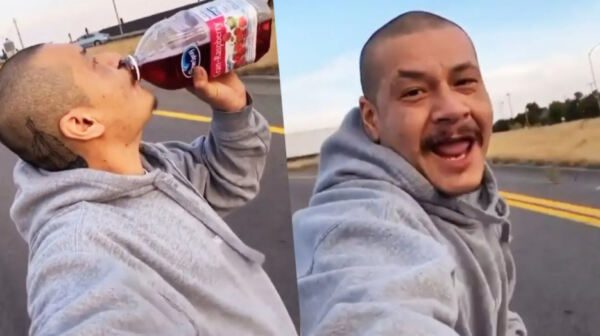 Because TikTok trends can be unpredictable and sometimes not totally understandable (like last year's viral Ocean Spray craze), being present is a baseline requirement. "It's just developing that muscle memory and being prepared to recognize when those moments are happening, and then figuring out how you can add your own authentic twist to a challenge or a trend or a video [that's taking off]," said Cleary. "There's a moment to lean in and play along and co-create — brands that have done that have been really successful. You should always be adding on to a moment though as opposed to repurposing it."
One Final Tidbit: What to do if Things go Wrong
Part of the reason TikTok can be intimidating to marketing teams is the unpolished, off-the-cuff nature of the content, and it does come with some risks. Cleary's advice? If you have a "fail," don't worry about it too much.
"The fails are sometimes more celebrated than the successes," he said. "Lean into it and don't overthink it. Ultimately, it's more about consistently showing up than nailing one perfect moment. The idea is that this is a community that wants to co-create and have fun. The community generally rewards people who are willing to try."
This story is based on a session from the 2021 Retail Innovation Conference. You can view it here for free, and don't miss the chance to hear first-hand from dozens of the top minds in retail at this year's in-person event, the Retail Innovation Conference & Expo May 10-12, 2022 in Chicago. Registration is now open!