Toy company Educational Insights launched in 1962, long before the internet existed. Now the company has become the first toy brand to test out the hottest new arena in digital selling — TikTok Shop.
Brands have been clamoring to sell on TikTok almost from the moment the platform began its meteoric rise and the #TikTokMadeMeBuyIt hashtag proved its commerce potential. Now it's here: first launched in the UK and several Asian markets, TikTok Shop was quietly made available in the U.S. in November 2022. If Educational Insights is any indicator, it's as game-changing as brands hoped it would be.
Educational Insights first launched its shop in April 2023, and Lee Parkhurst, Senior Brand Manager at the company, said they've "been quadrupling our business month over month since."
"TikTok has made it frighteningly easy to buy — it's literally a swipe and the product is on its way to you," said Parkhurst in an interview with Retail TouchPoints. "We've been able to sell lots and lots and lots of products, to the point that TikTok is quickly becoming one of our larger [points of sale]." While Parkhurst couldn't divulge exact numbers, he did share that after just three months, TikTok was already quickly approaching the company's top five selling channels. That's saying something when you consider that the company has decades-long wholesale relationships with major retailers like Target, Walmart and Walgreens, as well as its own storefront on Amazon.
"We don't even see TikTok as a social platform anymore; we see this as an entertainment platform," added Parkhurst. "It's pretty cool to be on the cutting edge of innovating there, because it's something that a smaller company like us can do. It's not Saturday morning cartoons; it's not these huge, big-budget ads — but we can still create incredible content and connect with thousands, even millions of consumers through TikTok."
Parkhurst took Retail TouchPoints behind the scenes of the company's growing TikTok empire and its entrance into the emerging world of TikTok commerce.
Multi-Player 'Kanoodling' Lights the TikTok Fire
Started by husband and wife duo Burt and Diana Cutler in 1962 to help their daughter Carol learn how to read, Educational Insights has since become a mainstay on toy shelves across the U.S., with hit educational toys and games like Sneaky, Snacky Squirrel and Playfoam. But the meteoric success on TikTok of the 3D puzzle game Kanoodle (first introduced in 2007) took everyone by surprise.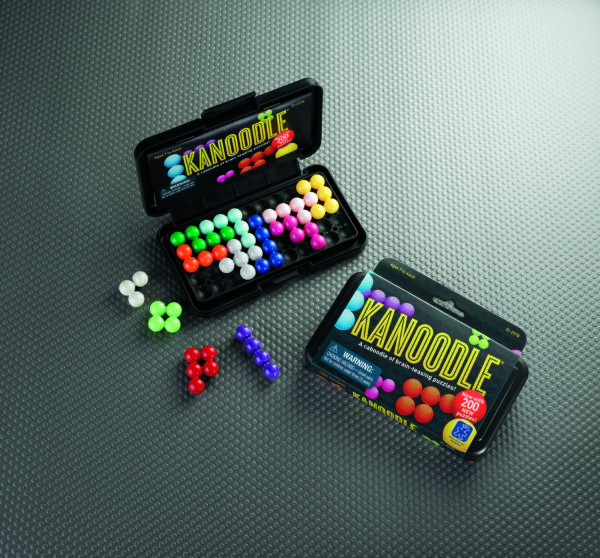 "At first, we threw a lot of noodles at the wall on TikTok just to see what was going to work and what people were going to respond to," said Parkhurst. "We started seeing people play Kanoodle, which would literally have been one of the last things we ever would have guessed, because traditionally Kanoodle is a one-player game. But suddenly on TikTok, people were playing it together, asking 'Which piece should I move first?' and things like that. It's become this whole thing, like a community collaboration to problem solve together through Kanoodle. I'd love to take credit for it, but it really started to manifest on its own."
That manifestation was aided by TikTok creators like Miss Arlene (@silentmath), who featured the game as a fun math-oriented "brain break" for students, first in her offline work as a math teacher and then on TikTok. Her Kanoodle videos have garnered millions of views, and she has since been crowned the Kanoodle Queen and created a dedicated handle to match. #Kanoodle has since gathered more than 335 million views and there's even a Kanoodle TikTok challenge.
TikTok took notice and reached out to Educational Insights to see if they'd be interested in being the first toy brand to test out the TikTok Shop interface. "We're a good company to work with for those kinds of opportunities because we don't have a ton of red tape," said Parkhurst. "We're not Mattel or Hasbro where a thousand people have to approve stuff. We're nimble and super entrepreneurial. My boss, Lisa Gulli, is always asking, what's the big next thing?"
That next big thing appears to be TikTok Shop: the company saw a 400% increase in sales on the platform in the first month, from April to May 2023, and another 2,000% increase from May to June. Educational Insights also were early adopters of other social commerce offerings on platforms like Facebook and Instagram, but Parkhurst said no previous platforms they tried even came close to performing like TikTok Shop has.
Behind the Scenes of Setting up a TikTok Shop
Educational Insights worked with Ghost Agency, an official TikTok Shop partner, to set up its TikTok Shop, which features a small selection of the company's assortment that's focused primarily on the Kanoodle and Playfoam lines.
Ultimately it is the features of the products themselves that determine whether they'll make it into Educational Insights' TikTok content and Shop. "We are very curated about the products that we offer on TikTok, because it's about entertainment," said Parkhurst. "On TikTok people like to see stuff in action — it's a different experience than just seeing a picture of it on Instagram or watching a show on Netflix. I yell at my television, but my television will never interact back with me. But on TikTok I can watch along with millions of people at the same time, interact with them, tell them what to do, like with their Kanoodle: 'Use the red piece, not the blue piece.' Suddenly I've become part of the show, and I think that's something people really crave. It's something that we're really exploring — how to create experiential entertainment through TikTok that connects with people."
Just as with finding the right content strategy, setting up the company's TikTok Shop was a process of trial and error: "There was some blood, sweat and even a few tears behind getting set up and figuring it out, but once we did, we were off to the races," recalled Parkhurst. "We have an Amazon-level warehouse and fulfillment center, and a customer service team that needs to input all of our orders, so there was a lot of backend development that we needed to do in order to connect with TikTok, beyond what smaller sellers need."
Now that they are set up, Parkhurst said TikTok's seller portal "is awesome. We have tons of visibility into who's selling our product, what they're doing and what the numbers look like." He also said that TikTok "have been really great partners" throughout the process as he and his team encounter challenges or have feedback. His biggest complaint now is that it's still a bit challenging to upload new products to their TikTok Shop, which is part of the reason they are keeping their product offering on the platform relatively small.
Fulfillment is handled by Educational Insights (although that might change soon as TikTok begins to roll out fulfillment services for sellers, à la Amazon). Customers receive the regular suite of communications from Educational Insights about their order, but they also can check order status and track their package in TikTok as well.
As far as the financial arrangement, Parkhurst couldn't share specifics except to say that TikTok takes a percentage of the sales made on its platform.
The Fuel in TikTok's Fire — Creator Affiliates
Most of the mechanics of selling on TikTok will feel familiar to merchants who sell on any third-party platform, but where TikTok stands out is with its affiliate marketplace. The ease with which creators on the platform can feature products in their content "has taken what was already on fire and just blew it up massively," at least in the case of Educational Insights, said Parkhurst. The company now boasts more than 2,500 affiliates on TikTok: "There are now thousands of people selling Kanoodle for us, creating their own content and linking to our products in their shop. Now instead of just us and a handful of ambassadors, we have this whole TikTok army."
While there's no way that Educational Insights could be actively involved with each of those thousands of creators, the brand does have the right to nix content. Still, Parkhurst said an important part of selling on TikTok is letting go of the reins a little bit: "Technically anybody who wants to sell Kanoodle on TikTok can, but that's not that different from the specialty stores or other people that book our product," he said. "There is this mass concept of selling now that is a little hard for us to wrap our minds around, but we are able to have content revoked if there's anything questionable or unsavory."
And, if Educational Insights wants to fire up that grassroots seller base, there are levers it can pull on TikTok. For example, since affiliates are paid commissions on sales, Educational Insights can increase the commission they offer during times when it wants to rev up promotion. "As far as incentivizing campaigns and sales, TikTok is doing something that Amazon just can't do," said Parkhurst. "[A creator] can make a 15% to 20% commission selling Kanoodle on TikTok, where on Amazon they're making 4% to 6% commission. This has absolutely changed the game for a lot of these smaller content creators that run [affiliate campaigns] in TikTok because it now also offers that seamless in-platform shopping experience. They don't have to point anybody to a link to go shopping at Amazon."
It should be noted that while commissions on TikTok are markedly higher right now, there's no telling what will happen as the commerce side of the platform matures. Other commerce destinations, including Amazon, offered lower fees and higher commissions when they were starting out to draw in sellers and creators, but on many of those platforms those numbers have changed dramatically as market share improved.
Could Content-First TikTok Overtake Product-First Amazon?
TikTok seems to be rapidly emerging as a real competitor to Amazon, in particular because of its mastery of the content side of the equation: "Amazon was product-first, and then they tried to layer on the content piece with Amazon Lives and other stuff," noted Parkhurst. "But as a shopper on Amazon, I'm not here for that, I'm just trying to buy dog food. TikTok on the other hand has had the opposite approach. They've developed communities and content niches for everyone, and then they layered on the ecommerce part.
"Gen Z is using TikTok the way that we [older generations] use Google and Amazon," he added. "Gen Z goes straight to TikTok to watch real-life authentic variations of products or concepts in action. TikTok has created this kind of magical 360-degree creation realm of community, content and now product that is seamless, makes absolute sense and doesn't feel inauthentic the way it does on Instagram or Amazon."
However, the impact of TikTok on Educational Insights' bottom line isn't only due to sales happening on TikTok, despite the fact that more and more are. Parkhurst and his team have noted a distinct halo effect with certain of its TikTok content that carries out to other retailers, including Amazon. For example, Miss Arlene (aka the Kanoodle Queen) does a regular live show on TikTok. The company typically sees an uptick in sales of Kanoodle during these sessions, but interestingly the majority of those sales are still coming through Amazon, said Parkhurst. (The company also sees lifts in sales at Walmart, Target and other retailers during these live sessions).
"TikTok has become a big advertisement for people to then go over to Amazon and buy [the product] because it's cheaper or they get free shipping," said Parkhurst. "Either way it's good for us. The kind of brand awareness and product awareness that we're able to create through TikTok is just unprecedented, and whether they buy it there or go shopping somewhere else, it's all a win for us. It's a win for them too."