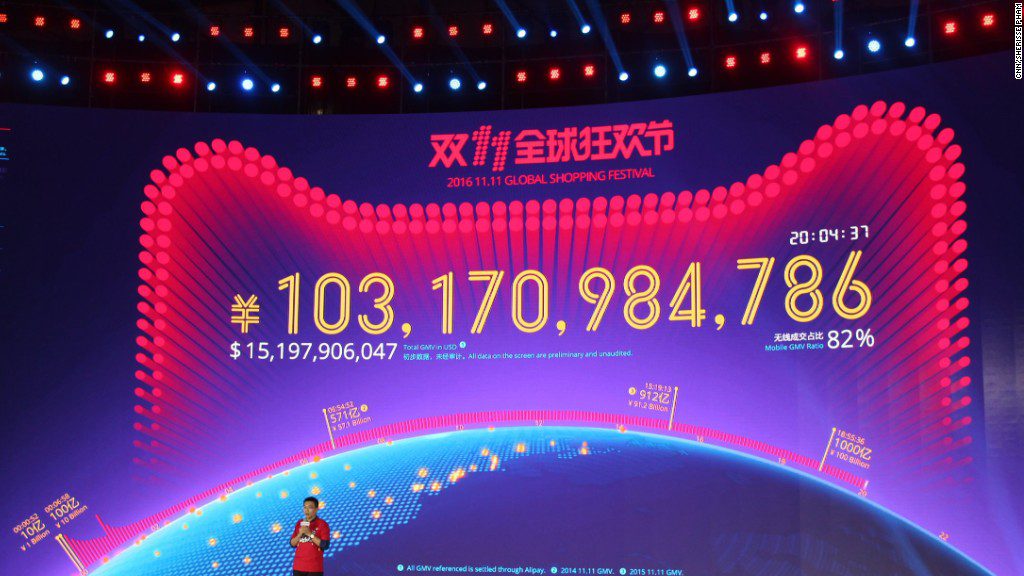 Alibaba's gigantic online shopping holiday saw another record-smashing year in China, with mobile continuing to become an even more dominant shopping platform. In just 24 hours, sales reached $17.8 billion, rising from last year's $14.3 billion. Not bad for a day invented by college students in the 1990s.
Gross merchandise volume (GMV) on Alibaba's retail platforms flew past $1.5 billion in just under seven minutes, after the Singles Day shopping spree kicked off at midnight, November 11. Last year, it took 12 minutes, 28 seconds to break that threshold. While the earnings fell short of the predicted $20 billion mark, the day still brought in more than Brazil's total projected e-Commerce sales for all of 2016. And in even more revealing news for the future of retail, mobile devices accounted for 82% of the total ($14.6 billion), up from 68% in 2015.
4 Takeaways From Singles Day
On the eve of Singles' Day, Alibaba hosted a star-studded countdown gala watched by more than 100 million viewers and highlighted by Alibaba founder Jack Ma performing a magic trick. Hollywood actress Scarlett Johansson, sports celebrity David Beckham, fashion designer Victoria Beckham, basketball legend Kobe Bryant and the band One Republic were among those that attended. With all of its pageantry, Singles Day has more in common with the Super Bowl than a day of sales, but the message is clear: this is much more than a day of mere markdowns and transactions. With U.S. retailers still reeling from the news that nearly 50% of consumers may skip Black Friday and Cyber Monday's one-day door buster deals and online offers, the lessons to be learned from Alibaba arrive at the perfect time. Here are four essential Singles Day takeaways for U.S. retailers: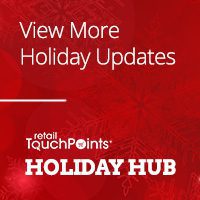 1. Forward-Thinking Fulfillment Is Fundamental
Today's shoppers want what they want, when they want it. In China, the sentiment is no different. In fact, nearly 10,000 merchants sold to millions of shoppers in China, with Alibaba offering a very Amazonian-promise that online orders would be delivered in as little as two hours. Chief rival (and Walmart partner) JD.com countered that by enhancing its logistics services with cutting-edge technology. The company rolled out self-driving delivery vehicles in Beijing to deliver orders to office buildings and delivery drones for last-mile delivery in rural areas. Operating seven logistics centers and 234 warehouses, JD.com began implementing automated warehouse solutions to improve the efficiency of order fulfillment.
2. Digital Innovation And Immersive Experiences Are Key
It's no secret that gamification in retail can work. Naturally, Alibaba featured an augmented reality game to allow people to chase multiple Tmall black cat mascots like Pokémon GO. The company also unveiled a virtual reality shopping experience that allowed consumers to connect their smartphones with a VR headset and make purchases as if they were in a physical store in New York City. There were also mobile apps that enabled shoppers to digitally see how they look in clothes and cosmetics.
3. Offer As Many Preferred Payment Methods As Possible
Providing multiple payment options is a surefire way to let every consumer participate. This year, Singles Day accepted Alipay, WeChat Wallet, Baidu Wallet, Visa, MasterCard and such local payment methods as Octopus in Hong Kong. Cross-border e-Commerce was another key source of sales, as 37% of buyers bought from 235 different countries and brands. The top five countries for international orders were Japan, the U.S., South Korea, Australia and Germany.
4. Luxury Brands Seize The Day
Yes, the floundering luxury market has caused disappointment within the vertical, but Singles Day proves there is always a diamond-encrusted lining. Beauty brands were especially active on Singles Day, as Clarins sold its $50 to $72 range of facial masks at discounts of 59% and Lancôme had the largest total number of beauty product promotions, according to Clavis Insight. Other premium and luxury brands with promotions for the event included Burberry, Prada, Canada Goose and Maserati.
Automobiles Drive Singles Day Sales
Not surprisingly, with expensive iPhones on sale, the best-selling Singles Day U.S. brand by GMV was Apple. But the general trends show that footwear is still quite popular with U.S. brands including Nike, New Balance and Sketchers tops in sales.
Certainly of note, and somewhat of a surprise, consumers also set a new sales record for something not usually purchased online. Around 100,000 cars were sold in the 24-hour period of Nov. 11 on Alibaba's Taobao and Tmall platforms, the South China Morning Post reported. This was the equivalent of the typical sales volume of 1,000 Chinese auto dealerships in one month.
Sedans, compacts, and SUVs from Chinese carmakers were among the bulk of cars sold upfront, while Maserati offered vouchers worth 50,000 Chinese yuan (about $7,310) as deposits for their luxury cars. Other models from international auto brands like Range Rover and Jaguar were also up for sale, reported the Post.
Singles Day 2016: By The Numbers
Alipay processed more than 1.5 billion payment transactions in total, and processed 120,000 transactions per second at peak, a surge of 48% YOY.
54,000 payments were made every second through the wireless service for debit cards, according to Ant Financial, which runs Alipay.
Cainao Network, Alibaba's delivery service platform, handled 657 million delivery orders; up 40.7% from last year.
Air purifying products were a top seller in response to the aggravated air pollution conditions in major Chinese cities.
More than 61% of shoppers were women and 39% were men. More than 60% of shoppers are married individuals.
Around three-quarters of shoppers were Chinese Millennials, and those who are aged 26-35 were the major group of shoppers.
Flying Pig, the travel brand under Alibaba, reached a sales total of $1.4 billion on Singles' Day, with more than 50 of its merchants pocketing sales revenues of over $69 million. Japan, Thailand, Korea, the U.S., France, Italy and Switzerland were the hottest outbound travel destinations.