More than 66% of U.S. households own a pet, according to the APPA National Pet Owners Survey. These 86.9 million or so homes spent $136.8 billion on pet food and treats, supplies, medicine, vet care and other services in 2022, and are predicted to spend $143.6 billion in 2023.

Consumers spending more on their "fur babies" presents a big opportunity for brands like Myos Pet, which provides canine supplements crafted with Fortetropin® that are clinically proven to build muscle for better mobility and vitality. The Myos Pet brand is built upon science and, in turn, trust. Access and transparency are a big part of fostering trust, which is why the brand leveled up its SMS strategy and embraced the conversational commerce solution from Wizard.
Myos Fetch is a full-service SMS "concierge" for all things related to the brand and its focused, yet growing, product line. Within one month of adoption, the brand saw a 33X return on investment.
Like many retail and CPG brands, Myos Pet taps into a combination of channels, from email to social media and SMS, to engage with its customers. But the brand was looking to communicate with customers in a more authentic and direct way — one that would ultimately help build trust and loyalty. Myos Fetch adds a layer of real-time communication and service to the brand's existing SMS strategy, which largely focused on outbound marketing.
Now, however, Myos Pet's positive experience with SMS has encouraged the retailer to add more functionalities, including:
Helping customers set up virtual wallets that streamline payment processes;
Seamlessly integrating human agents into a text conversation when questions or issues become more complex;
Collecting user-generated content (UGC) for contests and other types of community engagement, including surveys; and
Future plans to use the channel to support subscription setup and management.
"We offer premium pet products, so having something that provides white-glove service like this is amazing," said Casey Sabol, Chief Marketing Officer of Myos Pet in an interview with Retail TouchPoints. "When you think about people willing to opt-in to a text channel, they're usually more engaged than someone on your email list. That's what I think is so strong about [this service]; however, I did not anticipate that it would be as impactful as it has been."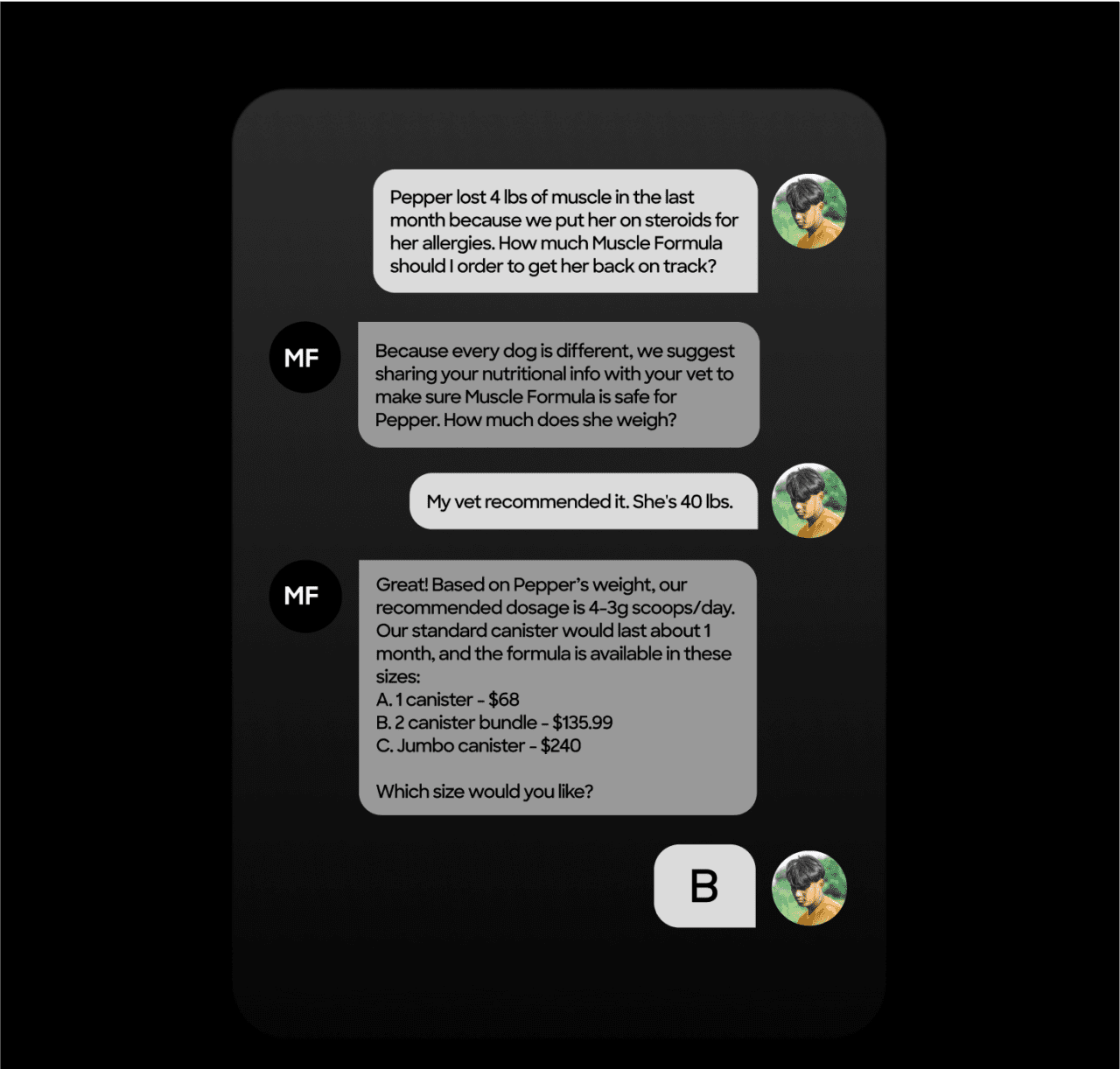 One short-term benefit is that Myos can now better manage incoming texts from customers, which were previously left unanswered, and create a clearer path to purchase. Subscribers get an answer to inquiries in a median 15 seconds and, as a result, 58% of these consumers are actively engaging with the brand. The result is an average order value that's 23% higher than the brand's ecommerce site.
"When we first did this, I thought maybe [customers] would buy smaller-priced SKUs, but I was surprised to see right out the chute that people didn't just opt in but set up their accounts and purchased even $300 SKUs, which means they're not just saying 'yes' to the service but trusting it," said Sabol. "They've set up their wallet and are more than willing to purchase in that way."
Driving Strong Adoption Even Among Non-Digital Natives
The best part of this experience for Sabol is that the service is easy to use and seamlessly integrated into existing customer behaviors. When consumers first enter the Myos Pet ecommerce site, they see a pop-up that offers them a discount for opting into the text channel. Once they do that, they set up their virtual wallets via the Wizard platform, so when they want to make a purchase via the Myos Fetch service, all they need to do is respond "yes" to complete their order.
Because the Myos Pet customer base skews slightly older, Sabol paid extra attention to overall adoption rates. "I was very surprised to see the willingness [to use the service] very early on," Sabol said. "To have that kind of ease and engagement is amazing."
All members receive automated yet personalized messages that feature each customer's pet's name and other details, so the experience feels more "human." Robust AI capabilities ensure that all customers get instant responses to common questions — a lot easier than digging for information on an ecommerce site. A series of prompts, from reordering services to abandoned cart reminders, also support fast, frictionless shopping.

But the power of conversational commerce intensifies when brands blend in the "human touch." For Myos, that means integrating customer support agents into the communication loop so that customers don't have to explicitly ask for an agent or turn to another channel (such as phone or email) for support. When more complex questions or requests emerge, a live service rep can step in without interrupting the text conversation.
SMS Brings Community into Conversational Commerce Experiences
The expanded use of SMS also has allowed Myos to turn these moments of service and engagement into long-term relationship development opportunities.

"Every day, I'm looking for ways to provide world-class customer support and service," Sabol said. "Previously, SMS was just another touch point, but now it's a way to elevate the experience, really build a community and show love back to these pet owners."

For example, Myos Pet ran a user-generated content (UGC) contest that encouraged customers to submit images of their dogs, as well as testimonials for their favorite products and overall experiences with the Myos brand. Within one day, Myos received more than 500 submissions for the $250 prize, according to Sabol: "We weren't expecting the kind of response we got and now, we have a library of testimonials that we can use, which are gold, especially for my social media director. These are real-life stories and people were having so much fun sharing their photos and how Myos has helped them."
A similar campaign was launched to celebrate Golden Retriever Day. Myos encouraged consumers to share stories, as well as images and videos, featuring their golden retrievers. Both campaigns saw conversion rates 500% higher than the industry average for outbound campaigns.
In addition to robust UGC campaigns, Myos uses the interactive text channel to run surveys so the brand can better understand customer needs and expectations. Myos Pet plans to use data gathered from these surveys, campaigns and daily interactions to continually improve campaign segmentation and improve personalized messaging.
"Continuing to leverage that [insight] and create custom content campaigns, whether it be for birthdays or even by dog breeds, will be big," Sabol said. "Then, creating more automations and even more funnels through the Wizard channel will help us scale and grow."
For example, subscriptions are a key growth channel for Myos Pet. Sabol plans to use the Wizard-powered SMS service to support subscription registration and account management, which can be confusing and cumbersome in a traditional ecommerce environment. "That's something that, at a macro level, we think we can help drive more of that growth."