For some, Liquid Death represents an exciting and inspiring example of a CPG brand rewriting the rules of brand marketing. For others, it's an overhyped DTC business that is trying to remain relevant. But no matter where you fall on this spectrum, you simply cannot ignore the brand's impact.

Liquid Death has shaken up the bottled water space. With packaging reminiscent of a hipster IPA and an edgy brand strategy that equally sparks adoration and disgust from the public, the brand has seen incredible growth thanks to wholesale partners like Whole Foods, a booming Amazon business and a direct-to-consumer website that only sells branded merch.

Earlier this week, the brand announced the hiring of a new Chief Commercial Officer (formerly of also-edgy hard seltzer brand White Claw), who will lead field sales, national accounts and international expansion. But make no mistake, the brand has done a pretty good job thus far.
During the Retail Innovation Conference & Expo we were able to get an exclusive look inside the brand's scrappy, rebellious growth playbook thanks to its Director of Digital Retail Natalie Cotter. She offered incredible insights into the founder's story and the unique role the brand has played in the cultural zeitgeist.
4 Reasons Why the Liquid Death Brand Resonates
Liquid Death has at least one business basic covered: the product itself is great. Additionally, the brand has some innate sustainability goals that ties to its tagline "death to plastic." But four of the biggest reasons why Liquid Death resonates so much tie closely to its connection to community and culture:

1. The brand's origins are rooted in music counterculture.
Liquid Death Founder and CEO Mike Cessario is "a big music junkie," Cotter said. A big fan of punk and metal music, he noticed that many musicians' beverages of choice were ostensibly energy drinks, but he later found out they were actually filling these cans with water to stay hydrated during their performances. "These musicians were dumping out energy drinks and filling them with water, so it started to get his gears turning that there was a gap that could be filled with a different type of product," she explained.

Cessario continued to tap into the music scene to test the idea of a canned water brand that had edgy creative and took a fun, tongue-in-cheek approach to marketing, akin to what an energy drink or alcohol brand would do. And as they say, the rest is history.
The brand, lauded for always pushing creative limits, is a textbook case study on ways to tap into culture to drive brand awareness and acquisition. For example, Liquid Death was a headline sponsor of the Metallica tour and launched an exclusive tour T-shirt with the band. And as a longstanding partner of entertainment producer Live Nation, it is the exclusive water brand at many venues and festivals across the U.S. Live Nation even has invested in the water brand, showing just how integrated Liquid Death is into concert culture.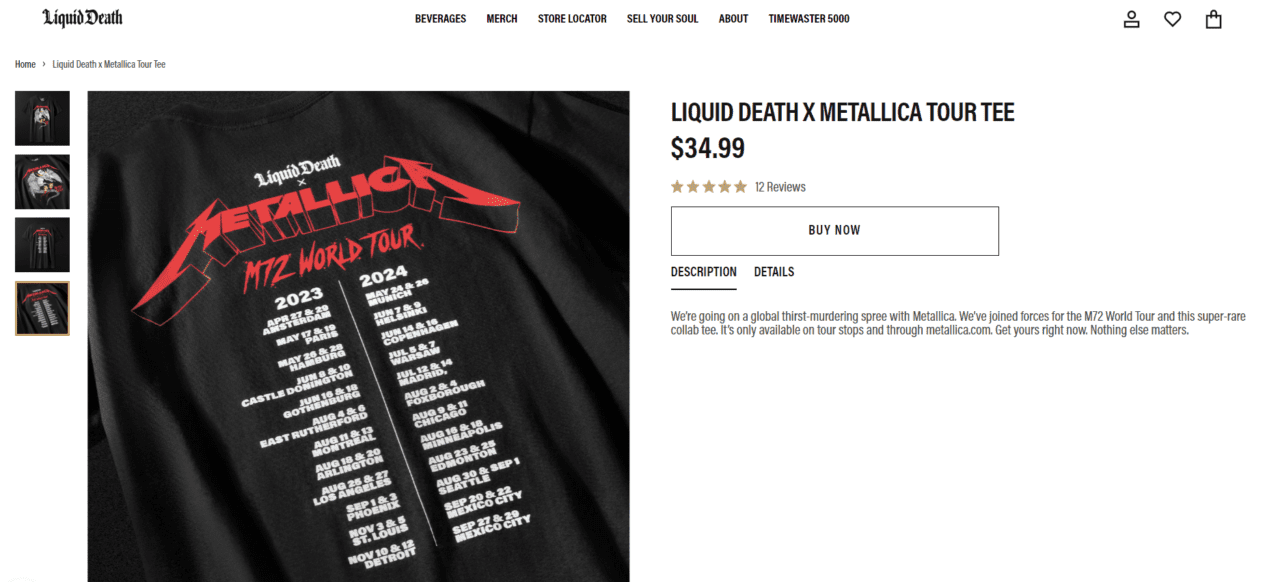 Liquid Death and Metallica joined forces for the band's 2023-2024 tour. Photo courtesy of Liquid Death
2. It's a content- and entertainment-led brand.
Sure, Liquid Death sells water and iced teas, but at its core it's a content and entertainment brand, according to Cotter. That is a big reason why the brand resonates so much, especially among younger consumers who gravitate to quirky content and moments that inspire sharing and conversation.

"Our goal isn't just to sell water; our goal is to make you laugh and have a post that goes viral," Cotter said. But the brand also isn't afraid to think bigger, especially when it comes to entertaining the masses. While the brand plans projects aligned to product launches, it also looks for evergreen ways to excite and entertain audiences.
For example, the brand launched an album on Spotify called "Greatest Hates," where the team took all of its negative reviews, comments and social media feedback, meshed it all together and put it into a metal album. This was a creative and unexpected way for the brand to show up, but it still managed to remain consistent and true to its musical roots.
3. Quirky collabs give people something to talk about.
If you have internet access, you've likely seen one of Liquid Death's viral celebrity collabs. While this is certainly not a new marketing tactic, the brand's approach is innovative for two key reasons:
From Martha Stewart to Tony Hawk and Travis Barker, there are truly no limits to Liquid Death's collab prospects.

The brand always goes beyond the core product (beverages) and finds unique ways to bring the essence of the celebrity into unique product drops.

In most cases, the brand just crosses the line of "too far" with its creative approach, which is why it is so genius. For example, Martha Stewart worked with the brand on a fun commercial and limited-edition candle shaped like a dismembered hand holding a can of Liquid Death. Completely unexpected, silly and memorable.

The brand also drummed up buzz when it announced a partnership with skateboard legend Tony Hawk. The two launched a skateboard deck touting unique Liquid Death graphics that were infused with Tony Hawk's blood — and only 100 lucky people could get one. There even was a charitable component, with 10% of the proceeds going to 5 Gyres and the Skateboard Project to combat ocean pollution.

On the surface, these celebrity partners seem very different. But they both align with the core attributes Liquid Death looks for in any brand partner: untraditional legends.

"When we do a celebrity partnership…one of the things that we really focus on is winning the internet for that day," Cotter said. "Instead of just having an evergreen strategy and some people posting about us here and there, it's about how we can capture the attention of more people throughout their social experience or throughout their journey in their daily lives. But then also, we're an unexpected brand; we're not traditional. So, when we think about the talent we partner with, that's when we take a step back and ask who is unexpected and untraditional in their own right."
4. They're all about testing, learning and pushing the limits.
If you look at Liquid Death's collabs and marketing campaigns, it's pretty obvious they're not afraid to test and learn. But data is at the center of this culture, especially as the brand aims to expand profitably.

In fact, Cotter noted that the brand has to constantly balance boundless creativity against data science to ensure they're focusing on the right things: "The philosophy still holds as we think about trying out new retail media networks or just trying out new ad investments in general," she explained. "Let's not go dump a ton of money and put all our eggs in one basket, let's test out things at a smaller scale. And if it works, awesome."

The digital side is constantly monitoring impressions and conversion rates, but it also wants to understand the earned media impact when they partner with publishers and different influencer partners, as well as total attribution for these efforts. Cotter noted that this can be difficult: "It's hard to understand a true customer acquisition cost and a true lifetime value, so we're modeling that where we can, and we are trying to get as close to the actuals as possible."
Sure, not every brand can launch a death metal album or partner with drummer Travis Barker on a line of enemas. But Liquid Death is a brand case study that should inspire you to ask: How can we get a little more punk rock today?