Instacart has made a number of updates to its tools for grocers, further expanding its reach beyond its own app. The updates include new features for retailers that use the Instacart Storefront solution to power their ecommerce; updated functionality for its Caper Carts smart shopping carts; and a new app for Shopify that gives CPG brands access to Instacart Ads.
"We've long believed the future of grocery — and commerce in general — isn't online or in-store, it's both, and now more than ever it's being supercharged with AI," said Asha Sharma, COO of Instacart in a statement. "We know that omnichannel customers in particular are more valuable to retailers, which is why Instacart is developing more solutions that help retailers serve their customers no matter how they shop.
"And good data is the foundation for good AI solutions for retailers," Sharma added. "Our operational advantage is built around our dynamic grocery catalog — which is one of the largest in the industry and includes 1.4 billion items and more than 6,000 item updates per second — paired with more than a decade of knowledge about how people shop for groceries online."
Conversational Search and In-Store Mode Added for Grocers' Apps
Instacart Storefront, which is built on the same core infrastructure as the Instacart App, currently powers owned-and-operated ecommerce storefronts for more than 550 retail banners, including Costco, Price Chopper/Market 32 and Tops Friendly Markets. Instacart tests new features on its own app and then brings the most successful ones to retailers' storefronts.
Among the new functionalities added to Storefront are: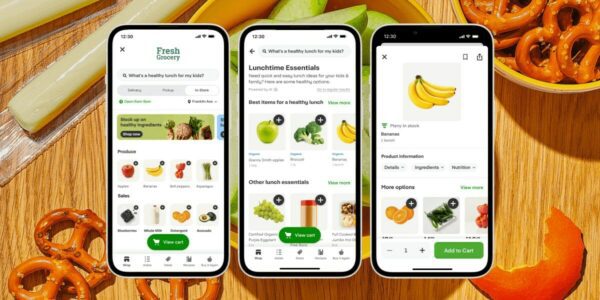 AI-powered conversational search, so customers can ask open-ended questions such as, "What do I need to make fish tacos?" or "What's a nutritious lunch for my kids?" directly in the search bar on retailers' storefronts. This capability uses OpenAI's ChatGPT models alongside Instacart's own product data and AI models;
In-Store mode, which turns retailers' apps into shopping companions when customers are in stores. Customers can see what's in stock; view important details about items on their list, such as nutrition information or whether they're EBT SNAP-eligible; get product recommendations; sort items by aisle; and access in-store promotions and discounts. This new functionality also will help retailers better understand their customers, whether they are shopping online or in stores. In-Store mode will be available in select areas on retailers' Instacart Storefront-powered apps, including Food Bazaar, Gelson's and Stew Leonard's, and is also being tested on the Instacart App; and
New merchandising and marketing capabilities such as shoppable digital flyers, more self-serve capabilities that allow anyone to become an ecommerce administrator, and better tooling and analytics.
Enhanced In-Store Shopping with Caper Carts
Instacart also unveiled a number of new updates to its Caper Carts smart shopping carts, which are already being deployed in stores across the U.S. by retailers including Bristol Farms, Schnucks, ShopRite and Fairway Market. Updates include: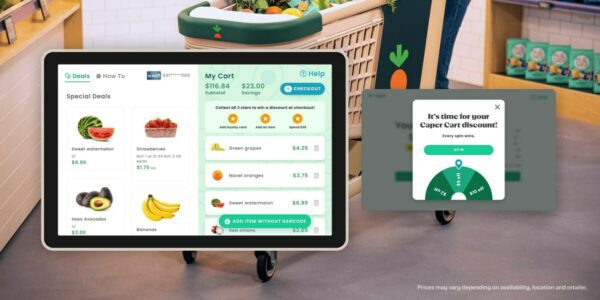 Upgraded AI models that improve the speed and precision of the smart cart camera and weight sensors. The models update automatically and learn over time, continuously improving the scanless technology;
The ability to order made-to-order items like deli sandwiches or custom cakes directly from the carts — powered by FoodStorm, Instacart's order management solution;
In-store rewards for Caper Carts, so retailers can offer customers points, coupons or badges for completing actions like logging into a loyalty account, adding certain items to the cart or trying a Caper Cart for the first time; and
A new Caper Cart dock that lets retailers provide a permanent place for Caper Carts to be stored and charged.
'Supercharging' Discovery and Sales for Shopify Merchants
Finally, the company launched a new Instacart for Shopify app that gives CPG brands on Shopify access to Instacart Ads for the first time.
Instacart partners with more than 1,400 retail banners across North America, which means that even without taking any action, many CPG brands on Shopify are likely already driving sales through the Instacart Marketplace. But now those Shopify merchants can use the Instacart for Shopify app to actively advertise their products via Instacart Ads.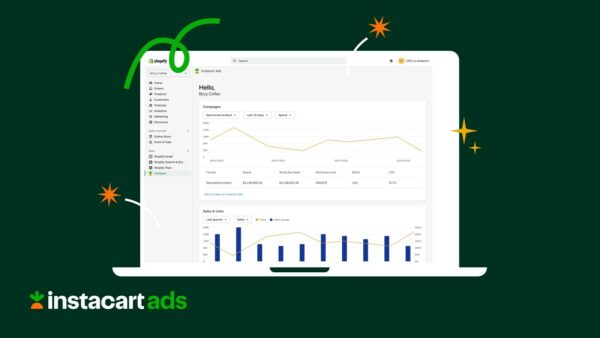 The new Instacart for Shopify app also will provide merchants visibility into their Instacart sales data directly in Shopify, where they can track their overall sales on Instacart, create an Instacart Ads Manager account and see high-level ad performance metrics.
Once a merchant installs the Instacart app within Shopify, they can set up a free Instacart Ads Manager account. Instacart sales data and advertising campaign metrics are then shown directly in the Instacart for Shopify app, so merchants can measure their brand's performance across multiple channels, all in one place. And within Ads Manager, they can use Instacart's digital marketing tools to grow their brand.
"With our extensive catalog across more than 80,000 retail partner stores in North America, we believe Instacart has one of the best platforms to help emerging brands grow," said Ali Miller, VP of Product Management at Instacart in a statement. "Combining our scale with Shopify's merchant network creates a really powerful discovery tool for brands looking to understand their impact across different channels. With the Instacart for Shopify app, brands can learn about the sales they're already driving on Instacart, and immediately take action by setting up Instacart Ads to supercharge discovery and sales."