COVID-19 has accelerated an already-surging resale market. Consumers stuck at home have had the time to thin out their wardrobes and make room in the garage — along with strong financial incentives to turn their possessions into cash.
Studies show how the secondhand market has picked up its pace during the pandemic. According to thredUP's 2020 Resale Report, "online thrifting is a bright spot in the broader COVID retail slump. With consumers seeking bargains from home, online secondhand is set to grow 69% between 2019 and 2021, while the broader retail sector is projected to shrink 15%."
The luxury end of the secondhand market, estimated to be worth approximately $24 billion in 2018, was projected to grow by 41% to $34 billion by 2021, representing a growth rate 4X the sales of new luxury goods, according to research from Altagamma, GCG and Luxe Digital.
In the wake of COVID-19, resale of high-value jewelry increased 22X more than low-value jewelry in May and June 2020 as compared to March and April, according to the 2020 Resale Report from The RealReal. The number of new consignors increased 27% during that period.
Despite these gains, people reselling jewelry still face a number of challenges — not least that it's difficult to determine a fair price for a piece without expert knowledge about gemstones and workmanship. Usually, the best options consumers had for reselling their high-end jewelry were pawn shops, retail jewelers that made widely inconsistent offers or eBay, which wasn't geared for selling goods valued in the thousands of dollars.
Worthy, founded in 2014, uses a consumer-to-business (C2B) model that directly addresses the sources of consumer mistrust, so it was in a strong position to take advantage of the rise in resale. The web site puts consumers in charge by empowering them to auction their pre-owned jewelry to a network of vetted businesses — jewelers, jewelry wholesalers and other commercial buyers from around the world.
The platform also wanted to create a positive customer experience for sellers. Worthy has developed proprietary in-house solutions that use machine learning to offer a more personalized shopper journey on its web site.
Creating A Trust Network In The Digital Realm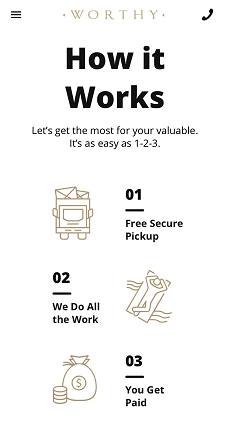 Worthy had to overcome unique challenges when it set out to sell jewelry and gems online. Because of the high prices they can command, these categories are magnets for counterfeiters and fraudsters. A vast physical infrastructure has developed around evaluating and authenticating these items, so how could that rigor be duplicated in the digital world?
Worthy Founder and CEO Ben De-Kalo conceived the idea for an online jewelry marketplace while running his prior startup, iPawn.com. He found that the average consumer didn't understand how pawnbrokers worked and didn't trust them, but he also saw an opportunity to create a trusted marketplace for consumers who wanted to cash in their high-end jewelry and watches. That's when De-Kalo left iPawn and launched Worthy, which relies on the credibility of respected independent partners to establish trustworthiness.
Before an auction, jewelry and gems are professionally cleaned and physically inspected, graded and certified by Gemological Institute of America (GIA), Gemological Laboratory (GHI) or the International Gemological Institute (IGI). These services are free for sellers of products valued above $1,000, as are the professional photography of the products and the copywriting for the auction listing.
To make sure consumers are comfortable letting their valuables out of their hands, Worthy provides free FedEx shipment of the jewelry or fine watches from the consumer's home and insures the packages for up to $100,000 with Lloyd's of London. It also provides access to human account managers who can guide prospective sellers.
"All of our account managers are trained extensively on our process, and they partner with a team of GIA-trained in-house gemologists to identify which jewelry pieces make sense for our marketplace," said Steven Schneider, Chief Revenue Officer and COO of Worthy in an interview with Retail TouchPoints. "In addition, we have a team of VIP account managers that handle more expensive diamond jewelry and watches, and most of that team has a GG (graduate of gemology) from GIA or an equivalent number of years in the jewelry industry."
Transparency in the auction process also builds trust. Consumers receive notifications "every step of the way — when we have received the item, when we have graded it, when photos have been taken and when the auction starts," Schneider added. "Consumers have the ability to see the auction process live to understand how many bids their piece is receiving and from where."
Machine Learning, Personalization Streamline Transactions
Proprietary technology that focuses on personalization is a key part of the Worthy proposition. Worthy developed and runs its own technology platform, which is continuously updated. "We believe in rigorous testing and optimization, so the site changes extremely frequently," Schneider said. "In addition, we have invested heavily in machine learning and personalization, which has allowed us to really optimize the consumer experience."
The machine learning part of the platform gathers hundreds of data points from each individual visitor. These include whether the visitor has been on the site before, which pages they visited and how long they stayed, as well as the individual's location, browser, and whether they are using a desktop or mobile device. The consumer is automatically directed through the site based on this data. For example, consumers who have indicated they are ready to convert will be sent to schedule a FedEx pickup, while others will be sent through a more comprehensive explanation of how Worthy works.
Nearly 70% of visitors access Worthy through mobile devices, but the responsive web site provides the same experience even on different screens. "Given the periodic nature of selling jewelry, we have not invested in a mobile app and do not have any immediate plans to launch one," he added.
To attract visitors, Worthy is "active in most digital performance channels — paid search, social, display, native, affiliate and more. We also invest heavily in our lifestyle blog and our organic social following," Schneider noted. "One of the best sources of new customers is our referral program, which gives people an opportunity to be ambassadors for Worthy while earning gift cards."
Customers Skewing Younger During COVID-19
Since the beginning of the pandemic, Schneider has seen a shift toward younger sellers in its customer base. "Pre-COVID, a large percentage of our customer base was the divorcee who was looking to sell her engagement ring and wedding band. Since COVID, that percentage has dropped, although it is still our largest seller group. Over the last few months, we have seen more younger consumers who are looking to make some money by selling their jewelry," he noted. "Some consumers had the opportunity to do a thorough spring cleaning and be strategic about how to get the most out of their assets. Others sold jewelry out of financial need."
Worthy makes its money through commissions on the final sales price. Percentages are figured on a sliding scale, and fees have been lowered for a limited time. By creating a competitive bidding environment "while giving individual sellers access to a network of buyers that [they] would have no way of reaching otherwise, we are able to give them an outlet to maximize value," Schneider explained. Diamond rings routinely sell for more than $10,000. The highest-priced item Worthy has sold was a 10.11 carat diamond for approximately $700,000.
One of Worthy's new offerings is what Schneider calls "a turnkey way to sell an entire jewelry box in one transaction." When consumers inherit or decide to sell multiple valuables at once, the process of "finding buyers one-by-one to try to get the best price is incredibly time consuming," he said. "That's where Worthy comes in. All you have to do is describe your items, send us some photos, ship in your jewelry box and we do the rest."
Prior to joining Worthy, Schneider spent seven years with luxury flash-sale retailer Gilt. "Gilt was a very innovative e-Commerce company that allowed consumers to have access to coveted goods and a business model that created urgency," he said. "What attracted me to Gilt was the fact that the company was disrupting an industry and changing consumer behavior. Those same principles apply to why I joined Worthy; nothing like it exists."
Many people are selling their personal jewelry during "a difficult life transition — death, divorce, retirement, financial duress," he added. Helping people understand the true worth of their items and enabling them to possibly get two to three times the price they would otherwise "is deeply rewarding," he said.