Many retailers are now looking for ways to offer customized products, but in the world of prescription eyewear customization has always been the name of the game. That's a key reason that the category has been so difficult to bring online.
"There are no two people with the same exact eye correction, so you can't just have a stock of product," said Ben Blanki, Director of Product Labs at GlassesUSA.com in an interview with Retail TouchPoints. "You have to manufacture each one based on a specific prescription."
However, technology advances over the past few years have made it possible to offer the kind of digital personalization needed to sell prescription eyewear online, and the Israeli-founded startup GlassesUSA.com has been at the forefront of that innovation. COVID turned out to be the final nudge many consumers needed to give shopping for glasses online a try, and GlassesUSA.com was ready and waiting with:
A platform that leverages the advantages of ecommerce to deliver a larger selection and faster turnaround times than most traditional eyewear retailers; 
Dynamic recommendations to help simplify product discovery and have led to a double-digit increase in the add-to-cart rate;  
AR try-on technology that aides in decision-making; and  
Advanced vision care solutions to help customers "take back ownership" of this health necessity. 
Leveraging the Online Advantage to Disrupt a Growing Category
GlassesUSA.com was launched in 2009, and despite its name, now operates in 92 countries, although the U.S. is the company's primary market.
"[The founders] wanted to create a company that would cut out the middlemen in the eyewear industry," said Natalie Markovits, the company's Senior Brand, PR and Communications Manager in an interview with Retail TouchPoints. "They realized that the end customer was spending so much money on glasses, but they're a health necessity."
Indeed, that combination of factors is exactly what has made the eyewear industry ripe for disruption. The prize is a big one – due to increasing awareness about ocular diseases and a rise in the prevalence of vision abnormalities, Fortune Business Insights predicts that the global eyewear market will be worth nearly $179 billion by the end of 2026.
Like many ecommerce challengers, GlassesUSA.com is able to leverage the advantage of not being tied to a physical space by offering a huge selection, more than could ever fit in any traditional store. The company's catalog boasts thousands of SKUs across men's, women's and kids' eyewear, contact lenses, sunglasses, athletic eyewear such as swimming goggles and even Bluetooth glasses, both from well-known brands and the company's own private labels.
Combine all these frame and product selections with the various lens configurations available — single vision, bifocals, progressives, all types of coatings such as blue light, transition lenses, polarized, mirrored…the list goes on and on.
Streamlining Search in the Endless Aisle
The site's huge selection is clearly an advantage, but it does present a challenge when it comes to the customer experience. To tackle this, GlassesUSA.com has built a suite of intelligent search and recommendation tools, a range of try-on solutions (both virtual and real-world) and offers a host of educational content to guide shoppers through the process of buying eyewear online.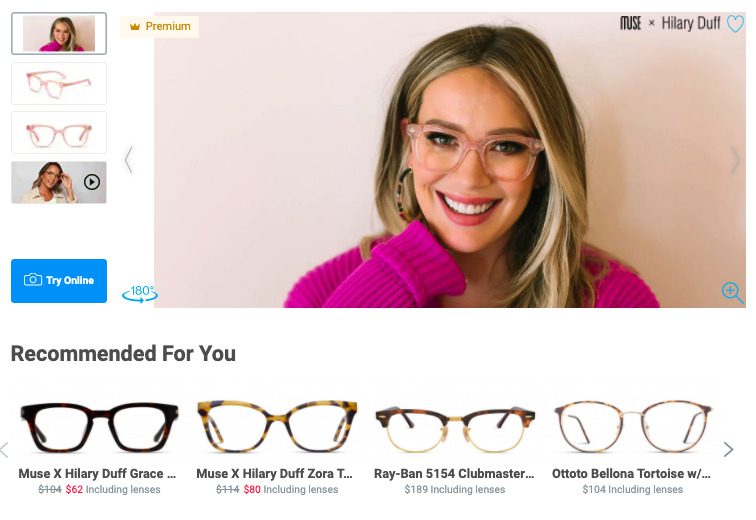 "It's a totally personalized approach," said Blanki. "Ford used to say the color of car people want is black; that was all they manufactured in the beginning, so they decided that was what everyone wanted. We understand that our customers deserve more, there's no one-size fit for all."
In 2018, GlassesUSA.com partnered with experience optimization platform Dynamic Yield to simplify the product discovery process with dynamic recommendations. Shoppers now receive personalized recommendations based on deep learning algorithms. Since the partnership launched, GlassesUSA.com has seen 87% growth in revenue and double-digit uplift in its add-to-cart rate.
In addition to being a health necessity, eyewear is also of course a fashion choice. GlassesUSA.com's virtual mirror lets shoppers take a selfie or upload a picture of themselves and then "try on" various frames to see what they look like.
"Something people don't realize is that when you go to a store and try on glasses, you're not able to wear your current prescription glasses [while you do], so you can't see yourself correctly," said Markovits. "With our virtual mirror, you can 'try on' glasses while wearing your current glasses, so you actually see what they look like." 
Empowering Shoppers to 'Own Their Vision Care'
In addition to tools to help shoppers find the right frames, GlassesUSA.com also has developed a number of innovative solutions to ensure that customers get the right lenses as well.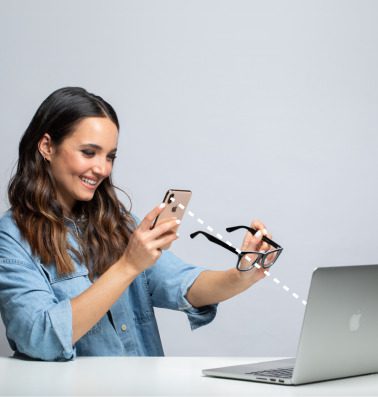 A digital PD (pupillary distance) measurement tool ensures that the prescription is centered correctly in the frames, and the site's Rx scanner helps customers get the right prescription without the need to visit an optometrist. Using the tool, customers can scan their current prescription lens to find out exactly what prescription they need.
"During COVID this was especially helpful for customers because they couldn't go to the doctor to get their prescription," explained Markovits. "Usually your doctor doesn't give you your prescription because they want you to shop in their store. This has helped a lot of people be able to own their vision care and be able to choose if they want to purchase offline or online."
The system does have its limitations. It can only be used for single-vision prescriptions, but not bifocals or progressive lenses, and it won't work for contact lenses. Also, if customers think their prescription has changed, they'll still need to go to a doctor to get tested. Even so, this represents a significant advancement in being able to serve vision customers through digital channels.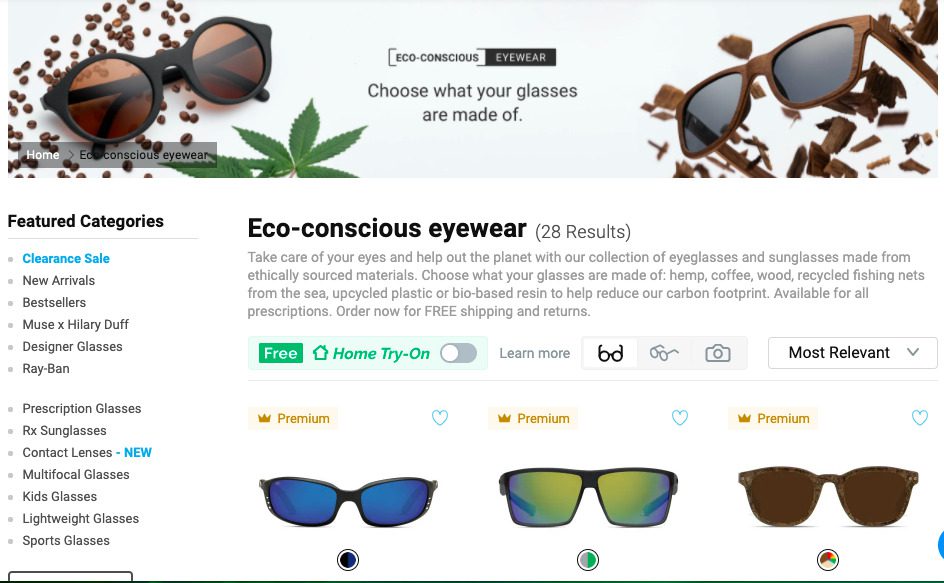 Additionally, until recently, most eyewear brands didn't have a DTC presence, which made platforms like GlassesUSA.com especially appealing. While many larger brands have launched their own standalone ecommerce shops, Markovits said their site is still important, for smaller brands in particular. As an example she pointed to the site's new eco-conscious category, which is made up almost entirely of smaller brands developing sustainable eyewear solutions.
Key to the company's success has been the fact that it manufactures all the prescription lenses it sells at its own facilities, which enables it to significantly cut down the turnaround time for orders. That's important even though the nature of prescription eyewear means customers are typically more patient than they might be for products in other categories.
Blanki points to another advantage of doing everything in-house: "Because we create [the eyewear], sell them and distribute them, we don't need middlemen, so our prices are very, very competitive. Offline, the cost for progressives and things like that can be three, four, even five times more expensive."
Blanki hinted at more solutions still to come from the GlassesUSA.com Product Lab: "We are always aiming to offer the very best experience possible, and there are a lot of big things coming as we work toward creating the best, easiest and most accessible experience," he said.