Amazon's Buy with Prime feature — which allows retailers to offer the benefits of Prime membership on their own DTC websites — will be available to all U.S.-based Amazon merchants at the end of January. The offering was previously only available by invitation. Additionally, Amazon is adding a new feature to the Buy with Prime package that will enable merchants to display ratings and reviews from Amazon customers on their own online stores.
Launched in April 2022, Buy with Prime is Amazon's answer to the growing success (and power) of the third-party merchants that sell on its site. It enables sellers that also operate a DTC site to deliver an Amazon-level experience (simplified payment processing, fast delivery, easy returns) in their own branded environments, where they own both the sales and the increasingly valuable data that they generate. All of this is offered for a fee, of course, but Amazon is getting much more than money out of the deal — it's keeping its customers (the sellers) happy and tied to the Amazon ecosystem.
"There was some head scratching by people when we announced this," said Doug Herrington, CEO of Worldwide Amazon Stores at a conference for Amazon sellers in September 2022. "They said, 'Isn't this going to cause some people that would shop on Amazon to shop off of Amazon?,' and the honest answer is, maybe. But what we know is that it's going to be a better customer experience for Prime members. And if we have happy Prime members who are enjoying free, fast shipping, on Amazon and off Amazon, that's going to be happy customers, that's going to be happy sellers, and it's going to be great for all of us."
Now, as Buy with Prime becomes more widely available, Amazon is making the case that the offering not only improves customer experience but also conversions. The company shared new internal stats indicating that Buy with Prime has increased shopper conversion rates by 25% on average among merchants that were early adopters of the offering. (This number is based on the average increase in shoppers who placed an order when Buy with Prime was an available purchase option versus when it was not, said the company.)
"It's important to note that this is an average," explained Peter Larsen, VP of Buy with Prime at Amazon in a blog post about the updates. "We've seen some merchants, like Trophy Skin, report shopper conversion of more than 30% since adding Buy with Prime to their online store. Additionally, merchants such as Wyze have told us they are seeing a 25% higher conversion rate and have added Buy with Prime to all eligible products in their catalog. Hydralyte told us that after adding Buy with Prime, they have seen a 14% increase in conversion."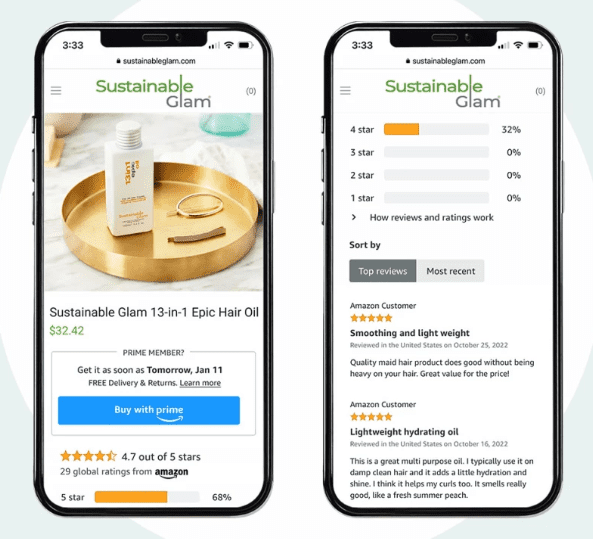 Amazon also is sweetening the Buy with Prime pot with the addition of ratings and reviews. When an Amazon shopper leaves a rating and review for a brand's product on Amazon.com, that same rating and review will now appear on the product pages of a merchant's own online store if Buy with Prime is enabled, at no additional cost.
"By having our Amazon reviews shown directly on our website, it shows new customers what Amazon customers are saying about the quality and performance of our products and gives them confidence in their purchases," said Javier Rabago, Co-founder of DTC brand Sustainable Glam in a statement.
In another win for Amazon, BigCommerce — one of the largest ecommerce platforms used by DTC brands — announced that it would be integrating Buy with Prime into its offerings. BigCommerce plans to make Buy with Prime available for its customers in Q1 2023, allowing brands built on its platform to easily plug Buy with Prime into their sites.
"With BigCommerce and Amazon's Buy with Prime, merchants can now reach new high-intent shoppers, drive higher conversions by directly offering the Prime delivery promise on their storefront and remarket to these new shoppers to drive higher customer lifetime value," said Sharon Gee, VP of Revenue Growth and General Manager of Omnichannel at BigCommerce in a statement. "This integration is the first of its kind and is a game changer for omnichannel merchant and partner growth."
Notably, competitor Shopify has so far taken the opposite tack — when Buy with Prime first launched, the ecommerce platform made a strong statement, warning its clients that using Buy with Prime violates its terms of service.