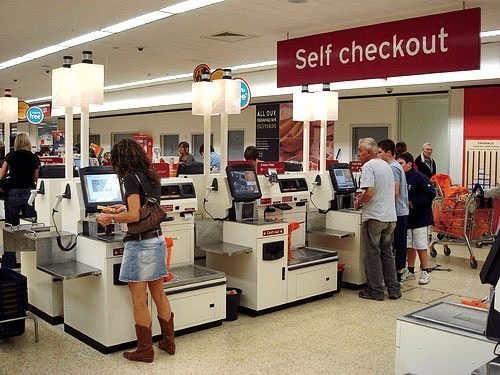 The overwhelming majority (88%) of U.S. adults want their in-store checkout experience to be faster, according to a study from Harris Poll and Digimarc.
Further supporting this point, half of shoppers cited slow checkout speeds and long lines as their top two grievances. Consumers also desire more human interaction at the checkout, evidenced by the 61% of consumers who agree that clerks focus most on scanning items and less on finding out if shoppers are satisfied. At least 30% actually say they feel like a burden to the clerk and other customers when they have a full cart.
Self-checkout doesn't appear to be a great alternative to consumers looking to accelerate their checkout times. Of the consumers who avoid self-checkout, 43% cited technical or barcode scanning difficulties as reasons they avoid this option.Others said they avoid self-checkout because they prefer to use cashiers (25%); have to scan items more than once (24%); and self-checkout lines have no employees readily available to help (20%). However, up to 75% of consumers say that self-checkout would be more appealing if technical problems were reduced.
To collect the results, Harris Poll conducted an online survey of 2,079 U.S. adults aged 18 and older June 12-16, 2015.
"Checkout is the last opportunity a retailer has to make a positive impression on a shopper," said Larry Logan, CMO of Digimarc. "Asking customers to endure a lengthy wait to process and pay for their order can spoil what may have otherwise been an enjoyable shopping experience."
Logan noted that retailers can make critical gains in perceived value, customer satisfaction and loyalty by updating their barcode technology to reduce scanning inefficiencies and enable faster checkout speeds.