The retail model that has held sway for the last 2,000 years — build a store, stock it with appealing products and wait for customers to come in — is broken, and Ken Hughes knows who broke it. The consumer and shopper behaviorist was the keynote speaker at the second annual Retail TouchPoints Retail Innovation Conference, held May 9-11 in New York City.
Hughes identifies the "Blue Dot" consumer as the culprit behind today's industry upheaval. To make his point he spread out a paper road map and noted that in order to use one of these, an individual had to know where she was in relation to the wider world. But smartphone map apps now do this for us automatically, creating a "you are here" Blue Dot. "That consumer is not a small part of a big world; they are the world, and they are at its center," said Hughes. "Today in retail, everything is about the shopper."
Given this seismic shift, Hughes, Founder of Glacier Consulting, identified four principles retailers need to follow in order to effectively reach the Blue Dot consumer, wherever he or she is at a given moment. These principles are represented by the acronym PACE:
• Personalization
• Authenticity
• Contextual
• Experiential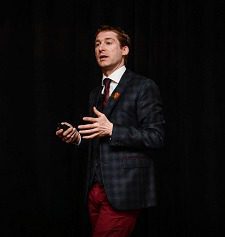 PACE examples abounded during #RIC16's presentations, its Innovation Labs and on social media. Following are additional PACE-oriented highlights from the conference, which was attended by nearly 200 retailers.
Personalization: Touch of Modern
At Touch of Modern, personalization goes hand in hand with the retailer's merchandising philosophy. "We treat every day as a chance to converse with our customers about how to merchandise our assortment," said CEO Jerry Hum. "We use our product mix to get feedback, measuring what does well versus what doesn't. That's why our customers keep coming back, because the stuff they saw the last time is different when they return."
Personalization also is a necessity because Touch of Modern is so strongly focused on customer retention rather than new customer acquisition. "Because we've only raised $13 million in venture capital, we had to make sure our existing customers stayed — and kept purchasing," said Hum. "Today, 70% of our revenue comes from repeat users."
To retain customers, particularly the retailer's top spenders, personalization needs to go beyond simply managing product assortments. Touch of Modern "believes in segmentation" when it comes to its email marketing, said Hum: "We might see that all these guys behave the same, so we will serve them up similar content." He added that while the retailer isn't yet engaging in actual one-to-one personalization, that may become a necessity as the business evolves.
Personalization: Shoes of Prey
Jodie Fox, founder of design-your-own-shoes retailer Shoes of Prey, believes in going beyond the concept of mass customization. "We want to give you what you want, when you want it — and even before you know you want it," said Fox. "Our goal is to collect enough data, so that we can get to know you well enough to do that."
Personalization is built into Shoes of Prey's concept. The retailer provides customers with base shoe shapes on the e-Commerce site, then allows shoppers to choose from a wide range of colors, heel heights, fabrics and structural elements. Shoes of Prey operates its own factory in order to produce shoes "one at a time, at scale," said Fox.
Moving beyond e-Commerce, Shoes of Prey has opened brick-and-mortar stores to answer customers' repeated question: "What will my shoe look like in real life?" But even with only five physical stores, the retailer's return rates are lower than the industry's 33% average, according to Fox. "We offer a 365-day return policy, as long as the shoe is unworn, and we offer to remake the shoe to meet the customer's objections. Even so, our full refund rate is under 5%."
Authenticity: Mizzen+Main
Mizzen+Main's humble beginnings have enabled the retailer to build a sense of authenticity with its consumers, even as the company continues to grow. In the first few years of the brand's existence, the company's founders, husband and wife Kevin and Jen Lavelle (CEO and CMO respectively) packed and shipped every item sold from their own guest room. They would write a personal note accompanying every shipment to foster a connection between the brand and the consumer.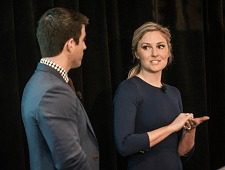 "In every single box, we told people 'Thank you for supporting what we're doing,'" Kevin Lavelle said during the presentation. "'Thank you for being a part of building the next great American brand, and for helping us show that domestic manufacturing can actually work.'"
Mizzen+Main also goes against the prevailing tide with a staunch "no discount" policy. But even with this policy in place, the retailer's full-price launch of a new pair of chinos on Black Friday weekend still nearly sold out its first run of inventory.
"With the policy, the more successful we are, the more we're able to give back," Jen Lavelle said. "During November, we crafted a promotion designed to give back in a unique way to veterans and active duty personnel. When a customer bought a dress shirt, a Henley was shipped out to a veteran or active duty service person."
Authenticity: Adore Me
This online-only fast fashion lingerie retailer saw its opportunity in a $24 billion industry primarily dominated by a single player. Adore Me's founders decided to build a community through social marketing and listening closely to customers. The retailer's use of an in-house designer enables Adore Me to offer 30 to 40 new products every month.
Adore Me relies heavily on customer feedback to guide business operations. The retailer can crowdsource new products (sometimes receiving 50,000 votes on a new offering, rewarding participating shoppers with 5% discounts for their opinions) while building a stronger bond with customers.
"We see what they click on," said Sharon Klapka, Director of Business and Brand for Adore Me. "We see what they reviewed, as well as when, and what, was their last purchase. This helps us predict their overall lifetime value. We want a one-to-one interactive relationship."
Contextual: Rent The Runway
Rent the Runway is steering clear of the traditional "spray and pray" model of marketing. Instead of launching a personalization strategy based on what the brand wants, the subscription retailer is starting with what's important to the customer.
"If you start with the customer and ask yourself what's in it for them, you'll find it a lot easier to get the data in the first place," said David Page, SVP of Brand Strategy and Research at Rent The Runway.
A great example is the retailer's customer reviews platform. Since the company operates primarily online, customers often don't know whether a dress will fit them because they can't try it on. The customer reviews platform "becomes a proxy" of actually trying on the dress, said Page. Women can go to the reviews platform, find women who are similar in size, height, weight and age, and look at the kinds of dresses that will work for their body type.
"This is a great example of reciprocity: women sharing data and paying it forward because there is something in it for them," said Page. "What's good for the customer is also good for the business. The dresses that have reviews convert at 3x the level that dresses without reviews do. It gives women confidence to actually pick the dress because they will know if it will fit them."
Contextual: Nebraska Furniture Mart
With more than 560,000 square feet of retail space in the Texas superstore, Nebraska Furniture Mart had the challenge of ensuring that shoppers could navigate their journey without getting lost while looking for products.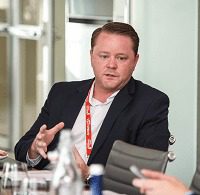 The retailer implemented 400 proximity beacons throughout the store that direct mobile users to one of 250,000 SKUs that are available at any one time, and connect with these shoppers at every point along the path to purchase. Additionally, Nebraska Furniture Mart built a digital directory at the front of the store that enables shoppers to precisely locate the product they desire, according to Marketing/Technology Manager Lee Summers.
With the beacons, digital signage and video wall technology embedded in the experience, the retailer achieved:
180,000 logged sessions in the digital directory within the 12 months after implementation;
An estimated $500,000 in media placement revenue;
A 50% mobile site traffic increase in Q1 2016, with a revenue boost of more than 100% in that time span; and
39,000 digital price tags changed daily.
Experiential: Casper
As a mattress manufacturer and retailer, Casper's goal is to provide a comfortable sleeping experience, with mattresses and pillows that contour to individual users. The retailer has supplemented this experience by creating a New York City showroom where shoppers can make an appointment, test out a Casper mattress in person and have bedtime stories read to them.
Casper has deployed referral marketing as a means to spread the word about its products. The Casper team presents the referral program through email immediately after a consumer makes a purchase, and also sends a note in the box with the delivered products.
"We're really leveraging our customer base to refer their friends," said Jenna Klebanoff, Director of CRM and Retention Marketing at Casper. "While a lot of programs will just post it right on their site for the public, we just focus on our customers and turning them into advocates. Our program structure is a 'Give 50/Get 50', so if you give your friends $50 off on a Casper mattress, you'll get a $50 Amazon gift card."
Experiential: Alton Lane
"Innovation has to be convenient or cool. If it's neither, it's not worth doing," said Colin Hunter, CEO and Co-Founder of Alton Lane. And he backs it up. Since 2015, Alton Lane has been driving an Airstream trailer across the country, bringing the showroom to customers' homes. (That's really Blue Dot retailing in action.) Shoppers can enter the trailer, get fitted with Alton Lane's 360-degree software, and order a suit for home delivery. They can watch NFL games as they get measured. Drinks are supplied. Suddenly, the tedious experience of having a suit made is transformed into something cool.
A visit to an Alton Lane shop is by appointment only. But before that appointment commences, the retailer utilizes shopper data to provide a unique experience.
"Data drives customer relationships," said Hunter. "Relationships drive loyalty. When a customer comes to their appointment, we have their favorite drink waiting for them. We take note of the three shirts and the tux they liked, so when they come back we can make better suggestions. We also use that data to drive events that create better community, and that is what drives customer loyalty."
In another example of thinking like a customer, Alton Lane's New York City location offers its early Saturday morning shoppers an Advil and a Bloody Mary, in case they are still recovering from the previous night. These personal touches create an experience and foster loyalty more effectively than any discount can.
2017 Retail Innovator Awards Nominations Open
The 2016 Retail Innovation Conference included numerous examples of PACE in action, particularly among the 36 executives honored as Retail Innovators. If there's a retailer you know that's practicing truly creative disruption, nominations are already open for the 2017 Retail Innovator Awards.
Finally, while technology is important in reaching the Blue Dot consumer, it's only a portion of any solution. "Technology is not the answer, it's just an enabler," said Hughes. "The focus needs to be on what the shopper wants and how to provide it to them. Remember, retail isn't just about selling stuff, but how you sell the stuff."