Over the course of the pandemic, brands and retailers felt the pressure to level-up their digital experiences. With stores closed and consumers craving more context around the size, style, color and scale of products, many brands turned to augmented reality and 3D imaging technology to help shoppers make buying decisions with greater assurance.

The brands that do embrace this technology are reaping the benefits. Research from Vertebrae shows that the majority of consumers are now familiar and comfortable using AR technology to shop. These shoppers also said AR helped increase their purchase confidence (76%) and that they are likely or very likely to purchase from brands that offer this form of experience (68%).
MOSCOT is one brand that has seen significant results since rolling out 3D/AR tech. The global eyewear brand partnered with Vertebrae to integrate virtual try-on capabilities within its ecommerce shopping experience, and it has seen conversion rates more than double. Overall revenue per visit among shoppers who engage with the 3D and virtual try-on tech also has increased by 174%.

Digital shoppers can view 3D models of one of several popular styles, to examine the designs from every angle and see details up close. The virtual try-on tool then allows them to see a true-to-size virtual image of the eyeglasses projected onto their head and mapped to their unique facial features and proportions. The tech is web-based and accessible on desktops using Google Chrome and Microsoft Edge, and on all mobile devices using Google Chrome and Apple Safari.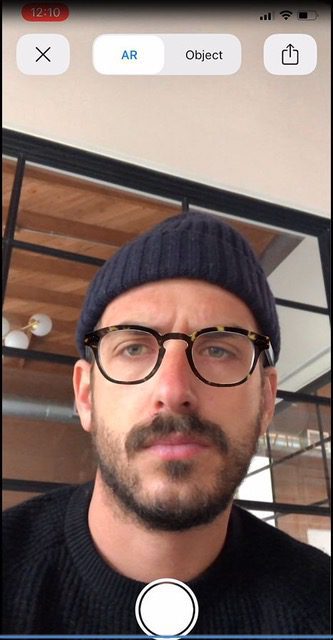 "Virtual try-on allows us to meet customers wherever they are, so they can answer product questions in a real-life context and choose the right frame with confidence," said Zack Moscot, Chief Design Officer at MOSCOT in an interview with Retail TouchPoints. "We are seeing great traction across the program: conversion rates have increased 135% for shoppers who engage with the 3D and virtual try-on experiences."

What makes the MOSCOT brand and its products unique is that frame styles are available in multiple sizes. Consumers are encouraged to try on different sizes to find the right fit for their face, which isn't just difficult — it's virtually impossible — to do online. Vertebrae has helped MOSCOT close that gap and provide accurate size and scale for all frame widths
AR Supports Brand 'Omnipresence'
To promote the 3D and AR capabilities to its online audience, MOSCOT relied heavily on showcasing the experience on social platforms and in email campaigns. The brand plans to continue integrating the Virtual Try-On experience into more marketing activities, including paid social and email, to boost adoption, especially as more styles are rolled out.
"MOSCOT set out to solve a real customer need," noted Vince Cacace, Founder and CEO of Vertebrae in an interview with Retail TouchPoints. "Zack and his team are extremely clear that their goal is to deliver a memorable, expertise-driven experience online. They turned to AR to help solve real pain points about picking the right frame style and size online — within the brand experience and within the purchase path. They were very intentional about this commerce goal."

MOSCOT also has used its virtual try-on capabilities as a vehicle to drive in-person engagement and omnichannel activation. The brand is featuring QR codes connected to the experience in store windows and at various touch points in branded shops. Consumers can scan the codes using their mobile devices and virtually try on various styles, sizes and colors, right from the sidewalk. The versatile experience — the QR codes are also available via desktop — has helped MOSCOT be "omnipresent," improve consumer confidence and ultimately drive more conversions. The QR codes in store windows are especially valuable for shops in areas that may see high sidewalk traffic at certain times.

"We are especially featuring the QR codes in locations that might have high traffic when the shop is closed," Moscot said. "Or, we have a certain type of tech-savvy audience who might swing by, scan a frame, and then try on a pair of glasses as they are walking down the street."

Although this is still an area of "experimentation and improvement," Moscot noted: "I think it's safe to say that the adoption and familiarization with QR codes has increased drastically in the past year, so we're seeing a lot of people browse our windows and scan our QR code with ease." Moving forward, Moscot plans to further promote and incorporate the QR codes into various marketing materials and collateral, as well as into events.