With COVID-19 case counts declining and vaccination efforts underway, eager consumers and retailers are both looking hopefully toward a future return to normal. And while the timeframe is still fuzzy, one thing is clear — the "normal" that we'll find ourselves in post-pandemic will be familiar, but also fundamentally different, from the world we knew before COVID-19.
The pandemic has forever altered consumer behavior, and this year in particular consumers find themselves in a kind of limbo — hope is on the horizon, but "normal" isn't here yet. For that reason, market research provider Euromonitor International has identified resilience and adaptability as the two driving forces of consumer behavior in the coming months in its recent report, Top 10 Global Consumer Trends 2021. The study draws on the expertise of its team of global analysts covering 100 countries around the world to identify the traits that will define consumer behavior this year. Here are five key takeaways:
The 2021 Consumer is Craving Convenience
2020 put a new spin on the old adage, "You don't know what you have until it's gone." Moving into 2021, consumers are looking to get back what they lost, seeking out the ease of daily life that they previously took for granted, but with a newfound appreciation.
For that reason, a seamless, streamlined customer experience will be front and center. As consumers continue to rely on digital channels for services that still cannot take place (or that they don't yet feel comfortable doing) in person, a positive experience across all channels will play a pivotal role in purchasing decisions and loyalty.
"The goal is to offset COVID-related inconveniences and recapture an experience that feels normal," according to the Euromonitor study, but one size does not fit all. Businesses must also account for generational preferences. For example, Euromonitor found that younger consumers are likely to prefer digital interactions, while their older counterparts prefer talking to human customer service representatives.
Retailers that work to create streamlined omnichannel experiences now will have a leg up in the post-pandemic world, particularly since the re-growth of physical retail is likely to be a slow process.
"Consumers will revert back to certain pre-COVID-19 behaviors like visiting physical stores or attending in-person events, but their new habits will impact the frequency of such occasions," said Alison Angus, Head of Lifestyles at Euromonitor International in an interview with Retail TouchPoints.
For the 2021 Consumer, Physical and Virtual are Inseparable
Digital tools saved the day last year, making it possible for much of life to continue despite the physical restrictions imposed by the pandemic. As a result, even older consumers have become acclimated to digital interactions, and consumers now expect integrated experiences.
"A blend of virtual and in-person occasions has been building, especially with younger consumers," said Angus. "Teens today do not differentiate between digital and physical — it just is. Now, consumers of all ages experienced the virtual world more closely and have seen the benefits."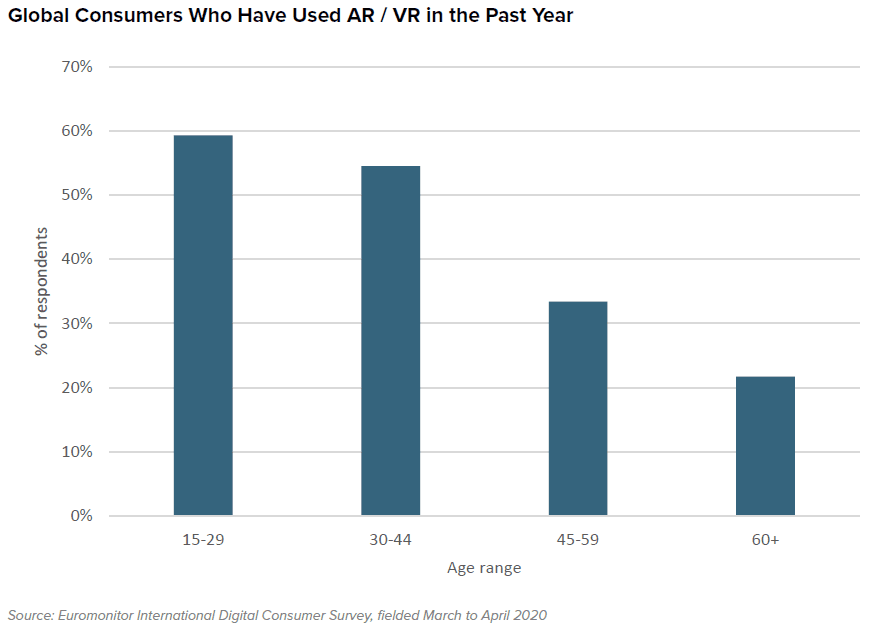 Blended solutions — that is, virtual activations in physical spaces or virtually enabled at-home experiences — will feel natural to consumers and drive sales.
"Integrating virtual tools into operations speaks to the consumer's desire for greater convenience as well as the blending of the physical and online worlds," said Michelle Evans, Senior Head of Digital Consumer at Euromonitor International in an interview with Retail TouchPoints. "Shopping used to be largely reserved for physical outlets, with ecommerce serving more of a transactional role in the consumer's shopping journey. In a digital-first era, retailers will be challenged to increasingly replicate the unique elements of the in-person experience into the online shopping experience."
Values Matter More than Ever to the 2021 Consumer
Consumers already were becoming increasingly values-conscious prior to 2020, but the events of the past year increased the urgency and momentum of this trend.
"The pandemic made consumers take a step back, think about how we are living and realize we can do better," said Angus. "The acceleration of social and environmental concerns, protecting the health and interest of society and the planet, is the new expectation."
In 2020, Euromonitor found that 73% of professionals believe sustainability efforts are critical to success. Interestingly, environmental initiatives in particular were waylaid in 2020 as companies and consumers rapidly changed their behavior in response to the unique circumstances created by COVID-19: 51% of professionals reported increased use of plastic packaging, and respondents also noted delays in recycling, waste reduction and green technology efforts.

For consumers the post-pandemic world represents a second chance, an opportunity to rebuild better, and they'll be putting their money behind companies that offer a purpose-driven proposition, whether it be social, environmental or both.
The 2021 Consumer has a Recessionary Mindset
This year "value" also will take on another meaning, as consumers decrease their discretionary spending in response to continued economic uncertainty.
"Consumers are thinking carefully about their purchases and the money they spend," said Angus. "Some are indulging in affordable luxuries to provide comfort, but most consumers want value for money. Value is not just defined by price, but also the benefits to the consumer — does the product solve a problem, or what health and ethical attributes does the product have?"
Pessimism is higher among millennials and Gen Z due to the 2008 financial crisis, the Euromonitor study finds, but consumers across the board are prioritizing value-added and health-conscious products and services as they economize their spending.
As a result, Euromonitor expects shoppers to shift dollars to private label brands and off-price retailers, as well as seek out options like buy now, pay later and subscription services, both of which also tie into consumers' desire for convenience.
"Companies should pivot toward value-for-money propositions, offering affordable options without sacrificing quality," Euromonitor advised in the report. "Premium attributes should be reinforced with a new empathetic story and have a strong tie-in with health and wellness, self-care or mental well-being."
To the 2021 Consumer, Wellness Means Safety
For several years, wellness has been gaining consumer mindshare, but in 2021 "wellness" will have a different meaning, focused more on tactical safety than general well-being.
With new behaviors like mask wearing and regular hand washing now ingrained as everyday habits, the 2021 consumer has developed an almost instinctual awareness of hygiene and cleanliness. As a result, contactless and unattended commerce solutions will continue to gain prominence, and much like other technologies introduced during the pandemic, these solutions will likely be here to stay.
Additionally, companies that make a clear, substantive commitment to customer and employee safety also have an opportunity to differentiate themselves among values-conscious consumers.