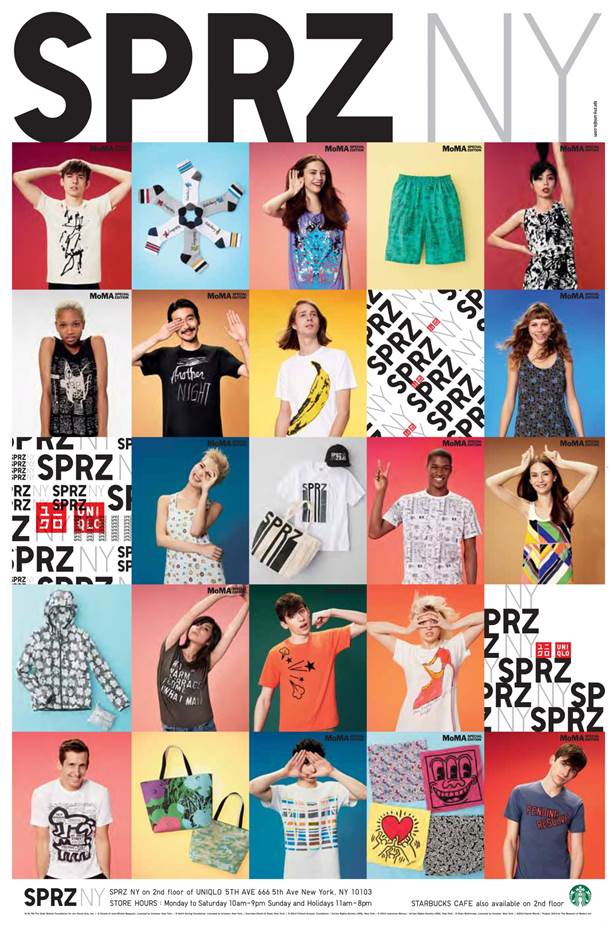 UNIQLO and the Museum of Modern Art (MoMA) have collaborated on a new in-store concept to celebrate innovative artists such as Andy Warhol and Jackson Pollock.
SPRZ NY, which was unveiled at the end of March, is a global project crafted to converge the art and fashion worlds within UNIQLO's global flagship store on Fifth Avenue in New York City.
"Manhattan attracts people from all over the world, and New York is associated with art and culture," said Larry Meyer, CEO of UNIQLO USA, in an interview with Retail TouchPoints. "Even though UNIQLO and MoMA both operate in different fields, we both aim to promote art as widely as possible. It's a great match."
Creating an innovative and compelling in-store experience was a primary goal for UNIQLO, using the partnership to "make our flagship store a real attraction, bringing in visitors from all around the world," Meyer explained. "SPRZ is an exciting new initiative for all of us."
The second floor of UNIQLO's flagship location has been remodeled for the SPRZ NY project. Designed with art in mind, the space touts special corners dedicated to modern artists and framed displays of T-shirts. For its first SPRZ NY product line, UNIQLO has unveiled 200 new items inspired by renowned modern artists.
T-shirts, polo shirts, light jackets, bandanas and tote bags are included in the collection. Familiar works from Warhol, Pollock and others, are merged with new designs with living artists to create truly unique pieces.
In the past, UNIQLO has offered collaborative T-shirts in partnership with MoMa. "Now, we're expanding on this with SPRZ NY for a wider range of products, some of which are available at all of our stores worldwide," Meyer said. "As a first, we have created the stand-alone store within UNIQLO Fifth Avenue to house the collaboration. The collaborative space in the store features works from incredibly talented, high-profile artists and it really provides a gallery feeling. We will have several different artists featured, changing periodically. Andy Warhol, Keith Haring and Jean-Michel Basquiat will remain annual mainstays."
A Starbucks experience also is included in the new brick-and-mortar experience, so consumers have access to a full service coffeehouse while they shop.
"We constantly strive to make the customer experience the best it can possibly be," Meyer explained. "Our relationship with Starbucks began when UNIQLO initiated the conversation to invite Starbucks into our flagship store, as Mr. Howard Schultz (Starbucks CEO) and Mr. Tadashi Tanai (Fast Retailing Chairman and CEO) know each other and are friends. Given that our company goals align so well, we wanted to work together to create something very exciting."
Thus far, UNIQLO is "very happy" with the results of SPRZ NY. "We are excited that we've been able to collaborate with MoMA on such a unique opportunity to which so many people can relate," Meyer said. "We will continue to announce collaborations with new artists on a regular basis to keep things fresh for our customers. Because SPRZ NY is all about creating something magical, everyone can look forward to new collaborations and products."