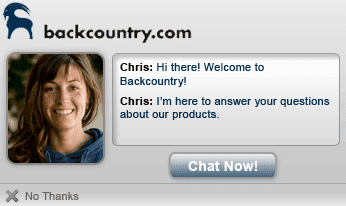 As consumers become more savvy and comfortable browsing and buying online, they're relying less on call centers and more on digital tools such as live chat, according to digital engagement solution provider LivePerson. On Cyber Monday 2014, LivePerson hosted more than 2.8 million customer service conversations, a 20% increase from 2013.
In one example, Backcountry.com has seen substantial growth since refining and optimizing its live chat strategies — especially during the holiday season. Over time, the outdoor apparel and gear eTailer has discovered that consumers who engage one-on-one with agents generate up to six-times more revenue than those who have a standard online shopping experience.
Typically, Backcountry.com generates up to half of its total revenue for the year during the six-week period between Thanksgiving and Christmas Day. To ensure shoppers have a great experience, the eTailer relies on the LivePerson chat tool and its service agents, called Gearheads. For the holiday season specifically, Backcountry.com onboards 200 additional full-time employees to address the surge in online conversations.
"We're able to hire high-quality Gearheads who understand our customers, have the gear and are motivated to deliver an awesome experience," said Chris Purkey, VP of Customer Support at Backcountry.com. "For retail businesses, the call center typically is a cost center, and you have to optimize staffing to the overall budget. But now, we're evolving our strategies so we can not only handle incoming chat volume, but also curate a unique experience."
But Backcountry.com's focus on online customer service extends far beyond the competitive holiday season. Because so many retailers, even online giants like Amazon, are selling outdoor apparel and gear, Backcountry.com needs to differentiate with its customer service.
"Our philosophy has always been to give customers every opportunity to connect with us and let them decide how they connect with us — whether through phone, live chat, email or self service through the web site," Purkey said in an interview with Retail TouchPoints. "We spent the last year making sure those functions are up to par, and making sure that customers can seamlessly engage with us no matter where they are on the site."
Over the past year, in fact, Backcountry.com has seen a significant shift in customer service strategies. Rather than connecting with agents via the call center, more consumers are using live chat. This shift could be attributed to the ongoing growth of smartphone and tablet traffic, according to Purkey.
"Our total traffic to the site via tablets and smartphones accounted for 34% of our total traffic on Cyber Monday," Purkey said. "This was a significant increase over 2013. We're seeing more and more interest in mobile, so we're working hard to make sure we have a great app and mobile site, and that we offer chat easily through those channels."
Creating A Curated Experience
Backcountry.com initially rolled out an in-house live chat solution in the late 1990s. The eTailer later partnered with LivePerson to ensure its strategies would continue to evolve and improve. The companies have collaborated during the past several years to develop proactive chat rules that allow Backcountry.com to initiate conversations with online shoppers, and encourage them to chat with Gearheads.
"Both companies have benefitted from the proactive chat rules," Purkey said. "For example, if you're a consumer and adding items to the cart and you eventually abandon that purchase and don't come back, we'll prompt you to chat with us because we're identifying, potentially, that you have questions or there's a problem that we want to help you solve. That's one of the thousands of chat rules that we fire every day on the site."
Most recently, Backcountry.com and LivePerson partnered to further develop the Gearheads experience and create more customized agent branding tools. Now, when consumers connect with Gearheads, they're able to see headshots and more detailed information about them and their personal interests.
"That way, you know you're talking to a real person and an actual expert," Purkey explained. Initially, Backcountry.com and LivePerson conducted an A/B test to determine the effectiveness of this more customized experience. "We wanted to find out if customers really cared," he noted. "You can do all of this work to create customization but ultimately, if it doesn't make a difference to the customer, there's no point in doing it."
After completing the test, Backcountry.com found that consumers who engage one-on-one with Gearheads and interact with specific agents on a regular basis generate more revenue for the business.
"If you plan to sustain and grow your business over the next five to 10 years, price and inventory alone aren't going to win the game," Purkey said. "We have the unique opportunity to differentiate our business because we're going to display the assortment in a unique way and we're going to teach you about the product by tapping into our experts who share their knowledge and experiences."
Moving forward, Backcountry.com plans to further personalize the chat experience, and ensure Gearheads play a role in the entire customer lifecycle, Purkey noted. "We want our Gearheads to follow up regularly with customers and make sure the products and experiences meet expectations. We want it to be evident that we care about our customer and that we plan to be a part of the entire process, from shopping for a product, to buying it and using it."