New research from eMarketer predicts that 52.1% of retail sales in China will come from ecommerce in 2021. If the forecast bears out, this will be a major milestone for online commerce, marking the first time that digital sales will account for a majority of all retail sales in any country worldwide. It will also represent a big jump compared to 2020, when ecommerce accounted for 44.8% of the country's total.
"China has long led the world in aggregate ecommerce sales figures and ecommerce's share of total retail," said Ethan Cramer-Flood, Senior Forecasting Writer at eMarketer's Insider Intelligence in an analysis of the findings. "However, as recently as 2018, that share was only 29.2%, which is relatively close to what ecommerce's share will be in South Korea and the UK this year. Yet China seemingly reached a behavioral tipping point over the past few years, wherein ecommerce enthusiasm accelerated rather than leveled off. While the pandemic did not create this trend, it certainly buttressed it, and China's most recent ecommerce boom did not decelerate even after the country got a handle on the virus and the economy fully reopened."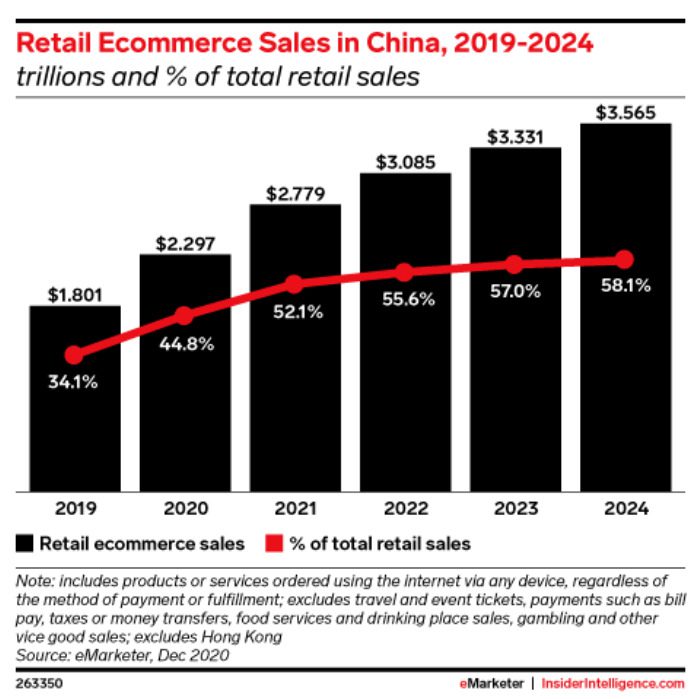 In the country with the next highest share, South Korea, ecommerce is projected to account for 28.9% of all retail sales in 2021, while in the U.S. ecommerce is projected to make up 15%.
To understand how ecommerce in China reached this level, Cramer-Flood pointed to several developments over the last 20 years, including:
The emergence of Alibaba and, not long after, JD.com;
Innovative digital payment systems, like Alibaba's Alipay and Tencent's WeChat Pay;
An "inconvenient, non-customer-centric and often confrontational" in-person shopping culture;
A nearly limitless supply of low-cost delivery services; and
A smartphone-driven mobile commerce culture.
"Given how the pandemic boosted ecommerce engagement in much of the rest of the world last year, it is not inconceivable that other countries could soon find themselves making transformational leaps akin to China's," predicted Cramer-Flood. "Ecommerce adoption has a momentum of its own, regardless of public health concerns, and there may be an as-yet-undetermined tipping point beyond which ecommerce's share of sales suddenly and inexorably spirals upward."