As the oldest members of Gen Z move into their mid-20s and the youngest enter their teen years, personal finance concerns are high on their list of worries. That sense of unease is to be expected from a cohort shaped by both the 2008-2009 Great Recession and the COVID pandemic, and it's had a big impact on their shopping choices: nearly half (48%) say they shop the most often at discount/off-price retailers, and 25% frequently patronize dollar stores.
That's according to a recent study by the ICSC that surveyed Gen Z consumers, defined by the Pew Research Center as those born between 1997 and 2012. The study found that four out of five are worried about the health of the U.S. economy, and a significant group, 41%, set aside more money than they spend, compared to 36% who say they spend more money than they save.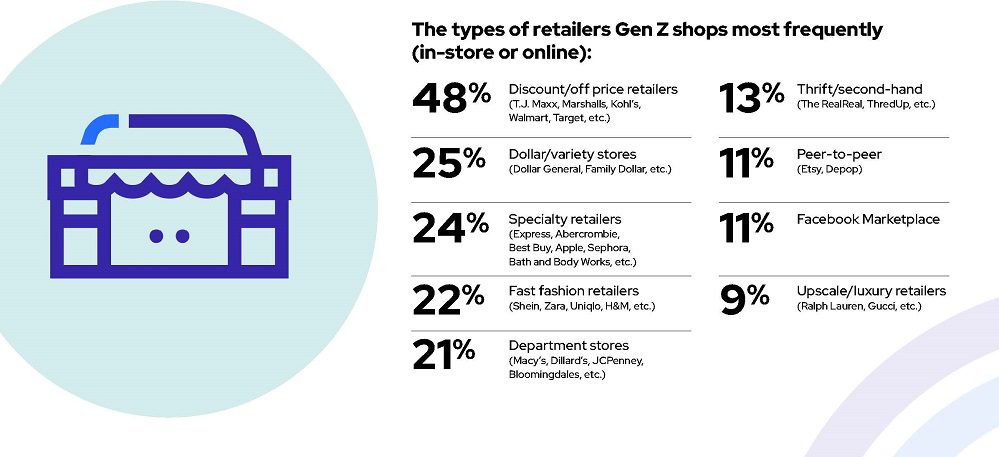 Financial concerns also affect how Gen Z pays for things: 45% use debit cards, 21% prefer cash, and credit cards come in third at 17%. Buy now, pay later (BNPL) options are at the bottom of Gen Z's preference list, at only 3%.
"This generation is very in tune with what's going on in the economy, and I believe they really are financially literate," said Stephanie Cegielski, VP of Research at ICSC in an interview with Retail TouchPoints. She added that their scant use of credit cards can be partially attributed to the fact that they are still building up credit histories, but she believes more is in play here: "They're also not using BNPL options, which goes to fiscal responsibility. They're saying 'I need to be able to pay for it now, and if I can't I shouldn't buy it.'"
Gen Z are Digital Natives — Who Love Shopping in Stores
Virtually all (97%) of the 1,000+ consumers surveyed in March 2023 shop in brick-and-mortar stores — and almost the same number, 95%, also shop online. Nearly one-third (30%) like physical stores' ability to provide them with products immediately, and 28% go to stores to see, touch and try the products they're considering. Gen Z also cites convenience as a key reason for shopping online: 30% like the ability ecommerce gives them to compare prices and shop from anywhere and at any time.
"Almost all of Gen Z chooses to shop in person; they are truly the omnichannel shopper," said Cegielski. "They are digitally native, but as human beings we crave social interaction: two-thirds [of respondents] are doing this for the social aspect. That's great news for shopping centers and malls; they have another generation that wants to visit them."
Of course, retailers and shopping centers need to continue working hard to attract Gen Z consumers, 60% of whom would rather spend their money on experiences than material items. "Gen Z wants curation of services, retail stores and food and beverage experiences, since they often spend more on dining than shopping," said Cegielski. "If [a shopping center] has that broad group of tenants, someone might stop by the grocery store after they dine, or say 'Oh, I do need a new pair of shoes.' That's where property owners need to be focused."
Wherever they shop, members of Gen Z are looking for a friction-free customer journey: 46% rate quick and easy checkouts as the most important factor in their shopping experience, followed closely by fast shipping (45%). Free returns, at 31%, and quick/helpful customer service, at 27%, also are vital elements.
Career-Minded but Seeking a Positive Work-Life Balance
Older members of this generation are now entering their working years, and they're eager to do well professionally: 63% cite having a successful career as their top priority. But Gen Z also is serious about achieving a work-life balance: 50% want sufficient time to pursue personal interests and hobbies.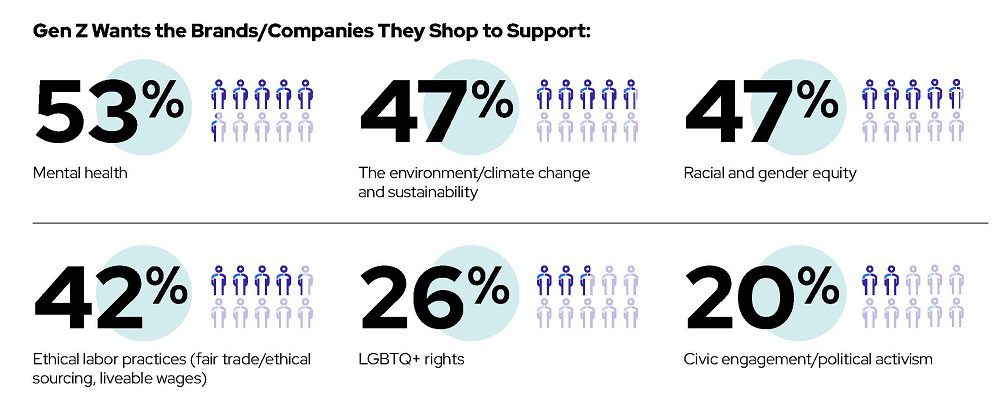 One of the unexpected findings of this survey concerned the values Gen Z seeks in the brands and companies they support with their shopping dollars. At 47% each, environment/climate change/sustainability and racial and gender equity scored high, with ethical labor practices at 42% and support for LGBTQ+ rights at 26%. But the top choice, at 53%, was support for brands that prioritize mental health.
"This finding surprised me, but having mental health as a top priority speaks volumes — especially for a generation that uses social media a lot, which isn't necessarily good for your mental health," said Cegielski. "They care about how a brands' employees are treated and how they support mental health initiatives."
Their support for better mental health aligns with the ways Gen Z views their own lives. "This is the first generation that's truly embracing finding work-life balance, and they're figuring out how to do that better than any generation before them," said Cegielski. Additionally, she sees a benefit in this generation's desire to save their money for travel and experiences: "That's good for everybody, because the more they travel, the more they spend."