By the close of its ninth edition in June, the New York Fashion Tech Lab (NYFTLab) and its largest-ever group of partner retailers and brands from major corporations had provided support to five women-led emerging business-to-business fashion technology companies.
Among the solutions chosen for the 2022 cohort were tools that support sustainability by repurposing garments in both the physical and digital worlds — solutions that can advance the evolution of retail personalization with innovations in areas such as the metaverse, NFTs, gaming, social commerce and product returns.
"These partners not only support the NYFTLab but they (together) select each year's cohort with us and then engage with a select few of the final companies during the 12-week program," said Jackie Trebilcock, Managing Director of NYFTLab in an interview with Retail TouchPoints. "We have had over 35 retailers and brands participate since 2014, several returning year after year."
Five New Technologies Driving Retail Personalization
After an application process that began in November 2021, NYFTLab and its partners selected the five finalists, hailing from New York; Los Angeles; Washington, D.C.; Paris; and Tel Aviv. By accommodating new consumer demands for updated approaches to digital shopping, the women behind these technologies enable greater personalization and engagement between customers and brands, in addition to connections with other consumers.
The 2022 NYFTLab cohort included:
Digital Village
Massively multiplayer online (MMO) metaverse Digital Village (DV) promotes sustainability by developing digital strategies to connect brands, consumers and digital communities, in addition to offering a social marketplace where users may buy and sell virtual goods. DV develops NFTs for avatars, virtual garments and accessories that may be worn within the metaverse and also sells tokens for digital artistic works, such as fashion sketches from acclaimed illustrator Kenneth Paul Block.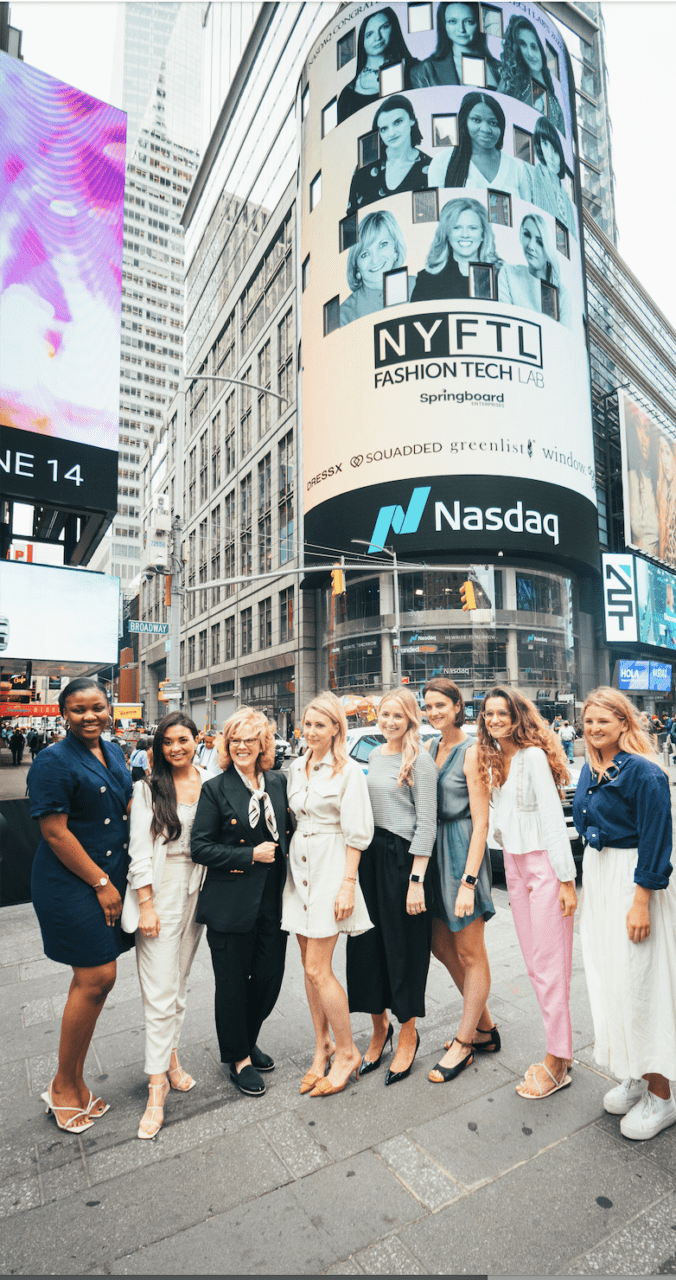 "The potential of Web3 is vast but it comes with its own risks," said Evelyn Mora, Founder of DV in an interview with Retail TouchPoints. "There is a clear path where the future is going. The question is to understand what type of tools to utilize and technologies to curate to reach the right results. Not all the retailers and brands are the same or aim to reach the same things, and that we find exciting in our work. One size does not necessarily fit all. For one retailer it can make a lot of sense to utilize crypto or mint NFTs, and for the other the smartest first move could be adopting blockchain — it depends."
DRESSX
Digital garment platform DRESSX partners with brands and retailers to sell versions of garments that consumers can wear virtually within different forums, such as video calls, social channels, dating apps, livestreams, virtual worlds and within gaming environments. The technology allows consumers to buy looks for use online without paying for a physical outfit, which reduces fashion waste once a trend has passed.
"Digital fashion is designed to dress our digital selves," said Natalia Modenova, who co-founded DRESSX with Daria Shapovalova and Julien Rosilio, in an interview with Retail TouchPoints. "People from tech and gaming backgrounds get it fast, and a mass audience is starting to actively follow, a common pattern when innovative products are launched. We believe that in the future every fashion brand — luxury, haute couture, streetwear, everyone — will own a digital fashion line and every person will have the digital fashion wardrobe — we call it Metacloset!"
Greenlist
Peer-to-peer returns platform Greenlist matches consumers with other customers to whom they can send their unwanted new purchases, bypassing the retailer as the intermediary between the two parties. Once a user lists a product as a return, the technology matches a buyer with the seller and they complete the transaction together.
"As this tidal wave of returns looms, retailers need technology to help make the swell more manageable," said Jess Owens, Founder and CEO at Greenlist in an interview with Retail TouchPoints. "In our case, technology allows us to find a buyer of an item at the moment a shopper initiates their return. This reduces logistics expenses for our retailer partners while immediately capturing demand for the item and reducing the returns volume the retailer's warehouse needs to process, all while enabling a more sustainable process than a traditional return."
Squadded
Socially focused solution Squadded connects shoppers with their friends through a partner retailer's website as a way to re-create the social aspect of brick-and-mortar shopping in a group, but via an ecommerce platform. Shoppers are able to upload media of themselves wearing different pieces of clothing and ask for advice within their trusted group of friends, and users of the technology also are able to help build a brand's community.
"We realized that the shopping experience has evolved," said Elysa Kahn, Co-Founder of Squadded in an interview with Retail TouchPoints. "While social commerce is booming, traditional ecommerce websites are still transaction-oriented and very static. Sharing your findings, asking the opinion of your friends, taking inspiration from the looks of the social media community — that is what is changing a simple online visit to a shopping experience. And what if we could do all that within a single ecommerce site?"
Window
Ecommerce personalization tool Window uses machine learning to create an experience similar to the way music streaming services personalize a playlist. An AI-powered ranking system yields search results that are listed according to their relevance to a user's specific filters and criteria. Over time, the technology improves the search as it considers the user's individual brand preferences, size, style and shopping history.
"Frustrated by the inefficiencies of ecommerce (time-consuming, disorganized, fragmented), consumers crave and expect the personalization provided by other verticals, and Window aims to remove all friction in fashion ecommerce search," said Oladoyin Oladapo, Founder and CEO of Window in an interview with Retail TouchPoints. "We are building a bridge between retailers and consumers that helps to meet that expectation [through a] personalized solution for the customer with shopping intent."
Major Names in Retail Invest in Fashion Technology's Future
The 12-week program included mentorship through workshops and sessions with retail investors and senior executives. Accenture returned as a program partner while Marriott International and Walmart participated for the first time, joining returning retail and brand partners:
Burberry;
The Estée Lauder Companies;
Levi Strauss & Co.;
LVMH;
Macy's Inc.;
Perry Ellis International;
PVH Corp.;
Richemont;
Tapestry; and
Tory Burch.
Since its founding by nonprofit venture catalyst firm Springboard Enterprises and a group of fashion retailers in 2014, NYFTLab has helped women-led fashion technology companies by providing mentorship, collaboration and access to senior retail leaders. The program boasts 70 alumni who have provided solutions within more than 60 different areas of fashion technology.
After working with NYFTLab's largest-ever group of major retailers, the 2022 cohort finished the program with the company founders' meeting in New York for a Tech Runway Demo Day on June 8, 2022 to present their concepts to fashion and retail executives, investors and media. Applications for the 2023 NYFTLab program will open some time in Q4 2022.