Making the leap from a DTC brand to having a physical presence can be a smart move for an ecommerce pure play, but brands need to be sure they open the right space in the right location. Ritual's transformation into an omnichannel retailer has started with a shop on Los Angeles' famous Abbot Kinney Boulevard that not only doubles as a brand ambassador but also is helping define how the brand will develop in the future.
"When we talk about [the store], we indicate that it's really sort of the physical manifestation of our products in a brick-and-mortar building," said Jenn Cornelius, Chief People Officer and Head of Retail at Ritual in an interview with Retail TouchPoints. "Our products are clean and transparent and traceable, so we were looking to bring a vision like that to life."
The vitamin brand's first physical location, which was created in partnership with design firm Mythology, reflects Ritual's values in its bright colors and semi-transparent shelving. The result is an inviting and easy-to-navigate space that aims to provide a welcoming — and literally transparent — experience for shoppers.
"What's really different is when you walk in you see clear acrylic shelving, which feels really warm and very open," said Cornelius. "You see our multivitamin the minute you walk in, along with our newest product, Symbiotic+. Our packaging is gorgeous, so I think it really maximizes the look and feel of the space — it's clean and it's clear and it's transparent. When you walk into the building you almost immediately feel that your eyes can see all the way to the back of the building."
DTC Data Helps Determine Optimal Physical Location
Ritual chose the location of its first store based on customer data that showed a significant concentration of shoppers in the Venice neighborhood of Los Angeles. Additionally, Abbot Kinney is a street known for its stylish and unique retail boutiques, making it a good fit for the brand's vision.
"Abbot Kinney and Venice are very much places where we believe our customers are," said Cornelius. "It's also close to our headquarters, so the space provides an opportunity for us to not only serve our customers where they are, but also to leverage it to test and experiment."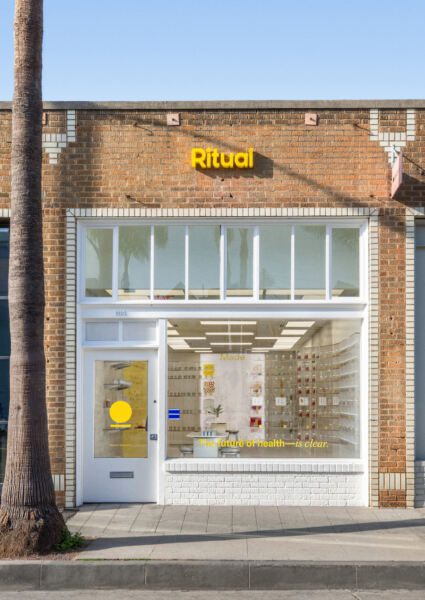 The physical space also is giving Ritual a chance to connect with its shoppers through programming, such as a series of conversations with an expert that covers concerns regarding the entire journey through pregnancy. These educational sessions will help Ritual learn about what resonates with its shoppers (and what doesn't), to help determine future programming as well as discover demands and interests that could affect Ritual's long-term strategies.
Additionally, the popularity of Abbot Kinney as a shopping district has helped Ritual acquire new customers. Customer feedback showed that about half of the store's visitors had never heard of Ritual before they visited the flagship.
"The thing that's really great about physical retail is we're introducing our products and our brand to customers every single day that may not have found us otherwise," said Cornelius. "I think about my journey as a regional customer. I was a customer before I was an employee. Many years ago I found us on social, and that's one way that people can find us, but having the building lets people walking down the street decide to pop in because they're drawn in by how gorgeous the space is. We can introduce them to the product right then and there."
Shoppers and Retailers Both Benefit From Deeper Interactions
New customers aren't the only ones who can take advantage of associate interactions. Even veteran shoppers can learn more about the products and their benefits, as well as chat with well-informed associates to create an experience that can't be matched on a website.
"We're learning how valuable it's been to have live conversations about the product and the brand," said Cornelius. "When somebody tries something and they order it online you can go onto the website and you can try to explore and learn about all the ingredients, but having an actual two-way conversation feels really different. Our customers have told us how much they enjoy being able to have conversations about the product and to have our team answer questions."
The two-way conversations also are helping Ritual align its product development pipeline. In-store shoppers can share more information about what they're looking for than what Ritual can gather from online browsing data. The overall result — deeper relationships between associates and shoppers — is helping Ritual better understand its customers. to set the stage for an even better experience in the future.
"Part of why this physical space is so important is because the intention is to deepen the relationship with our customers and give them something they wouldn't get just by receiving a box of our products in the mail," said Cornelius. "Our store leader Michelle is really incredible, and we're very thoughtful about the people we hire. [We] make sure that they're not just educated on the brand but they really know how to make a deep connection with someone,. get to know them and understand their journey, so over time as we launch more products we can have a more personalized experience with every customer that comes in."