Food shopping is a highly personal, and sometimes emotional, experience. For some, food aligns directly with their beliefs; for others, it's a strong connection to their culture and upbringing. And because food shopping decisions align directly with consumers' needs and preferences, food retailers have a unique opportunity to differentiate through the physical experience they offer.

That is why Interstore | Schweitzer, which believes brick-and-mortar is the linchpin of the omnichannel customer experience, analyzed food stores all over the world, coming up with a list of 50 stores they believe every serious retailer (and food lover) should visit.
These stores represent "businesses that understand the ways people shop in stores and online," said Martin Campbell, Creative Director North America, Interstore | Schweitzer, in an interview with Retail TouchPoints. "They understand how to make that store have a unique role in the omnichannel experience — something people cannot get online and that compels people to engage with the brands. The retailers that have done that well clearly come through on this list."

Food retailers were assessed and scored based on five key criteria:
1. Expertise and Craftsmanship
"We think that it is increasingly important for food stores to demonstrate that they have that expertise in the face of competition," said Campbell. Stores that lead in this area have created a platform to show and tell why their brand is above all others.

For example, La Grande Epicerie in France was spotlighted as the "crème de la crème" of the French gourmet retail experience. Expert pâtissiers and bakers do their work at a station, which is visible through a window for passersby. They are the stars of the show and, in turn, the customer experience. When people venture into the store, they know they will be getting exceptional goods.
2. Space and Atmosphere
The most exciting thing about store design is that while there may be general trends and best practices, there is no one-size-fits-all model for success. Campbell noted that while the 50 food stores on the list varied greatly, they all centered around a core value they wanted to offer to visitors. "We're observing a divergence of stores that are really pushing on the efficiency and convenience, while the others are trying to help customers slow down, have them experience the store and spend more time there," he said. "Meanwhile, some stores did both of those things extremely well. We felt those cases were interesting because they added so much convenience and efficiency, while also inviting the customer to spend that time they saved sitting and eating in the store."

All brands and retailers need to think critically about what they want consumers to accomplish in their locations. Then they can determine how to create convenience in a friendly, immersive atmosphere that also can delight customers. For example, the David Jones concept in Bondi Junction in Sydney, Australia is an immersive Food Hall that Interstore | Schweitzer cited for its incredible atmosphere. A communal restaurant and champagne and oyster bar add a sense of luxury and immersion to the experience. If visitors aren't in the mood to sit and dine, they also can quickly venture through the space and shop for the grocery items they need.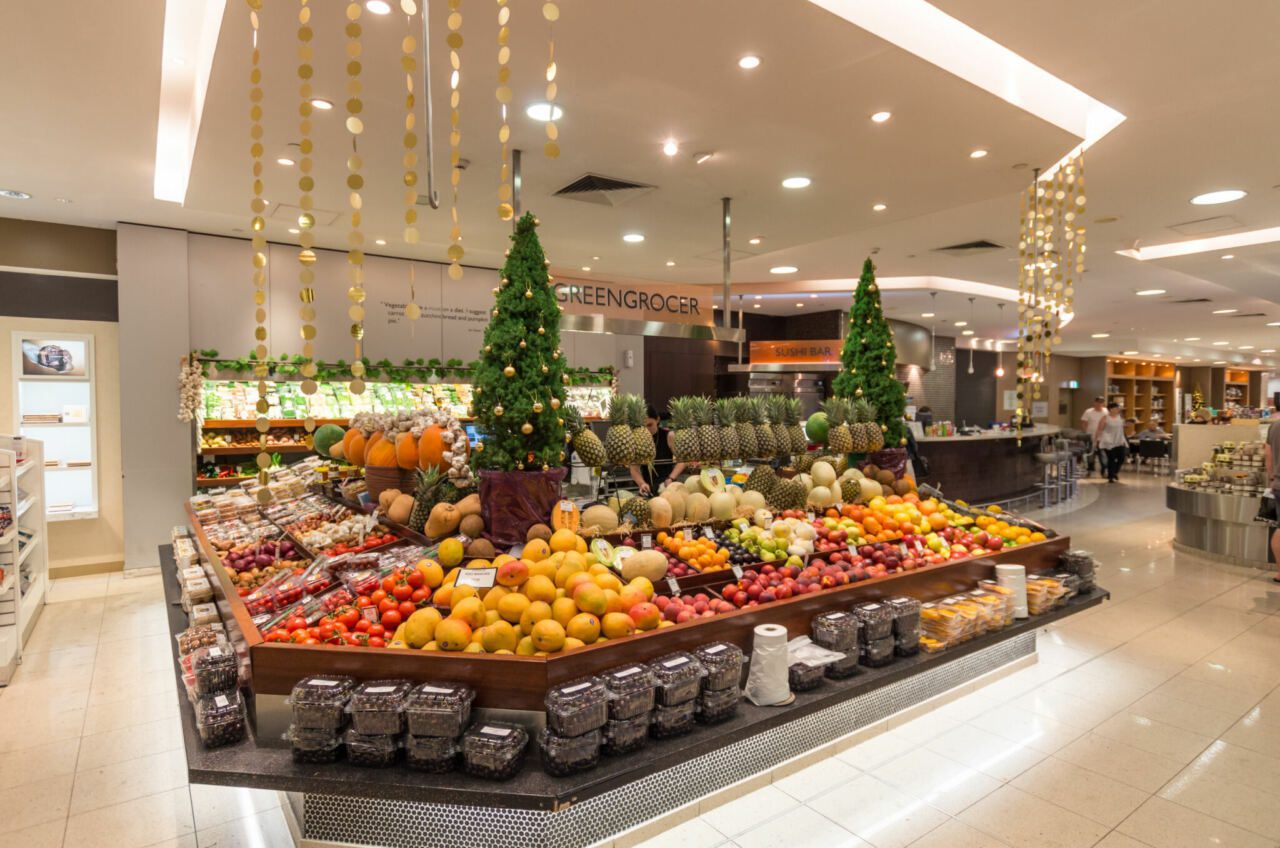 3. Exemplary Product Presentation
When shopping for food, sight is just as (if not more) important than smell, and several locations on the Interstore | Schweitzer list gave new meaning to the phrase "a feast for the eyes." For example, La Fromagerie in London has an "exquisite curation" of fresh groceries, homewares and, of course, cheese. The store is designed as a series of interconnected rooms that immerse consumers into the journey and story that La Fromagerie wants to tell. Visitors can book a private group dinner or partake in a wine and cheese tasting hosted by the senior cheesemonger.

But immersive merchandising and product curation isn't just for specialty food stores. Even a cash-and-carry concept from German retailer Selgros completely reimagines the product discovery experience. A location in Poland takes inspiration from gourmet food specialists by embracing "food theater" and grand visual merchandising architecture. However, these elements do not take away from or complicate consumers' goals for efficiency.

"The strongest visual merchandising is really where the consumer is left thinking about the product first and then the fixture," Campbell explained. "You're developing the solution that really helps showcase your product. It's a simple principle, but a lot of retailers don't do that very well."

Grégoire Kaufman, a retail consultant at Interstore | Schwitzer, added that these products need to be the start of the story that retailers are trying to tell in order to draw consumers from room to room or aisle to aisle. It's a completely different and immersive ambience, created through a combination of layout, infrastructure and the way consumers are exposed to products. "The more attractive retailers show that they're not just a point of sale," he said. "Like museums, they are curators of experience."
4. Exciting Ready-to-Eat
A big part of bringing "food theater" to life is creating a space where people can touch, feel and taste the product. It's no surprise then that many of the retailers featured on the list have invested heavily in food services.

"A lot of retailers are creating more sophisticated food services," Campbell said. "The U.S. has evolved quite a bit in that area and other markets are catching up. The retailers are acting like providers of food, not just sellers of food. They're providing meals to give consumers that entire food story."

To add more detail and transparency to that story, some retailers are using design to connect production to retail. They are opening kitchens, offering visibility into prep areas and creating a stronger connection between the consumer and the employees preparing the meat, fish, cheese and other items. "I think a lot of stores that we saw do that very well to create a bit of theater," Campbell noted, "and it just creates that connection to the human staff and their expertise in a different way."

For example, Erewhon is a Los Angeles-based organic grocer and café that features a "show kitchen." Whether shopping for groceries or sitting down to eat, all visitors have a direct view of ready-to-eat meals as they are prepared by highly professional staff.
5. Omnichannel and Digital Innovation
While technology has been the focal point of many conversations about the future of the store experience, Campbell noted that food and grocery retailers are still in the exploratory phase. "Some retailers are digital-first businesses and are far ahead of others in their digital competency," he said. "All the others are really playing catch-up."

Interstore | Schweitzer also found that digital was used in two primary ways: to tackle checkout challenges and to deliver dynamic content that drives consumer engagement and empowerment. Two stores on the final list seem to have mastered these two areas and brought digital-physical synergy to the next level: Exito WOW in Laureles, Colombia and Fresh Hippo in Shanghai, China.

The Laureles location is the second WOW store by Grupo Exito in Colombia and is a "hypermarket" designed to blend digital and physical touch points. The store has a robot, Otti, that assists consumers based on vocal commands. Smart carts allow shoppers to view recipes as they venture through the store. A dedicated click-and-collect corner supports seamless pickup and home delivery management. All of these components work together to serve the customer experience. For its part, Fresh Hippo from Alibaba is still celebrated as one of the world's most innovative supermarket concepts thanks to its creative combination of technology, in-store dining and fresh food offerings.