As its power and reach have grown, countless companies have tried to take on Amazon, but few have succeeded. It wouldn't be precisely accurate to count Bookshop.org among the successful conquerors, since its 1% market share of print book sales is dwarfed by Amazon's approximately 50% (by some estimates, it's even more). But for many in the book industry, the platform's very existence is a victory.
"Right before we launched, I had a panic attack when I did the math of how many customers we would need to survive," recounted Andy Hunter, Founder and CEO of Bookshop.org in an interview with Retail TouchPoints. "It was three in the morning, and I woke up, got out of bed, started doing the math and came to the conclusion that we needed 375,000 customers if we were going to make this thing work."
Spoiler alert: He got his 375,000, and then some. Three years on, Bookshop.org now serves close to 2 million customers annually and has 1,700 independent bookstores participating, not to mention a roster of esteemed organizations that curate shops on the site, including The New York Times, The Atlantic, Buzzfeed and a host of celebrity book clubs.
But perhaps most importantly (definitely most important as far as Hunter is concerned), independent bookstores are back on the rise. He created Bookshop.org to serve as a "bulwark against the erosion of book culture by Amazon," and book lovers have heeded the call. Customers across the country are making a concerted effort to effort to return to their local bookstores, but when they can't, they shop on Bookshop.org.
The Conflict — a Classic David and Goliath Scenario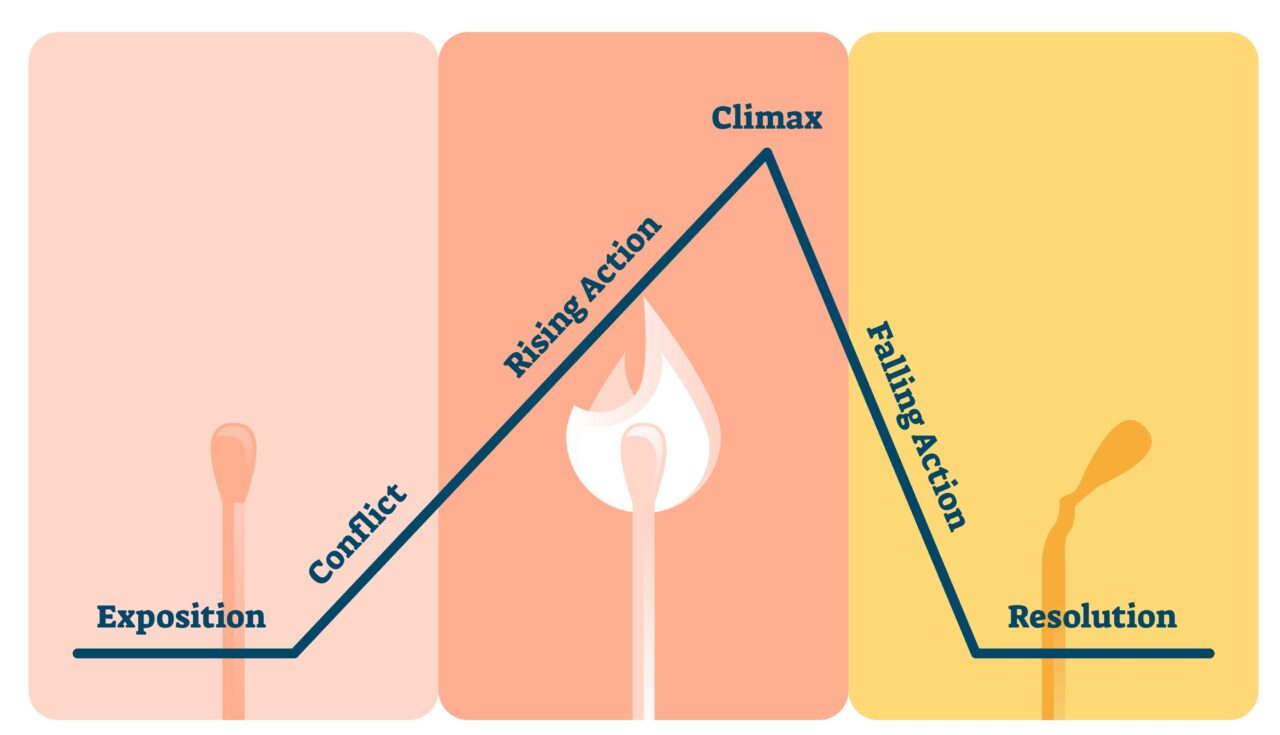 A combination of ecommerce platform and affiliate marketing hub, Bookshop.org sells directly to readers, but its most important customers are independent booksellers, helping them easily digitize their business and leverage their power as a group to create a compelling alternative to Amazon. Since it debuted in 2020, Bookshop.org (which is run as a nonprofit) has raised more than $28 million on behalf of independent book sellers in the U.S., and Hunter estimates that the site has saved as many as 400 bookshops from going out of business.
"In the early days of trying to fundraise for Bookshop, I heard from investors over and over again that the American consumer only cares about speed and price, and 'if you can't beat Amazon on speed and price, you're doomed,'" said Hunter. "But I knew it wasn't true, because I pay extra money every month for clean energy and organic produce. I try to shop local when I can, and I know I'm not the only one. I truly believed that there were a lot of socially conscious consumers out there, especially in books, because people who read are smart, critical thinkers.
"We've gotten one out of every 100 of those people, and I think we can get one out of every 20. Sure Amazon might end up with 85% of the online book shoppers and Barnes and Noble might have 10%, but I think we can get to 5%. And that 5% will be people who understand how important local community is and how important bookstores are. Our pitch now is that sometimes there are more important things than money and speed. We want to preserve a world where in 50 years you and your kids can still shop at your local bookstore, and the ecosystem around books can still be strong and thriving and balanced."
Plus, as Hunter makes sure to point out, Bookshop.org is almost as fast and cheap as Amazon.
In fact, while on the surface Amazon may appear to be the villain in this tale, it is perhaps more accurate to see the ecommerce giant as the book industry's foil — that necessary antagonist whose own feats of daring spur the hero to greater heights than they ever would have achieved without an opponent. In its way, Amazon has had a hand in Bookshop.org's success, because its dominance forced independent booksellers to evolve and reimagine themselves in a way that perhaps never would have happened had the industry remained unchallenged.
Rising Action — A Challenger is Born
The origin of Bookshop.org is one of those stories about the right man at the right moment. In the early part of his career Hunter worked in IT systems for companies like Disney and MGM, but he "didn't really care about that work," so he gave it up and pursued his passion — culture in the form of publishing — thinking he was leaving tech behind forever.
But then, "from the years of like 2009 to 2018, I just watched Amazon start eating everybody's lunch," he said. "They grew from 15% of the market to over 50%, meaning one out of every two books were sold by Amazon. And as somebody that deeply cares about books and feels that they're of great importance to our culture and to humanity, it worried me a lot that Amazon was controlling so much."
He began to have conversations with the American Booksellers Association (ABA), the largest U.S. trade association for booksellers, about a digital strategy to combat Amazon. Initially Hunter hoped they would be the ones to launch a competitive platform, but becoming a bookseller itself was counter to the ABA's mission. Instead, the ABA became one of Bookshop.org's main investors.
And suddenly Hunter found himself drawing on all that IT knowledge again. "The most important thing for me was that it be so simple, any bookstore could do it," he said. "I knew how resource-constrained and often un-tech savvy they were, so I wanted it to be so simple that [a bookstore could] get set up in a half an hour and a customer like my mom, who can press the button to accept a FaceTime call and that's about it, could use it [to shop]."
"Prior to the existence of Bookshop, consumers who wanted to purchase books online from independent bookstores had two options — seek out the website of a specific bookstore or use Indiebound, which was a first-generation online aggregate of indie bookstores," explained Molly Ellis, VP and Executive Director of Publicity at Macmillan Children's Publishing Group in comments shared with Retail TouchPoints. "But both Indiebound and most store websites tended to be clunky, plus they had the disadvantage of not being able to offer the same steep discounts that competitors (primarily Amazon) build into their business model. Both options [were ultimately] unappealing to all but the most die-hard supporters of indie bookstores."
More Rising Action – A Model to Meet All Needs (and Still Stay in Business)
Bookshop.org solved those problems with a unique tech approach and business model that has managed to meet the needs of every party involved, from publishers and booksellers to shoppers. The site brings together branded ecommerce storefronts for more than 1,700 independent bookshops, alongside affiliate "shops" from thousands of other brands and organizations — all of which can be set up for free. Anyone can create a Bookshop.org "shop," from media companies like The Atlantic and literary organizations like PEN America to #BookTokers, podcasters and authors.
The key is that every sale — whether it's through a bookstore page, an affiliate shop or a direct purchase on Bookshop — are fulfilled and managed by Bookshop and its distribution partner Ingram. This is what enables the site to offer competitive shipping speeds and pricing.
Because of the site's integrated distribution model, bookstores' shopss on Bookshop.org do not have to be tied to their physical store's inventory. Just like the affiliates, bookstores are curating a selection from the 4 million books available through Ingram. "The bookstore chooses which books to include, but we're the ones who actually have the book in the warehouse and send it to the customers," explained Hunter. "[This way] ecommerce can be something that they do without expending a ton of effort, not only on overhead and personnel costs, but also things like tax filings, postage and mailing, and [customer service]. All the reasons that a bookstore couldn't handle ecommerce before are just kind of swept away.
Bookshop.org makes approximately 30% margin on the books it sells, but where that money goes depends on where the sale originates on the site:
When a sale comes through a bookstore's page, the full 30% goes to that bookstore. (Customers that have landed on Bookshop.org without going through a specific bookstore page are also given the option to designate a bookshop they would like the sale to go to prior to checking out);
If a sale comes directly through Bookshop.org, without the customer designating a specific bookstore, then 10% of the margin goes into a "revenue-sharing pool" for all the participating bookstores on the platform. The remaining 20% goes to Bookshop; and
If a sale comes through an affiliate shop, the affiliate gets 10% of the sale, 10% goes into the revenue-sharing pool, and the remaining 10% goes to Bookshop.
Every six months, the money in the revenue-sharing pool is distributed evenly among the participating independent bookstores on the platform, which are all vetted by the ABA before they can join.
"Basically the bookstore is a super-affiliate," explained Hunter. "We're the seller of record, but the bookstore gets the entire profit margin. And they also get customer data, which is not true for the other affiliates, so they can build those relationships with those customers."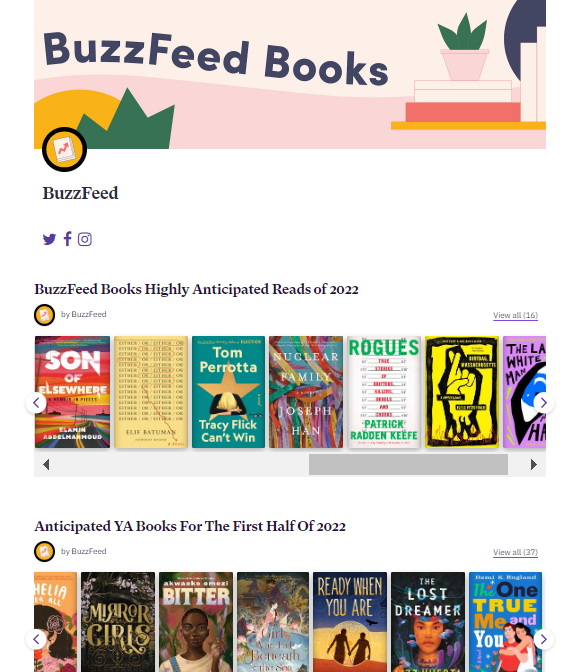 Hunter said the decision to set up the business on an affiliate model was based on his understanding of the American publishing ecosystem: "You need publications like The New York Times to be writing about books for a healthy book culture, and they need ways to pay for that journalism," he said. "An affiliate network that rewards media outlets for covering books makes sense and helps everybody. Instead of a winner-takes-all model like Amazon, which is a predatory model that every year extracts worst terms from sellers like publishers, we're a winner-shares-all model where we all succeed," Hunter added. "Maybe nobody gets super rich, but we support the culture that we all care about and that is so precious."
There's another reason the business is built the way it is: From the outset, the company was determined not to become the thing it was trying to fight. "There is lots of stuff that we did to make sure we didn't become another Amazon, and the biggest was to put [a rule] in our shareholders agreement that we could never sell to Amazon or any other major retailer," said Hunter. "It takes a long time to build trust with independent booksellers, so we had to reassure them we weren't competing with them; that we weren't just 'Amazon light.'"
The Climax – Reaching Critical Mass
Giving booksellers the full profit on books sold through their "shop" is another way Bookshop is building that trust — not to mention that it was also a big factor in both the platform's growth and many booksellers' survival during the pandemic. And despite giving away profits that many businesses would have chosen to keep at least a part of, Bookshop is in the black, albeit "just barely," said Hunter. Last year the company had close to $50 million in sales and made a profit of about $300,000.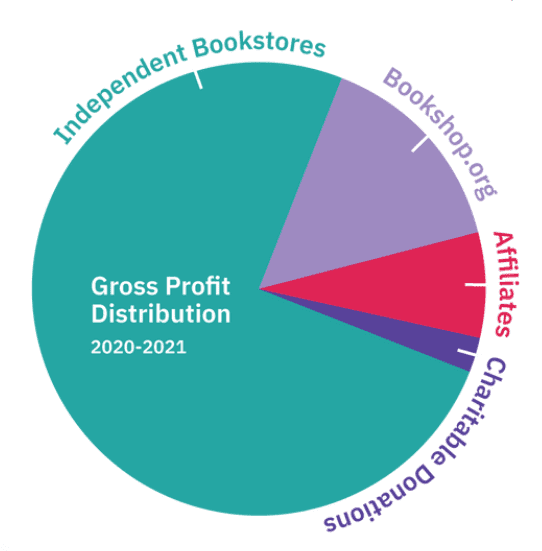 That is largely down to the other affiliates on its site, which drive traffic, sales, and importantly, scale. "Bookshop itself doesn't really get all these customers," said Hunter. "We just facilitate these organizations that want to promote books and don't want [the sale] to land on Amazon. We're leveraging all these small communities. So there might be somebody on Instagram that posts about books and brings 20 customers to us, and then a bookstore in Minneapolis might bring 5,000 customers. Altogether, with 1,700 bookstores and 9,000 active affiliates, we get this critical mass. Also, no individual independent bookstore could rank in the top five on Google for a new book that's out, but Bookshop can."
There's no denying that the financial impact of Bookshop on both the publishing industry and Amazon has been relatively small, but the psychological impact has been immense. Hunter himself points out that small bookstores only account for 13% of total books sales across all channels, but "they have a huge effect on what books get organic growth and what new authors and diverse books get attention, because they're staffed by human beings who are planting the seeds of literary culture."
"Bookshop has been a game changer — they've strategically marketed themselves to the general book-buying public and prioritized making the site user-friendly," said Macmillan's Ellis. "All of this has been beneficial to publishers, both by helping the distribution of accounts where we do business and by meeting consumer needs in a way that drives book sales in general."
Hunter said he feels lucky to have had so much support from publishers in the endeavor: "Most times when a startup enters an industry, people want to see that startup fail or are threatened by it, but in Bookshop's case most publishers wanted to see us succeed."
The Resolution (with a Teaser for the Sequel, of Course)
Now Hunter has his sights set on reaching that 5% market share and many ideas on how to do it, including integrating more distributors in addition to Ingram, looking into a loyalty program and building up educational resources for bookstores on how to manage and promote their ecommerce offerings.
The next big initiative for the company will be e-books, a market that Amazon currently has cornered even more firmly than print. "Right now, there's no way to buy an e-book from an independent bookstore, so we can open up a whole new revenue stream for independent bookstores," said Hunter. The company plans to begin e-book sales next year.
But Hunter believes the biggest path to growth will be the Bookshop community. "We need to do even more to make our customers feel good about [their choice to shop with us]," he said. "For people who read, their identity and sense of self is partly that they are a reader. They really care about it, and we can build upon that and create a community of readers that get a lot more out of each other and us than Amazon ever could, because for Amazon books are just another widget.
"Bookshop is just starting," Hunter added. "Eventually we want to be a model for how small, local businesses can compete with global online behemoths like Amazon."