When the first Batteries Plus opened in 1988 in Green Bay, Wis. it was a groundbreaking retail concept, in many ways heralding a new era of personal computing and electronics. Cell phones had just entered the scene, the internet was in its early days and daily tasks were quickly being overtaken by newfangled portable devices like boom boxes, cordless phones and camcorders.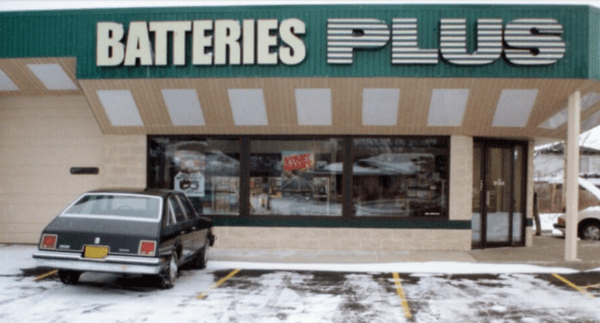 But that same wave of electronic innovation that gave rise to Batteries Plus also put a drain on the retailer's business as ecommerce began to take hold. Over the last decade or so, Batteries Plus has struggled to find its place in the world of digital retail, even as consumers have become ever more reliant on battery-powered devices. The company rebranded as Batteries Plus Bulbs in 2012 in an attempt to expand its appeal but then reverted back to just Batteries Plus in 2021 (although it does still sell light bulbs).
In a sense Batteries Plus' biggest challenge is the fact that is has no direct competitor — no other retailer does all the things Batteries Plus does, so its value proposition is somewhat opaque to consumers who have nothing to compare it to. At the same time, many other retailers do some of the things Batteries Plus does, so depending on the category, the company finds itself competing with everyone from Amazon and Walmart to AutoZone and UBreakIFix.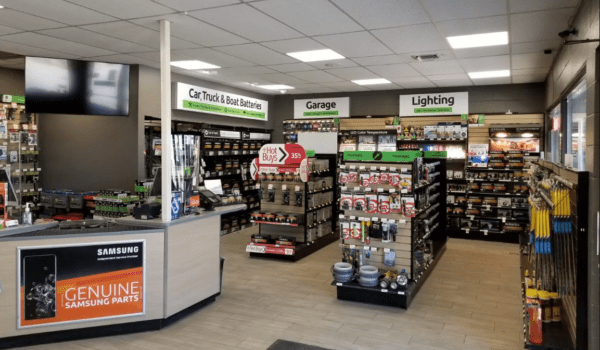 None of this is intimidates Derek Detenber though — he's coming up on the one-year anniversary of his appointment as Chief Marketing and Merchandising Officer at Batteries Plus, and he sees only opportunity on the horizon.
"Going forward there are only going to be more things needing batteries, not less — electric vehicles, solar and renewable energy, all of these things require batteries," said Detenber in an interview with Retail TouchPoints. "Yes, Amazon competes in certain categories that we compete in, but there are things we do that are difficult for Amazon to do, like shipping auto batteries, for example, or things with a service component. So we have a little bit of an Amazon moat, which is difficult for many retailers. Then we also have a [brick-and-mortar] component and we have a big commercial side of the business. Put all those things together and I'm just very excited about the potential. There's so much opportunity here."
Detenber isn't the retailer's only recent hire as CEO Scott Williams, who took the helm in 2019, works to transform the business. In December 2022 the company also brought on its first-ever Chief Digital Officer, Aaron Bundschuh, who will work closely with Detenber to reshape the company's digital experience. At the same time, Batteries Plus also rolled out a new online experience that will serve as the foundation for much of what it hopes to do next.
Indeed, the next evolution of Batteries Plus will be centered on digital transformation as the company looks to become consumers' go-to resource for everything from car batteries to cell phone repairs. The company plans to get there by:
Completely reimagining the path to purchase for all its varied consumer sets;
Broadening marketing efforts to increase consumer awareness of what Batteries Plus does; and
Doubling down on the advantage of its store footprint by finding new ways leverage its "secret sauce" — data.
Building Experiences Based on Consumers' 'Mind State'
With crucial executive hires made and a website redesign complete, Batteries Plus is now embarking on arguably the most important stage of its transformation journey — putting all of these human and digital tools to work.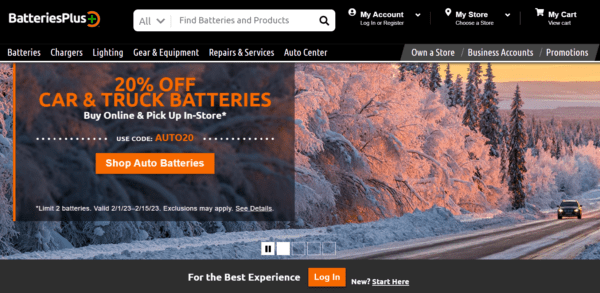 "If you go to our site, even now it's more of a catalog," said Detenber. "But behind it there's a lot of logic, a lot of expertise and a lot of data that's been built up over the 30 years of this business. The real transformation, and what we're trying to do now on the front end, is make it less like a catalog and more an experience.
"For example, if I'm looking for an auto battery, that should elicit one type of experience versus if I'm looking for a high-end lithium marine battery for my boat," Detenber added. "Right now [those experiences] look very similar, so we're working to reinvent what those consumer journeys look like."
To do this, the company has enlisted the help of digital experience platform Optimizely, which Detenber describes as "the backbone" of the new website, as well as UK-based marketing consultancy MindWorks.
Creating these unique customer journeys is easier said than done, especially for a retailer that touches so many varied consumer segments. "We're a multi-threaded specialty retailer, meaning our categories are pretty broad — everything from key fob battery replacement and programming to device repair to marine batteries," Detenber noted. "For us to think very uniquely about each customer, their need, their journey, and then deliver that journey to them [in the time they want], we've got to be very disciplined. The easy way to do it is to think about us first and just push our products, but that's not really solving the customer problem. It also just makes us the same as whoever our competitor is in that particular category, and brings us closer to a game that we can't win."
Instead, the company is drawing on the expertise of representatives from almost every part of the business — store operations, customer service, category management, digital and IT and the product team — and diving into the "mind state" of their customers.
"It's been really interesting to watch our team think differently, really looking through the eyes of the user and going through their journey: What do they need? When do they need it? How do they need it? Versus what we've done in the past, which is here's the product, let me tell you about it," said Detenber.
"At times it's literally meant getting in a room with whiteboards, markers, ideas and our friends at MindWorks," he added. "MindWorks has really helped us break paradigms that we have about how we typically do things both online and in store. They push us to think about how the customer experiencing Batteries Plus for the first time will perceive it."
As an example, Detenber pointed to phone repairs: "This is [a customer's] lifeblood. Think about when you break your screen — you're almost in a panic and you want it fixed as fast as humanly possible." Further complicating matters is how to contact a customer to keep them updated on the repair when they don't have their phone.
Batteries Plus is reimagining the process from start to finish so that "not only is your phone fixed and fixed the right way, but you remember the experience positively, because maybe we've made those 90 minutes fun, or at least bearable." Detenber couldn't share specific details of how Batteries Plus plans to do this because the experience isn't live yet, but he expects it to enter production sometime in the next few months.
'Balancing the Marketing Funnel'
But reimagining the experience once a customer lands on the Batteries Plus site or in a store is only one piece of the equation. Getting customers to make Batteries Plus their first choice is another big nut Detenber is working to crack: "One element that that I'm really passionate about is finding ways to communicate these changes and what we're doing [so that consumers better understand] our brand and our proposition," he said.
Many of the categories Batteries Plus operates in are need-based — broken phone, dead car battery, etc. As such, much of the company's marketing is low-funnel. "We've got to be there when that need exists so that's absolutely a big part of our marketing mix," said Detenber. "That said, let's use auto batteries as an example — a customer goes on Google Shopping and three ads come up. Maybe I'm in position two, which would be a good result, but AutoZone is ahead of us [in position one]. If nobody knows what Batteries Plus really does, if there's no real awareness of what we do and how we do it and why we're different, that ad won't work.
"I'm very focused on balancing that funnel," Detenber added. "We still need to be there in that time of need, but making sure that our story is out there in a way that people understand the totality of what Batteries Plus does and how we're different is also critical. That way, hopefully, when you are in that time of need, we're somewhere in your brain, so when that ad pops up we win out over our competition."
The Power of the Store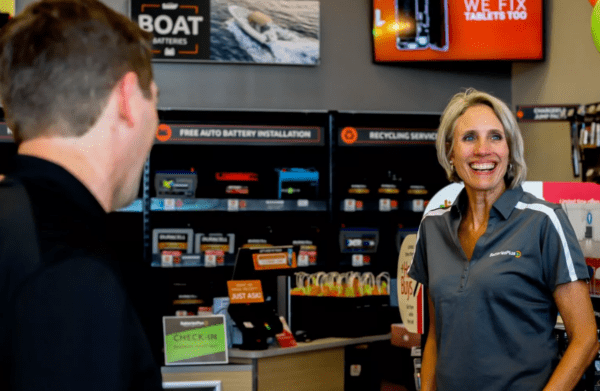 One big advantage Batteries Plus has over its competitors is its store footprint, which continues to grow. The retailer currently has more than 700 locations across the country and is continuing to grow that number through its franchising model. In 2022 alone, Batteries Plus signed 60 franchise deals, both with new partners and expansions with existing franchisees. As a result, December 2022 was the retailer's second-highest sales month in the company's 30-year history, and Williams said he anticipates similar growth in 2023.
Tying in the company's online efforts with its stores is a key part of Detenber and Bundschuh's efforts to create an omnichannel offering that appeals to the modern-day consumer. Beyond building out the online experience, Detenber's team also is responsible for gathering and collating all the data used by associates to help customers in stores. "There's a system that associates use to reference product information, do a fitment check, whatever it is a customer needs. That is information and data that my team populates, checks and cross-references, and that is also the same data set that then fuels the online experience as well."
Having a system in place that enables that kind of cross-channel data management and sharing puts Batteries Plus ahead of the pack when it comes to omnichannel, particularly when compared to the many retailers still struggling to integrate siloed data sources.
"Data is a little bit our secret sauce," said Detenber. "I think we can create a real competitive advantage if we can harness that store expertise, because if people do know us for one thing it's that expertise, that hand-holding. The question now is, how do we take that and put it into a friendly, easy-to-use, accessible online experience so the user has that same feeling online as with a human interaction in a store? It's about unlocking that same data set to take them along on a journey online and give them confidence along the way."