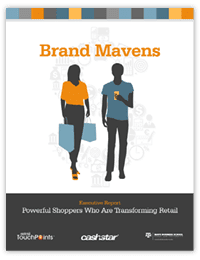 The future of retail may lie in the power of a shopper group called Brand Mavens: digitally engaged, brand-loyal consumers who are looking for the ability to use one source for completing payments, accessing loyalty points and redeeming coupons and promotional offers.
Brand Mavens — the ultimate brand advocates — currently comprise approximately 53% of the buying population in the U.S., according to a recent consumer survey conducted by Retail TouchPoints and CashStar, in conjunction with the Texas A&M Center For Retailing Studies.
Brand Mavens are tapping what's called branded currency during their shopping journeys. Branded currency is a unified and seamless way to manage purchases across channels, devices and geographies. It could be in the form of a gift card integrated with payments, loyalty rewards, coupons and promotional offers.
The recent Brand Mavens survey focused specifically on the group's gifting habits as a reflection of their purchasing influence. Brand Mavens spend approximately $1,100 annually purchasing gift cards and $700 redeeming them. That total of $1,800 in direct purchasing power can be combined with Brand Mavens' indirect influence over others to purchase gift cards and support brands, resulting in significant total purchasing power.
Brand Mavens Are Pervasive, Omnichannel, Informed And Social
A variety of unique factors affect how, when and where Brand Mavens shop and influence others. Brand Mavens are:
Pervasive: They use gift cards most frequently at restaurants (86%), department stores/big box (73%) and apparel stores (64%).

Omnichannel: They visit stores (90%) and the e-Commerce site (79%) most frequently; as well as mobile (37%) and social (8%) channels.

Informed: Most (66%) collect product information before completing a purchase and 61% consult friends, family or co-workers during the shopping journey.

Social: Close to one third (28%) share feedback about shopping experiences via Twitter, Facebook, Google and other social channels.
To find out more about Brand Mavens and the recent consumer survey, fill out the for below to download a pdf of the full report.
---