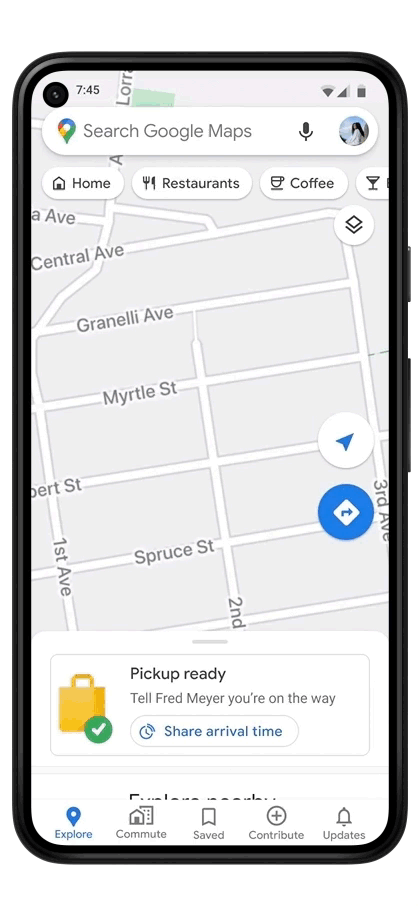 Just in time for Thanksgiving shopping, Google has expanded its grocery order tracking service in Google Maps to more than 2,000 grocery stores under the Kroger Co. umbrella, including select Kroger, Fry's, Ralphs and Mariano's locations across the U.S. The service first launched this summer at select Fred Meyer stores (also a Kroger Co. chain) in Portland, Ore. and is now available in 30 states.
Here's how it works:
A customer places an order for pickup in the retailer's app;
They can then add that order to the Google Maps app to track order status and receive a notification when it's time to leave to pick up the order;
The customer's arrival time is shared with the store, and the ETA is continuously updated based on location and traffic. This helps the store prioritize orders so they are ready as soon as customers arrive; and
Customers can then check in on the Google Maps app and have their order brought to their car for no-contact pickup.
According to Google, customers that use pickup with Google Maps typically wait less than five minutes for their groceries.
Along with the expansion of grocery pickup, Google also released a few other Maps updates that will almost certainly aid holiday shopping:
The new Area Busyness feature combines live busyness trends to help users instantly spot when a neighborhood or part of town is near or at its busiest. Useful for avoiding crowds (or seeking them out for those looking for lively hotspots). Users can also tap on a neighborhood to get more information, such as how busy it is at different times of day and nearby attractions like restaurants, shops or museums.
The Directory tab in Maps has been expanded globally to include all airports, malls and transit stations around the world. For locations where Google has the data available, users can quickly see what types of stores and other accommodations (such as lounges and parking lots) are in a building. Within each category, users can also see a list of relevant businesses, in addition to information about hours, rating and where in the building it's located.