Back in 2013, Jeff Bezos proclaimed his plans to begin delivering packages by drone on a 60 Minutes interview. Now, nine years and more than two dozen prototypes later, Amazon is ready to launch its drone delivery program. Prime Air will go live this fall in the town of Lockeford, Calif., former home of aviation pioneer Weldon Cooke.
"The promise of drone delivery has often felt like science fiction; we've been working for almost a decade to make it a reality," reads an Amazon blog post announcing the launch. "It's relatively easy to use existing technology to fly a light payload a short distance that's within your line of sight, but it's a very different challenge to build a network that can deliver to customers across large communities. Our teams of hundreds of scientists, engineers, aerospace professionals and futurists have been working hard to do just that — and later this year, Amazon customers living in Lockeford, Calif. will become among the first to receive Prime Air deliveries."
Starting today, Amazon is reaching out to customers in Lockeford and offering them the option to receive free drone delivery on thousands of everyday items, although actual deliveries won't start until later this year. Packages must weigh five pounds or less.
Here's how it will work: Once they're onboarded, customers will see Prime Air-eligible items on Amazon. They'll place a normal order and receive an estimated arrival time with a status tracker for their order. The delivery drone will fly to the designated delivery location, descend to the customer's backyard and hover at a safe height. It will then safely release the package, rise back up to altitude and return to base. Amazon will use feedback from Lockeford residents to refine the service for a broader rollout.
As Amazon launches the service in Lockeford, the company said it will also be investing in the community, creating new jobs and building partnerships with local organizations as well as continuing its ongoing collaboration with local officials and the Federal Aviation Administration (FAA). Prime Air is one of only three drone-delivery companies that have received an FAA air carrier certificate, alongside Wing Aviation and UPS Flight Forward.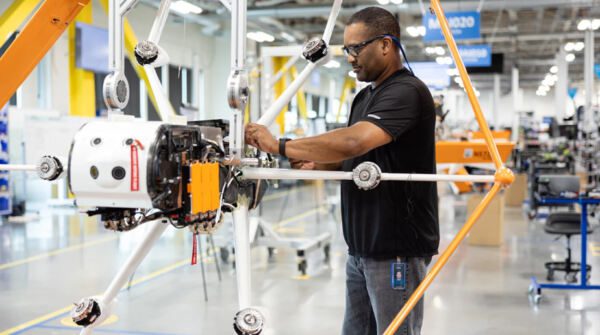 Prime Air drones fly up to 50 miles per hour and up to an altitude of 400 feet. The company's vision for drone delivery involves a vast fulfillment network of drones across the country, but the logistics of creating such a service are complicated, not least because of the volume of other airborne objects. Amazon's solution to that problem is a sophisticated sense-and-avoid system that enable its drones to identify both static objects (like chimneys) and moving obstacles (like other aircraft, people and pets).
In the nine years since Bezos first made what sounded like a fantastical (if somewhat terrifying) declaration — that drones were the future of ecommerce fulfillment — other retailers (and consumers) have come around to the concept. Walmart just announced an expansion of its own drone delivery network to 34 sites across the U.S., covering upwards of 4 million customers, and Walgreens took part in Google parent Alphabet's first drone delivery in Texas in April 2022.