With our Editors Perspectives column, you'll get insights and opinions from the Retail TouchPoints editorial team as they dig into the latest trends in retail, marketing and tech.
Have you ever had a movie that you were absolutely obsessed with? You watch it over and over because it unlocks so much comfort and joy in your heart that it makes existence, frankly, more pleasant? When I was 5 years old, that movie was Barbie Birthday Party at Walt Disney World, EPCOT '94.

Extremely long title aside, this straight-to-VHS treasure brought viewers (Barbie fans) inside the world of the beloved doll and behind the scenes of fashion shows, parades and more taking place to celebrate her birthday around the "world" of EPCOT. Nearly 30 years later, it's still an incredible example of how the Barbie brand has been able to master the sometimes precarious balance of nostalgia and cultural relevance. It remains a celebration of Barbie, how far she has come, and frankly, how far she still has to go. This model, like Barbie herself, has stood the test of time: it's been both replicated and updated with the marketing blitz surrounding Greta Gerwig's Barbie movie.
You have probably seen your fair share of recaps and summaries outlining the different activations and partnerships, so we won't get into that. Instead, I want to focus on the learnings that I've distilled from all these activities, and what other brands can apply as they think about the distinct role they play in people's lives — and most of all, how they impact culture itself.
The social impact alone is enough for brands to take note. In the duel between Barbie and Christopher Nolan's Oppenheimer, Gerwig's tome garnered 1,071% more interactions across Facebook, Twitter and TikTok since January, according to Comscore. On Pinterest, searches for "Barbie outfits" have increased by 614% worldwide over the past year, proving the broader cultural (and commercial) impact of the film's release.

I spoke with Phillip Jackson on the Future Commerce podcast to celebrate the official release of the Barbie movie, and why we believe the Barbie marketing machine will activate a long tail of engagement among Barbie fans, young and old. While I certainty encourage you to listen to the full episode (sorry for the shameless plug), here are a few key takeaways to consider:
Takeaway 1: Understand All the Ways Your Brand Speaks to Consumers
Whether you like it or not, the Barbie brand has a lot of weight. When you see that distinct font or that unmistakable ponytail, you know that it's Barbie. But brand impact isn't just about association; it's about a company's ability to connect that recall to deeper contextual relevance and alignment to your audience — even as members of that audience evolve and change.

As Phillip so astutely said on the pod: "Barbie represented a shift of the idea of children's playthings in culture, but it also represented a new monolith, a new way to see and perceive the world through this artifice of fashion, desirability and idealistic standards."

Barbie was President of the United States. She has been an astronaut, teacher, doctor and oh, so much more. Every step of the way, she conveyed the idea that you can be whatever you want to be, and still be you. That has a lot of impact, especially for Barbie's core audience. And this mantra is present across anything and everything the brand has down, especially the new film.

So brand leaders, what message are you trying to convey — and is this message present in everything you do?
Takeaway 2: Embrace How Your Brand May Need to Evolve
Despite some warranted criticism over the years, Barbie has endured by continually bringing in employees that don't just love the brand as it is; they understand how it needs to evolve and improve to align with new consumer values and yes, even beauty standards. In our current climate, self-expression, diversity and individuality trump all.

In the 2018 documentary Tiny Shoulders, viewers get an honest look at Barbie: a reflection of the brand's history and how a team of designers and marketers worked to reframe the doll to be more inclusive and representative of the toys young children want to play with. Now, Barbie has 35 skin tones, 97 hairstyles and nine body types. The Barbie movie and its approach to marketing (including all of the incredible memes being shared on social media) reflect this image overhaul and, equally, provide cultural commentary that resonates with so many women and girls.

Brands that don't do the work required to remain relevant risk stagnation or even extinction, a key point that Phillip made in our discussion: "A brand is a marker of trust of a corporation that was able to endure despite all odds, and that means that you have to remain culturally relevant. Brands pass away when the culture doesn't accept them."
Takeaway 3: Find New Ways to Show up
Different Barbie doll releases have tacked onto key cultural moments and milestones (Millennium Princess Barbie, anyone?), and showed that though her popularity may have wavered over the years, she was always still there. There have even been some incredible brand partnerships, like the Kelly McDonald's Fun Time Doll Set.

The Barbie movie has embraced a similar approach by, well, being everywhere. Branded cafes, hotel rooms and even a full-scale Barbie's Dreamhouse, developed in partnership with Airbnb, have popped up all over the world. Brand collabs have brought Barbie-laced rugs, rollerblades, cosmetics and even luxury glassware into our homes. The Barbie movie has even done a special partnership with Bumble to help showcase the app's new Compliments feature. All partnerships show the power of context. Heck, even the unavoidable "Barbenheimer" meme shows just how influential context is.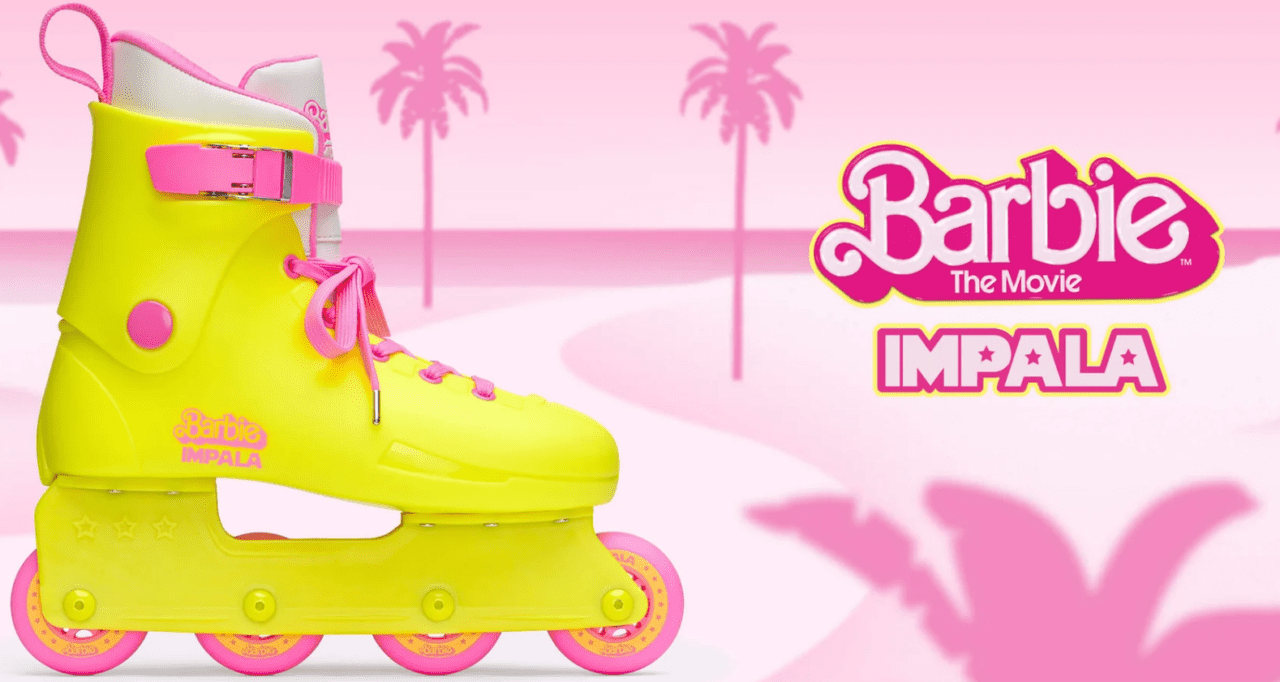 A Barbie collaboration with Impala allows customers to buy the inline skates, socks and pads straight from the movie. Photo credit: Impala

In all contexts, the Barbie movie showed the power of going beyond visibility and embracing full-on immersion. All these cases show how the brand is present at all times and across all channels. And we're not just seeing the brand and getting that recall; we're sharing it and we're living it, too.

The creativity of these partnerships should inspire other brands to think just how far they can go. What kind of company can you keep, and what power and influence is possible through these partnerships?