Slime lickers might not be everyone's cup of tea; in fact, you might not even know what they are. But if you did happen to want slime lickers (as many people apparently did during the pandemic) there's one place you'll be sure to find them — Economy Candy in New York City's Lower East Side.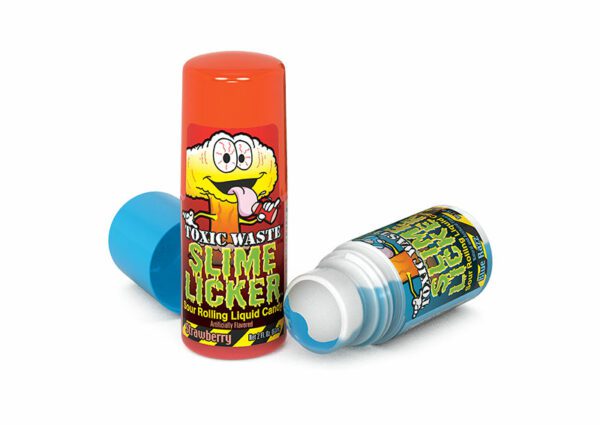 For more than 85 years, Economy Candy has been a reliable purveyor of all things sweet, from classic favorites to hard-to-find exotic confections and even viral phenomenon like slime lickers, which are essentially "roll-on deodorant for your tongue," according to Skye Cohen, who runs the shop alongside her husband Mitchell Cohen. "The container is just like roll-on deodorant and inside is sour liquid candy — it's that kind of sticky, disgusting thing kids go crazy for."
The Cohens don't judge. In fact, a big part of their job these days is staying on top of what's trending online. The world has changed quite a bit since 1937 when Economy Candy first opened, and as the third generation of Cohens to run the shop, the task of bringing this iconic neighborhood business into the digital age has fallen to Skye and Mitchell. The store has had an ecommerce site for over 20 years now, and more recently social media has been taking a larger role in the business. But one thing hasn't changed — Economy Candy is still family owned and operated — and that, Skye believes, has been the secret to its staying power.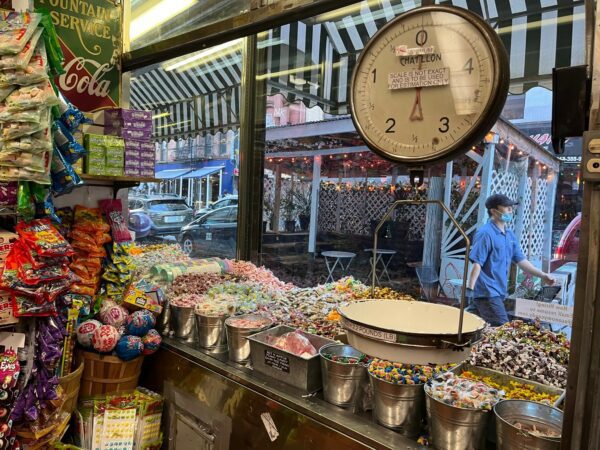 "In the '30s and '40s there were so many candy stores on the Lower East Side — there were at least seven within a block of where we're located, but they're all gone now," said Skye Cohen in an interview with Retail TouchPoints. "I think our secret has been the family aspect — you see people's families change and grow over time, and they see your family change and grow. It creates this very unique relationship that, especially in New York City, you don't often find. Part of the beauty of a generational family business like this is those turnings of the tides, within the family, but also within the business and the community at large."
The story of Economy Candy is one of ongoing evolution, not just of the faces behind the register but also of the forces shaping the world around it. For this latest generation of Cohens that has meant:
Drawing on the brand's deep-rooted history of adaptation to keep the business relevant without losing what makes it special;
Tapping into new mediums like television and ecommerce to maintain its connection with modern customers; and
Leveraging social media to ensure the store's product offerings stay in sync with consumer demand.
From Pushcart to Multi-Generation Local Business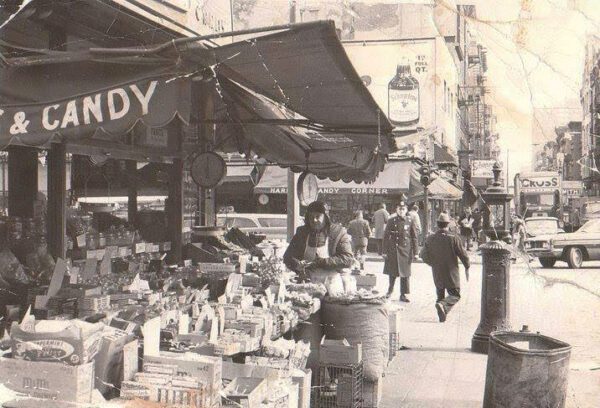 Economy Candy's history of adaptation begins at its origin. The business started as a pushcart outside a shoe and hat repair shop, but when the Great Depression hit, the candy was bringing in more money than the repairs, and Economy Candy was born. When Mitchell's grandfather, Morris "Moishe" Cohen, returned from fighting in World War II, he and his brother-in-law took over the business.
The store has played a central role in the lives of the Cohens ever since. Mitchell even brought Skye there on their first date where she met his parents, Jerry and Ilene, who ran the store at the time. "He tried to impress me by telling me to name anything I wanted, and he guaranteed they would have it," Skye recalled with a laugh. "I wanted a chocolate bunny, but they didn't have any — it was November, not quite chocolate bunny season. But for our second date, he showed up with a chocolate bunny."
Of course, Skye had no idea then that she would one day marry Mitchell, much less end up running the business alongside him. Now, though, this latest generation of Cohens are the very definition of hands-on business owners: "Sundays through Thursdays Mitchell and I are there, typically behind the counter, but also running around doing whatever needs to get done to keep the store running," said Skye. "Most of the year we're off on Fridays and Saturdays, but during October and December, as well as in the lead up to Passover and Easter, we work seven days a week."
Bringing the Business Online
Economy Candy's clientele also has stayed with it through generations. In fact, the company's ecommerce business originated to serve long-time customers who had moved away from New York — and that was just the beginning of the store's digital journey.
"In 2000, Economy Candy was featured on the first season of Unwrapped, which was right around the time that all businesses were going online," said Skye. "It really all just dovetailed perfectly — being featured on this national show and the website launch — to really connect to candy lovers everywhere."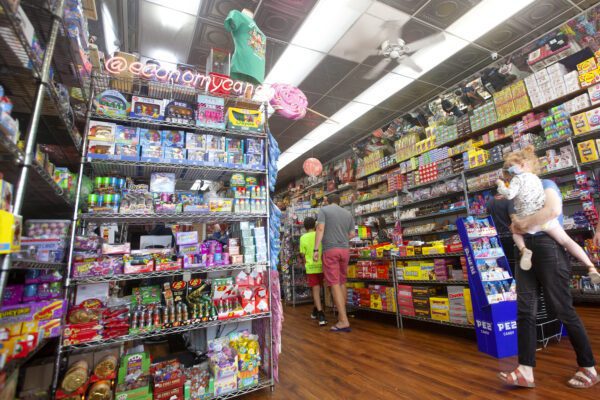 The company's website, built on WooCommerce, features all 2,000+ items carried in the store, and orders are fulfilled directly from the store itself. As with many local businesses, during the pandemic Economy Candy's website became more than just a nice-to-have, with online sales jumping from approximately 10% to 100% during lockdown. While that's shifted back to a more normal mix now, the end result was a big boost to Economy Candy's online presence and a host of new customers.
"We had these CandyCare Packs that were really focused on social media," said Skye. "So for $35 or $50 we fill up a bag with all the best stuff and send it to your friends, your neighbors, your family. People really latched on to that — it was a way to send someone a hug through the mail when we were all isolated in our homes. So many people across the country who didn't know about us were introduced to Economy Candy because people were sending out these packs."
In fact, the online business has grown to the point that staff can no longer just fill online orders during slow periods in the store like they used to. Instead, the store now opens two hours later, with those first hours of the day dedicated to prepping and packing online orders.
Word-of-Mouth in the Digital Age
Social media also has become an integral part of the business, especially because Economy Candy doesn't pay for any advertising. "We've always just relied on word of mouth, and for a local neighborhood shop in 2022, word of mouth is social media," said Skye.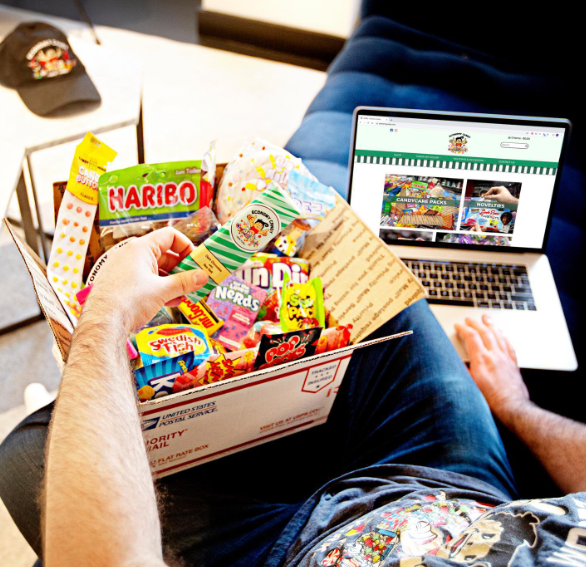 The store has more than 28,000 followers on Instagram and nearly 20,000 on Facebook. And while they don't use any social commerce functionality on the sites themselves, both platforms are crucial drivers of Economy Candy's online business. "At the end of the day we are a small business, so managing different selling channels can be challenging," explained Skye. "Having everything channel through our website makes it easier for us to ensure that every order gets filled on time and correctly."
But beyond brand awareness and driving traffic, social media has become an influential part of Economy Candy's business in another way — the rise of viral candy trends. "Things like chocolate-covered pretzels and chocolate-covered graham crackers are always popular, but then some days we'll get like 100 people buying Whatchamacallit bars.
"I do credit social media with that — candies will go viral on social and there will be this mad dash to get that candy. Oftentimes it's something like Mary Janes that people have forgotten about, but then somebody online posts a video eating Mary Janes and suddenly everyone remembers them and needs one right now."
And since Economy Candy is known as the place for hard-to-find and rare confections, when something goes viral it's a fair bet at least some of those social users will end up at the store or on its website. "It can be tough to stay on top of these things because they can shift overnight," said Skye. "In the past we've tried to predict candies that are going to go viral, and we've been wrong every time. Now we really rely on our customers to let us know. We have a rule that if two people ask for the same thing in one day, we track it down and get it in the store."
Given the store's continued popularity and online expansion, some might wonder whether more locations could be in the works, but Skye isn't sold on the idea. "We're not just owned by the same family that's always owned it, we're run by the same family that's always owned it — you walk in and it's me, my husband, my in-laws, even our friends and family here helping out on extra busy days. A second location would have to be run by somebody else, and I think that would take away from the heart of it. I mean, maybe Mitchell and I will have like 10 children one day and open 10 different locations, but for now, it would just take away from what makes Economy Candy so special."