Meta has added virtual fashion retailer DressX to the roster of partners creating digital clothing for its new Avatars Store, multiple sources report. Other brands already signed on to create virtual outfits for Meta platforms include Balenciaga, Prada and Thom Browne.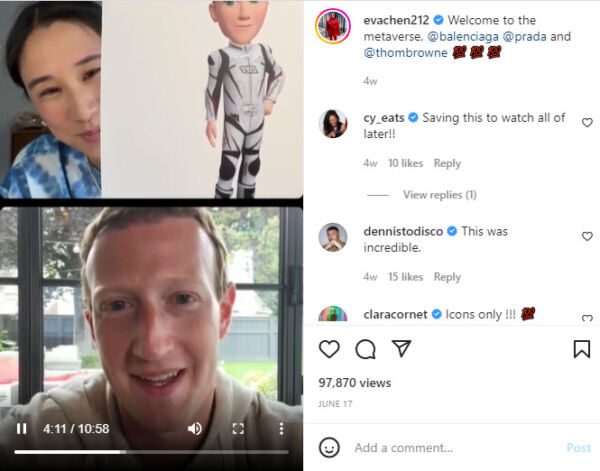 Meta launched its Avatars Store — a digital marketplace that allows users to create and style avatars for use on Instagram, Facebook, Messenger and eventually Meta's VR platforms as well — in late June. Outfits cost anywhere from $3.99 to $8.99, although a range of free options are still available for users who don't want to spend real money on digital clothes.
"What we do, it's all about people expressing themselves and connecting, and a huge part of how people express themselves is through what they wear, so getting that right in the metaverse and with your avatar across the different apps that you use is really important," said Meta CEO Mark Zuckerberg in an Instagram Live post announcing the new marketplace.
DressX creates virtual clothing, both of its own design and in collaboration with well-known brands and retailers that have included H&M and Jason Wu. The new DressX collection of 3D avatar apparel for Meta features a range of prints and styles available in sizes for various avatar body types, WWD reports.
"Being one of the first builders of the digital fashion industry and having a vast experience creating digital wardrobes for the metaverse, DressX is proud to join forces with Meta and allow people all around the globe to express their personality using a new disruptive set of tools," DressX said in a statement shared with WWD. "Fashion is a universal visual language, and we are honored to empower people creating avatars on Meta's platforms with endless possibilities for expressing themselves in the digital world."
In launching the new marketplace, Zuckerberg highlighted the added accessibility virtual fashion creates, by allowing fans to buy clothes that might be sold out in the real world or beyond their means financially.
"We wanted to start off with some of the best-of-the-best designers, and to be able to see the fashion work that we're doing in the metaverse with the kind of high-quality stuff is really cool, but over time a lot of the dream here is to make it so that this is accessible to anyone," Zuckerberg said in the Instagram Live. "If you want to design fashion today, you need the physical materials and the equipment to do it, but in the future, anyone who has a computer and an imagination is going to be able to come up with ideas for this."