The COVID-induced ecommerce boom of 2020 saw online sales climb across almost all categories last year, including some unexpected ones. Propelled by new technologies and heightened consumer demand, some segments that had been slower to gain traction online finally moved into the digital fast lane — cars, adult beverages and even trees, to name just a few.
Of course, there are reasons why certain kinds of products haven't been as quick to become ecommerce mainstays — mailing a live tree will never be as simple as shipping at T-shirt, for example. But consumer demand for ecommerce was already on the rise pre-pandemic, and COVID-19 forced retailers — even those in categories that face unique barriers to digitization — to find solutions:
Retailers in high-touch categories are overcoming consumer hesitancy by offering highly detailed virtual shopping experiences, employing technologies like AR and making flexible return policies a key part of the experience;
New technologies have led to innovative solutions to last-mile hurdles, such as the patchwork of regulations surrounding alcohol sales across the country; and
The enhanced customization and convenience available through ecommerce can actually result in a better customer experience than some in-person sales channels.
The numbers speak for themselves: Online sales of alcohol in the U.S. were up 80% last year, approaching $5.6 billion compared to roughly $3 billion in 2019, according to data from IWSR. And while total sales of used cars in the U.S. were down 6% YoY in 2020, according to TrueCar, online used car sellers like Vroom and Carvana achieved record years. At Vroom, unit sales increased 82% YoY in fiscal year 2020, and revenue was up $916 million from 2019.
COVID + the Amazon Effect = Unprecedented Demand for Digital
There's a lot of COVID effect in those numbers, but the trajectory is clear — consumers want to shop online, for everything.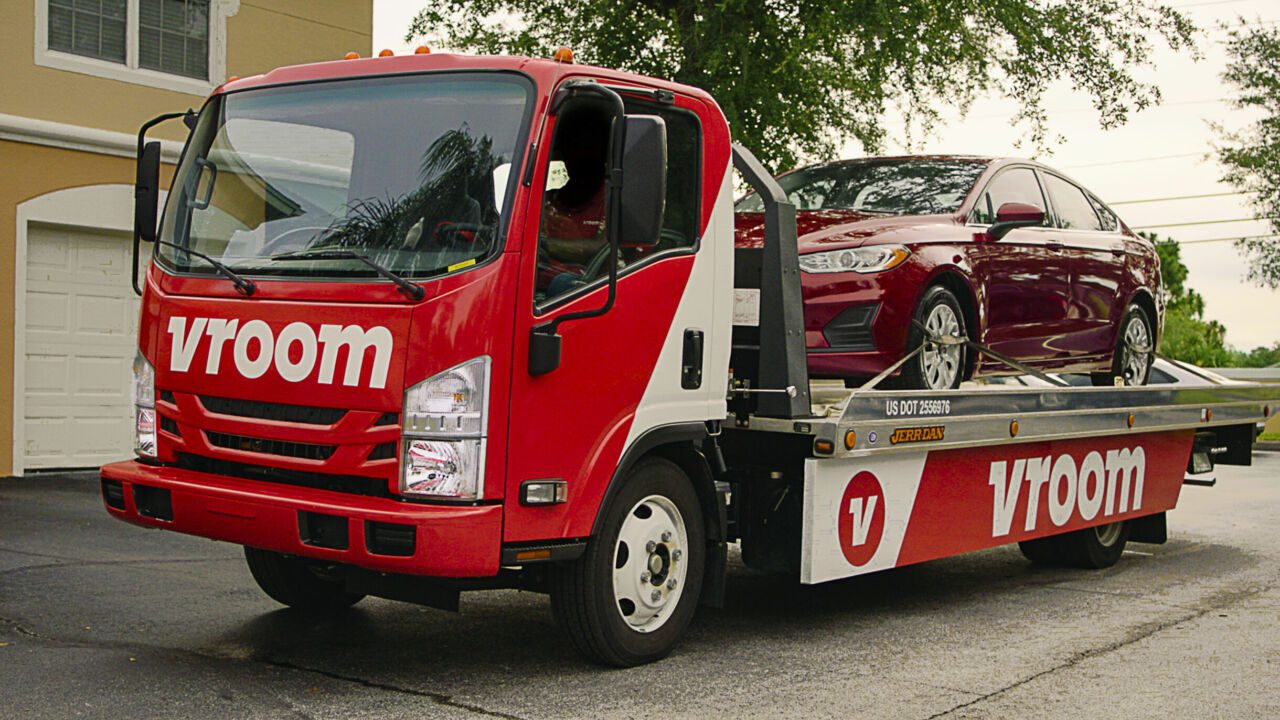 "COVID-19 certainly accelerated the move to shopping and selling cars online, however, consumers have been looking for a more convenient, customized and on-demand car buying and selling experience long before the start of the pandemic," said Paul Hennessy, CEO of Vroom in an interview with Retail TouchPoints.
The idea of creating a better, more convenient experience also is what drove Zac Brandenberg to found DRINKS, where he now serves as CEO. DRINKS markets wine directly through its DTC platform Wine Insiders and also offers an enterprise solution to facilitate online wine sales for major retailers including Kroger, Thrive Market, Boxed.com, The Wine Shop on Instacart and its newest client, Macy's.
"Our original thesis was very simple — wine should be easy to buy, so let's make it shoppable online," Brandenberg said in an interview with Retail TouchPoints. "Wine alone is $80 billion dollars of off-premise — that is, non-restaurant, non-bar — sales in the United States. That is a really enormous product domain compared to, say, men's razors, and yet there has been almost no technological disruption in terms of bringing the category online."
Easier said than done, of course. Selling and shipping a razor across state lines is certainly a simpler proposition than a highly regulated product like wine or, for that matter, a Ford Explorer. And yet, the consumer demand is there, and it's becoming hard for retailers to ignore, no matter their category.
"What Amazon has done from a consumer standpoint is unbelievable; consumers just have this expectation now that anything can be delivered to them in two days," said Alisha Buelt, SVP of Global Strategy at automotive logistics company Acertus in an interview with Retail TouchPoints. "Consumer expectations are evolving every day, and the bar is getting raised higher and higher on what you have to do to make customers happy."
Getting Creative to Re-create In-Person Experiences Online
Actually delivering on that demand is more difficult for some than others, though, particularly when physical interaction with the product is a key element of the purchasing process.
Research from marketing services firm Material, conducted on behalf of Acertus, showed that while only 7% of those surveyed had actually bought a car online, 80% were open to the idea. One of their biggest hang-ups? Not being able to touch, try and smell (yes, smell) the car before buying it.
"Even pre-COVID, so much of the beginning, top-of-funnel car-buying exercises already happened online," said Katie Currall, VP and Account Manager at Material in an interview with Retail TouchPoints. "Learning about the different models, comparison shopping, getting price quotes, looking into features — all of that's happening online, prior to the actual transaction, which then the consumer goes to do in person. It's really about getting over that last hurdle at the bottom of the funnel."
The same holds true when it comes to shopping for large plants like shrubs and trees — a lot of the initial research and discovery already is happening online, but the transactions still largely take place in-person.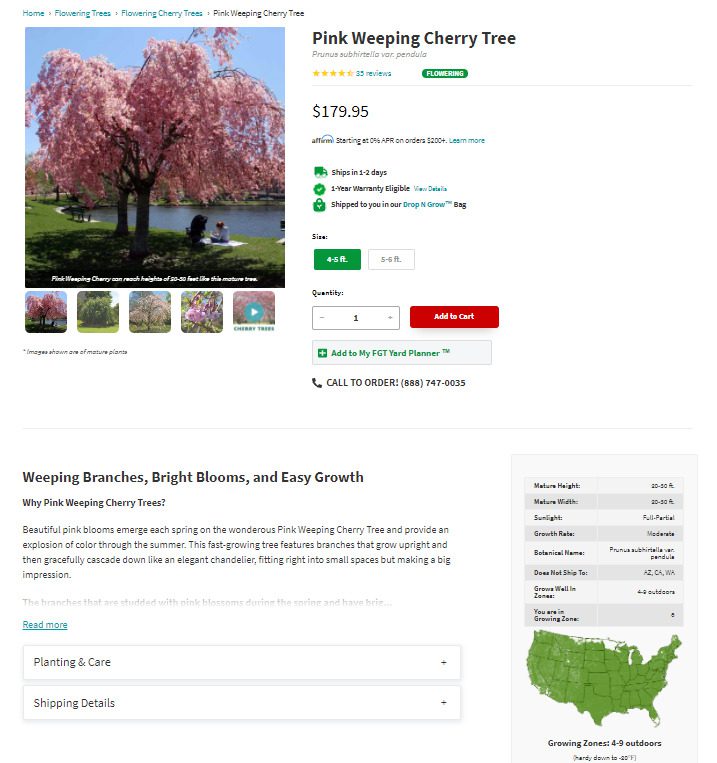 "There are still not a lot of people that know you can buy trees and other large plants online," said Justin French, VP of Marketing at FastGrowingTrees.com in an interview with Retail TouchPoints. "Our #1 challenge is awareness, and by that I mean category awareness, not brand awareness."
FastGrowingTrees is overcoming that hurdle through extensive national marketing. The retailer combines this with a robust shopping experience designed to offer as much, if not more, information as shoppers get when they go to a physical nursery. That includes multi-faceted visual search and detailed product pages that feature video and still imagery, extensive product descriptions, planting and care guidelines and customer reviews.
Membership-based online supermarket Thrive Market offers a similar solution to sell wine online, featuring detailed "wine cards," notes from its in-house sommelier and free virtual tasting sessions. "We detail all the different things people may be looking for when they're shopping for wine," said Christine McNerney, Senior Director of Merchandising for Non-Food at Thrive Market.
The ability to re-create physical shopping experiences online has been further enhanced by continued advancements in virtual and augmented reality technologies. For example, online real estate brokerage Redfin offers virtual viewings of homes, and the practice seems to be working — Redfin reports that one in three home buyers make an offer through their platform without ever seeing the house in person.
Like houses, cars are one of the biggest purchases most consumers will ever make. And the way most people touch (and smell) a car they're considering buying is typically through that time-honored tradition, the dealership test drive.
Rather than attempting to replicate the test drive online, Vroom wants to replace it altogether with its seven-day/250-mile return period, said Hennessy: "Rather than taking a short drive around a dealership with a stranger in the car, our customers can drive the kids to school, drive to work and see if the trunk space holds the things they need. This way, consumers get to know their new wheels for a full week to make sure it's a good fit for their lifestyle."
These kinds of innovations go a long way toward removing consumers' hesitation about purchasing certain kinds of products online — and also opening their eyes to the advantages.
"We compare ourselves to the mattress industry about 10 years ago," said French of FastGrowingTrees. "You used to have to go out to a shady strip mall, sit down on a mattress that 1,000 people had sat on before and then figure out how to get it home. We think the same thing happens with plants. Yeah, you can't touch it or smell it, but look at the social proof from people who have already bought the products and are happy. And you don't have to figure out how to haul 10 seven-foot-tall evergreen trees in your Honda Civic; they'll show up right to your door. We're really trying to cut out that middleman, similar to how the mattress industry evolved."
Overcoming Last Mile and Return Hurdles
The last mile is where things get sticky though, and in fact, even more so than delivery, return policies can be a deciding factor in whether the sale happens at all.
Mitigating customer anxiety about what they'll do if they end up with a car they don't like is more about communication than logistics, according to Buelt. Acertus — which handles home delivery for online automotive retailers, large dealership groups and digital auction platforms — offers a similar solution to Vroom's: the company will come pick up the car for return if a customer isn't satisfied. Ensuring customers are aware of that option up front is a key component of making them feel comfortable with the concept of buying a car online.
Both Acertus and Vroom also offer detailed walk-throughs of the cars when they are delivered, to further assuage consumer concerns and get them comfortable with their purchase. In fact, Vroom is currently piloting a new last-mile concierge experience for customers in Denver, with "customer advocates" who arrive with the car delivery and show car owners how to use their new vehicle.
Brandenberg's last-mile challenge was less around logistics and more around legislation. He calls his solution "Wine as a Service" — DRINKS has built up a network of licensed wine sellers across the U.S., and the actual sale takes place through those regulated companies. That means DRINKS customers like Thrive Market don't have to have a winery license, but they can still sell wine across the country.
"Thrive Market is essentially promoting the wine, and then the actual sale is taking place with a regulated entity," explained Brandenberg. "Then the sale is fulfilled via our layout of distribution centers around the country and delivered to the consumer through a common carrier like FedEx. It's complicated, that's why it hasn't been addressed before, but there is a way to do it."
The Ecommerce Advantage
One thing is clear: the shift online is now ubiquitous, and while for some industries it presents unique challenges, it can also enhance the buying experience in many ways.
Time-strapped consumers are increasingly putting a premium on convenience, and ecommerce is tailor-made to meet that need. "Everybody's working, everybody's super busy. That convenience factor just makes [shopping online] a no-brainer for many demographics," said Buelt. Especially when retailers can tack on added benefits like, in the case of auto sellers, title and registration services, thus removing that oft-dreaded trip to the DMV.
Historically, ecommerce also has been an equalizer in terms of access, and this remains true for these newer categories entering the field.
"Being able to shop online has really opened up new access to inventory for customers who may live in states [or more remote locations] where they have restricted product selections," said Brandenberg. "Now they have expanded access to new and different products, so you're not just providing the consumer more convenience, you're giving them more choice."
Of course, the internet also has proven that when it comes to an array of choices, you can have too much of a good thing. That's where technology is key, according to Brandenberg. The ability to serve up curated product recommendations based on user metrics can offer a vastly improved consumer experience compared to walking into a large store stocked to the rafters.
"There are almost 2 million wine labels in the United States," said Brandenberg. "This is a category with infinite variability, and culling that down so consumers aren't overwhelmed with a wall of wine is critically important. Most people really want the decision-making process to be streamlined for them."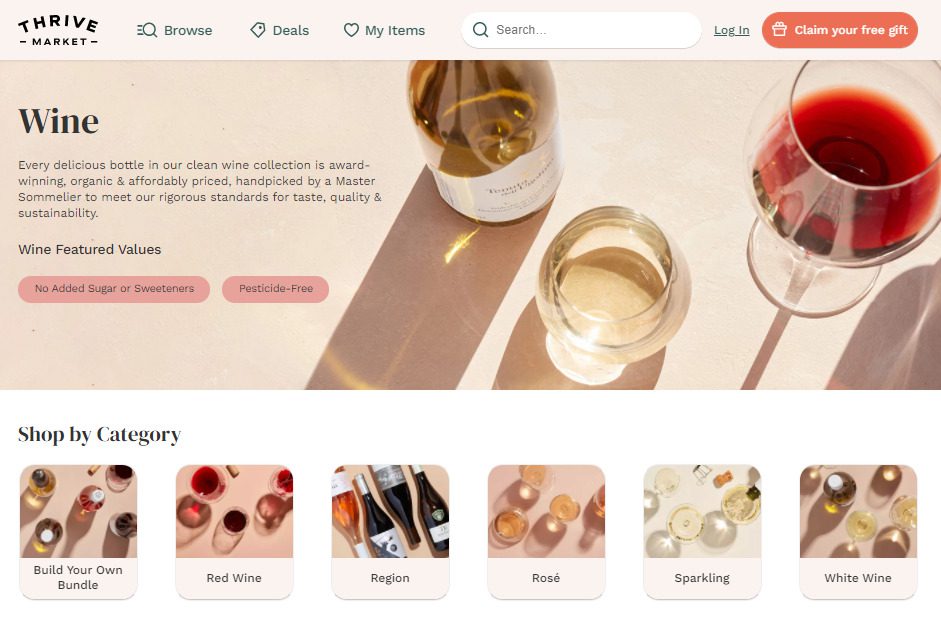 Thrive Market is built on this concept of curation, said McNerney, centering all its offerings on the "better for you" theme, whether it be wine or anything else they sell. National availability of this kind of thematically targeted product range is something that can really only happen at scale online.
Bottom line, "customers want to buy online," said Brandenberg. "The retailers that work to meet those needs are the ones who are going to command loyalty and be able to maintain the relationship that they have with their customers. And the ones that don't are going to lose to other, more sophisticated retailers that are going to come in and provide the service that the customer needs."