With China set to become the world's largest luxury market by 2025, Alibaba is intent on building out the immersive digital experience on its Tmall Luxury Pavilion to capture those consumers. As the luxury platform celebrates its fifth anniversary, Alibaba has introduced a host of new ways for customers to engage with luxury brands on Tmall, including AR and XR (extended reality) experiences, exclusive products that can only be accessed through a digital "Meta Pass" and a host of virtual avatars, mascots and events.
Tmall Luxury Pavilion currently features more than 200 luxury brands (up from 150 before the pandemic) from all the major luxury groups — Hermès, Chanel, Richemont, Kering and LVMH — which combined introduce more than 30,000 new products on the platform every month. From 2019 to 2021, the Luxury Pavilion has seen its customer base grown by more than 150% and sales have increased nearly 300%.
To celebrate the platform's anniversary and solidify its dominance in online luxury, the Luxury Pavilion will host an augmented reality fashion show on Sept. 22 in collaboration with Vogue China. Instead of supermodels, "super mascots" — digital characters created by the brands — will strut their virtual stuff down a virtual runway. Viewers can interact with these super mascots in various ways, including taking selfies with them.
Luxury Pavilion also is introducing a new Meta Pass that will give shoppers priority digital access to products from brands such as Burberry and Max Mara. Digital warrants certified on the blockchain will be part of the Meta Pass package that consumers who act fast enough can exchange for limited-edition products.
"We all know how digitally savvy the Chinese consumers are and how fast they're able to embrace new technologies," said Janet Wang, Head of Alibaba's luxury division in a statement. "Today 96% of Chinese consumers shop online-offline, or cross-channel. We do believe the metaverse is going to be a game-changer. Through these technologies we are able to provide multi-dimensional interactions between customers and the brands."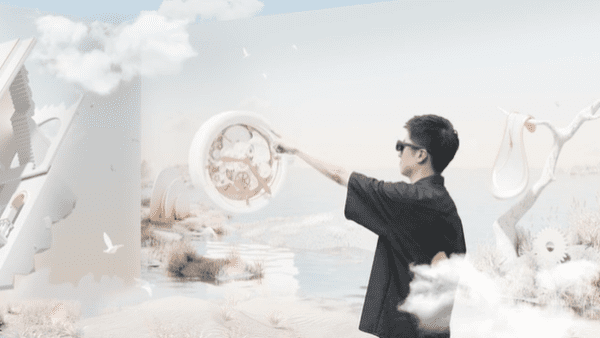 Tmall Luxury Pavilion also is developing an XR experience that the company showcased for luxury executives at a special ceremony in Shanghai. While not yet available to consumers, the XR experience aims to further merge the physical and digital worlds. The technology was developed by Luxury Pavilion in conjunction with the XR Lab in Alibaba's research division, DAMO Academy.
Tmall Luxury Pavilion is no stranger to the world of cutting-edge digital experiences, having already deployed 3D shopping, AR and VR try-on, digital avatars and digital collectibles. More than 20 luxury brands have released digital art collectibles on the platform and hosted virtual fashion shows where consumers send their avatars into the metaverse to dress up in luxury products via the 3D avatar game "Taobao Life." This year, Cartier, Vacheron Constantin and Burberry were among a group of brands that also offered video consultations through one-on-one livestreams with VIP customers.
To help the brands it supports prepare for this brave new frontier in retail, Tmall Luxury Pavilion plans to release a white paper in conjunction with consultancy Roland Berger this month sharing the results of these online experiences.
"Before 'metaverse' became a buzzword, we had already transformed this buzzword into a commercial reality," said Wang. "The digital world can provide consumers with the same, or even better, shopping experiences and luxury brand identities as the real world."