EMEA mall operator Majid Al Futtaim has rolled out a refreshed identity for its City Centre malls — "It's Your Space" — and launched a regional campaign to gather community input on ways to revive their local mall experience.
Majid Al Futtaim owns and operates 29 shopping malls, 13 hotels and four mixed-use communities across the Middle East, Africa and Asia, and also serves as the exclusive franchisee for Carrefour in more than 30 markets in the region.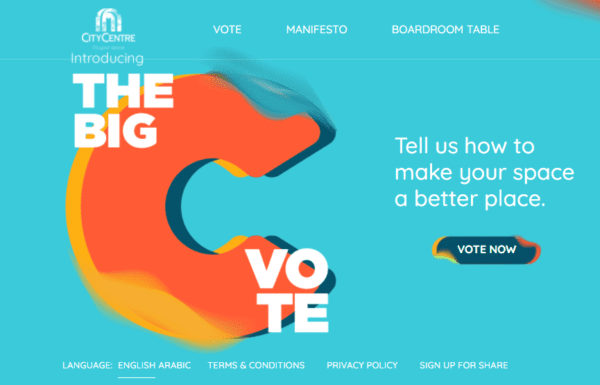 With the new It's Your Space brand identity and slogan, the company hopes to give customers, tenants and partners a voice in the shape and design of future City Centre experiences. As part of this initiative, City Centre has introduced the Big City Centre Vote, in which community members can share their opinions and ideas on the perfect mall, both in-person at City Centre malls and online at www.citycentrebigvote.com. Community members are invited to share their thoughts on all areas of the mall experience, from dining and shopping to kid-centered offerings and cause-based initiatives.
The voting campaign has been launched through an in-mall activation at City Centre Mirdif, where a specially designed 15-meter giant boardroom table now occupies the Central Galleria. In addition to promoting the Big Vote, the boardroom table also will be the site of a series of direct conversations with core groups in the UAE community including parents, youth and business owners.
Majid Al Futtaim will use the results to curate next-generation, hyper-personalised and hyper-connected City Centre malls that create meaningful individual connections and foster a sense of belonging.
"We're handing over the decision-making power of our malls' evolution to our customers," said Fuad Sharaf, Managing Director for UAE Shopping Malls at Majid Al Futtaim Properties in a statement. "The Big City Centre Vote is the first of many steps we're taking to ensure we're building deeper relationships, creating meaningful connections, and working alongside our visitors to better understand what they're truly looking for in their City Centre experience."
Experts in the retail design industry agree that community input will be critical for malls around the globe as the mall undergoes a period of radical reinvention in response to changing consumer habits. In a recent conversation with Retail TouchPoints, two of those experts — Jim Cohen of SBLM Architects and Andrew Brezina from CallisonRTKL — said that as malls are forced to reimagine their value proposition to consumers, localized offerings unique to each community will be key.  
"These aren't going to be universal changes, like, hey, every mall should get a Life Time fitness center [like The Falls in Miami is doing]," said Cohen. "It's got to be very specific on the needs and demographics of the community."
"People want more community, and as we spread out as a culture, these centers have the opportunity to bring that community back together," added Brezina. "For different communities, that means different things. Developers are going to have to meet with those communities and understand their particular needs." And Majid Al Futtaim's new campaign in the Middle East could provide an example to other mall operators of how to do just that.