By now we've all heard the news that brand loyalty is in decline. But Rebecca Brooks, CEO of market research consultancy Alter Agents, sees it differently — in her view, "shopper promiscuity" on the rise.
"People think about promiscuity in a sexual context, but what we really mean here is an openness, a willingness to try something new," said Brooks in a session at the Retail Innovation Conference & Expo (RICE) earlier this year. "[Shopper promiscuity] is at levels unprecedented in the history of studying shoppers, and it's only going to continue to get worse, or better depending on your perspective."
Recent research from Alter Agents found that the majority (62%) of shoppers made decisions "in a promiscuous context." What does that mean exactly? Among shoppers who had recently made a purchase, it's the percentage that ranked themselves at the very top of the scale in terms of their willingness to consider a new brand as they were embarking on their shopping journey.
In her RICE session Brooks broke down the reasons behind the rise of shopper promiscuity and why she believes "this is not a trend — this is the future of retail."
Digital Disruption has 'Completely Rewired' Shoppers
So why is shopper promiscuity on the rise (and brand loyalty on the decline)? The long and short of it is digital disruption.
"Over the last 15 years or so there's been just an absolute explosion in digital technology, in disruptive brands, completely new categories — all sorts of innovation has hit the market," explained Brooks. "We've gone from a world with very limited distribution channels, a limited set of brands and a limited number of channels in which you could communicate with consumers to this kind of unbounded new economy. What that is doing is it's completely rewiring the way people go into that shopping decision-making process."
Shoppers are now trained to expect innovation in any and every category. Brooks used pancake mix as an example: "That shelf looked pretty similar for a good 50, 60 years, but you go there now and there's gluten-free, organic, protein-based, all sorts of different varieties," she said. "It doesn't matter the category. We've trained people to expect there to be something new. We've also trained them to become very comfortable with disruption."
This training hasn't just come from the world of retail. Disruption in sectors like transportation and hospitality has also normalized change, as consumers now comfortably do things that would have seemed crazy a mere decade ago — like getting a ride from a stranger or staying in someone else's house on vacation.
"All of these disruptive events and moments are reducing our barriers to trying something new," said Brooks. "We see that these things are working, they're great and [then we are open to the idea] that maybe the next disruption or the next innovation will also be great for us too. We're teaching people to become more comfortable with dramatic change and additionally, we have a lot more access now than we ever did before."
Gen Z Lights the Way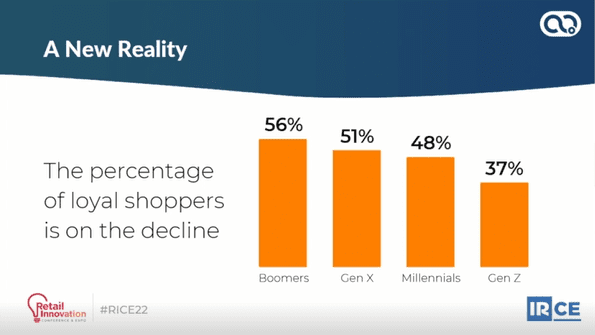 That openness to newness is increasing with each new generation, which is why Brooks doesn't believe shopper promiscuity is a passing fad: she has been monitoring shopper behavior for years to identify the inflection point that would indicate this is more than just a trend. To track this, she looks at the number of consumers that start a shopping journey with a specific brand in mind and then actually buy that brand. The percentage of shoppers who are brand loyal in this way decreases dramatically generation by generation — and even Boomers were only at 56%. This means that "44% of Boomers either aren't starting with a brand in mind or change the brand that they bought along the process," she explained.
"And [brand loyalty] takes a dramatic drop with Gen Z," Brooks added. "Gen Z is the first digitally native generation when it comes to shopping — the way they think about shopping and access to products is entirely different, and we see it as an inflection point. Every generation coming after Gen Z is going to be even more comfortable with new ways to shop, so this is the top of the roller coaster. We're still talking about and thinking about the ways that Boomers and Gen X shop quite a bit, but that's behind us. We need to be thinking about Gen Z and this coming wave of promiscuity."
For more insight into shopper promiscuity and how to address it, check out the full RICE session, available on-demand now. Tune in to find out why information is the new currency for converting consumers and how to avoid brand narcissism (not to mention a great story about how Brooks' experience studying primate behavior has shaped how she now studies humans).