Brands and retailers are feeling mounting pressure — from consumers, shareholders and even their boards — to be more inclusive. More and more, that means rethinking product development and expanding their sizing and assortment planning to represent a wider range of sizes and body shapes. Now, experts believe the call for inclusivity is both getting louder and expanding to include gender identity as well.

The economics of more inclusive sizing are clear — and have been for quite some time. The average woman in the U.S. wears a size 16 to 18, and in the UK most women wear a 16. But data and analysis from Edited indicates that most products sold online are between a size 00 and a size 08. Although the total number of products in the U.S. sitting above the average size 18 has increased year over year, it still only amounts to a mere 22% of total products.

Because of efforts to address this mismatch of product and real-world sizing, Coresight Research estimates that the value of the extended-size market for women will grow to $32.3 billion in the U.S. this year alone, representing approximately 21% of the total women's apparel market. But it's still true that only a small fraction of the fashion retail market has put tactical plans into place to support this significant consumer base.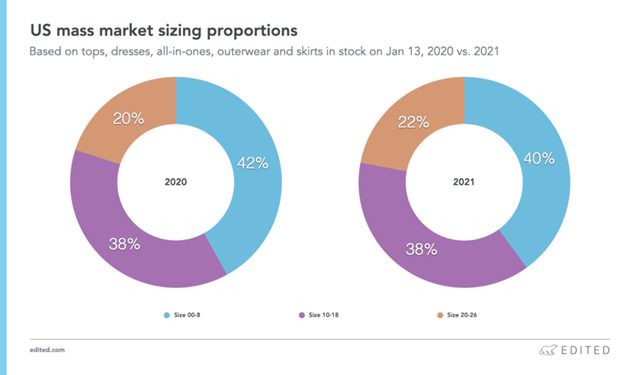 Products that are sized 18 and above and available in the UK only account for 14% of the total market. Furthermore, products sized 0-10 make up the same share as products sized 12-18, despite the plus-sized market growing steadily. According to Edited, the total number of consumers deemed "plus-sized" is set to grow at twice the rate of the rest of the market.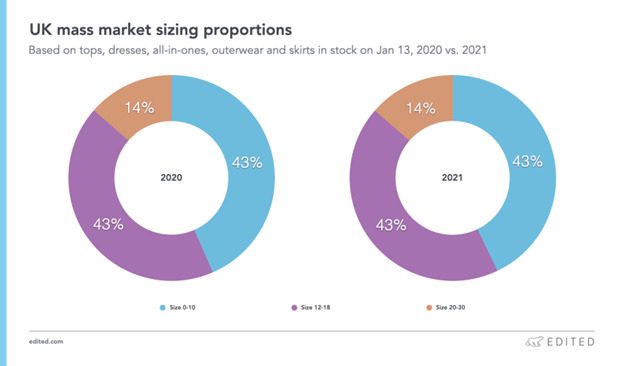 The lack of sufficient product choices in plus sizes is more than simply a lost sales opportunity. Edited's data points to a severe gap in the market creating a feeling of "otherness" among a significant consumer base that has an expanding share of wallet, according to Kayla Marci, Market Analyst at Edited. "For the longest time, fashion has subscribed to a core set of sizes, with any products falling outside of this range as 'specialist,'" Marci said in an interview with Retail TouchPoints. "Retailers need to realize consumers don't want to be excluded or labeled differently to their peers because of size. Retailers need to listen to the customers who are demanding representation, or risk walking away from potential profit and alienating a new consumer base."
The business case is clear, but the looming question for apparel brands and retailers is: How do we make inclusivity a tangible — and profitable — business strategy?
Inclusion Definitions Expanding Beyond Sizing
At a foundational level, companies need to ensure inclusivity is embedded into all touch points and all strategic and tactical decisions. As Marci noted, it's "not just a one-off, box-ticking exercise.

"From research to garment creation, fitting with body shape in mind, marketing, in-store and online customer service, size-inclusive representation needs to be present at a decision-making level within the fashion industry," Marci added.

But inclusivity is on the brink of an incredible revolution that doesn't just encompass size; it encompasses what Jeff Orschell, EY Americas Consumer Retail Leader, calls "identity inclusivity."

"When you talk to retailers about [inclusivity], it quickly goes from size, to body shape, and then also gender. Identity inclusivity includes all of those things in the same piece," Orschell explained in an interview with Retail TouchPoints. Additionally, "because different ethnicities may have different body shapes, that makes it a little bit more difficult. Then, you can't just view gender as male or female. It's that whole spectrum in between."

As a result, brands and retailers need to think more holistically about their customers and how they can present products to them across all channels in a way that relates to them. That includes:
Digital assets and content creation, including how user-generated content is incorporated into online customer experiences;

Expanding model diversity to include different body sizes, body shapes, genders and races;

Better space planning on the store floor to integrate all sizes into one cohesive experience and ensure the right mix of sizes for target customers; and

Diversity of in-store content to include more diverse bodies in signage and even through mannequins.

This is where an ongoing feedback loop that extends across all channels can play an invaluable role for brands and retailers. Navigating changing behaviors, increasingly complex media mixes and volatile budgets, executives can tap into social networks and other organic feedback channels to determine where to place their bets — and how best to hone their strategies.

"Involve customers and encourage feedback on sizing, get to know the shopper and why product doesn't fit," recommended Liza Amlani, a former merchant and Founder and Principal of Retail Strategy Group. "Test the market with new size options and be inclusive in marketing. It all comes down to better understanding who the customer is and how we can best serve them."

Amlani added that even walking the store floor and listening to consumers and associates can help bridge the knowledge gap and help create a better understanding of who is being underserved and why.

But it's not just about listening; it's about action. That means brands and retailers need to tackle some of the innate legacy issues that have hindered inclusivity in fashion.

RECOMMENDED LISTENING:

Undressing the Underlying Challenges with Inclusivity
As brands and retailers try to be more size-inclusive, they face very distinct challenges depending on whether they're curating assortments or manufacturing their own products.
Challenge 1: Sizing Accuracy
Departments that curate inventory from a multitude of different brands will have to tackle issues rooted in these brands' sizing and manufacturing. The most significant issue is the inconsistencies in product sizing that stem from which materials are used as well as unique measurements from specific fit models.

"It's very common for brands and retailers to use the same fit model when fitting garments," explained Amlani. "'True to size' is a marketing term and as consumers, we know that the same size across brands will fit us differently. There is no standardization across the industry and inconsistent sizing leads to markdowns and returns. It's an unsustainable and wasteful cycle because one size doesn't fit all."

Consumers also are missing context, because they don't have a powerful visual reference for how a product may look and fit on someone with a similar body type.

"If you look at this process, there's a lack of relatability," Orschell noted. "Products aren't being presented in a way that people can gauge how it may fit them, which has a downstream effect in terms of reverse logistics, which has gone through the roof over the past 18 months."
The Solution:
Some brands and retailers are tackling the fit challenge head on by implementing 3D body scanning tech and AI-powered digital tools to make the fit-finding process easier and more transparent for consumers.

Orschell noted that there are fit tools that allow consumers to manually enter the sizes they wear for specific brands, which then feeds a recommendation engine for the shopper. While that may address the sizing issue, it doesn't truly show how a product may look and feel for the consumer when they actually wear something.
To reach true "relatability," retailers are rolling out image simulations that allow consumers to pick out their own models so they can see how items may render on someone who looks similar to them. Brands like 1822 Denim and Good American have done this successfully. But new technology is bringing this concept to the next level by incorporating what Orschell describes as "fit simulation," which adds another level of context. "That's the sweet spot because you have the relatability, which is pretty high, as well as the fit accuracy, which is pretty high. And then you don't have to pay to hire more models or pay for all of the in-store mannequins [to show that context]."
Challenge 2: Planning and Allocation
When brands and retailers try to bring extended sizing to market, they need to determine how many SKUs they need to allocate to specific stores to accommodate in-store shopping and online fulfillment. Typically, planners and merchants use sales history and shopping trends to determine what is needed, but they are largely buying into size ranges that are predetermined, Amlani explained: "Predetermined size ranges and scales are used to save time. Technology is not enabled or is not used to its full capability to help planners use data to size product."
The Solution:
For retailers that want to minimize markdowns and improve margins on their brand portfolio, reducing overbuying is key. "Determining the right quantities is no easy task, and that is why we need to buy the right product and in quantities that will sell through at full price," Amlani said. "Buying into the right quantities and the sizes we know our customers actually want is an art and a science. We need to use data-driven decisions when determining what sizes to buy and what quantity to buy so that we avoid markdowns and keep margins healthy."
Challenge 3: Pricing
Planning challenges ultimately trickle down to pricing, which is another way brands and retailers manage to alienate their plus-sized consumers. Edited's research found that plus-size prices can average 13% higher than their "straight-size" counterparts. "In almost all cases, products designed for larger bodies are slapped with a higher price tag, proving the existence of what is colloquially known as the 'fat tax,'" the report indicated. Even staple items such as organic cotton T-shirts were priced higher when manufactured in extended sizes.

"The plus-size consumer must have the same access to shop ethically with people and the planet in mind similar to their straight-size peers," Marci said. "Brands can't rightly call themselves sustainable if they are ignoring marginalized groups, which includes size."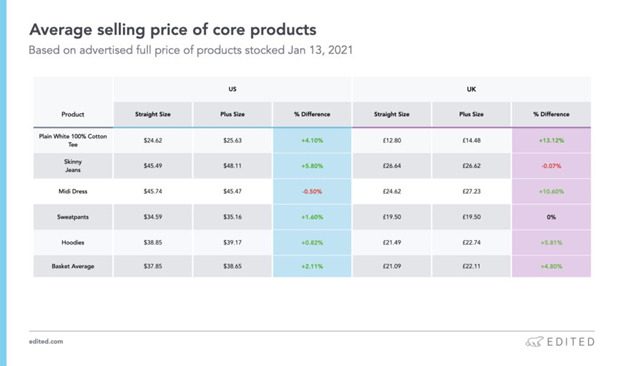 The Solution:
When developing their pricing strategy, brands need to think through how they may need to adapt designs for extended sizing and the overall cost of materials associated with those design changes, according to Orschell. "It might be the same piece of clothing, but it can be manufactured differently for the larger size; you may have another panel in the blouse, or it may require a different material. So you've got to think through the main impact on manufacturing and then the impact on your costs." However, Orschell noted the slippery slope of trying to make up for the added cost by increasing the price of plus-sized goods alone. When retailers can access and synthesize data across the entire value chain, they can adjust their size pyramids and determine how many items to manufacture and/or order to maximize return on investment across their network of stores, warehouses and DCs.
Rethinking and committing to inclusivity is a big job no matter how you look at it, but it's important for retailers to make a start wherever they can. After all, there is no "perfect strategy" that can be replicated across all brands and product categories. Eventually, these very necessary changes will affect every stage of the manufacturing, supply chain and fulfillment processes, and even the customer experience. Brands and retailers that are innovating and differentiating in this increasingly critical area are collecting, analyzing and applying both implicit and explicit data to refine and optimize their approach to inclusivity.