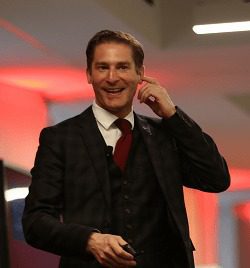 Retailers are engaged in a "race for relevance" as they try to meet the needs not only of Millennials but the generations following them, Gen Z and Gen Alpha. According to Shopper Behaviouralist Ken Hughes, these current and future consumers are motivated by a set of values based on growing up as true digital natives.
"For them, a [print] magazine is a broken iPad," said Hughes, showing a video of an infant trying, in vain, to activate the pages of a print magazine. "In retail, one of our challenges is not to be a magazine."
Hughes delivered the opening keynote at the 2018 Retail Innovation Conference that took place April 30-May 2 in New York City, titled Your Future Shopper: The Step Change Has Arrived. Hughes warned retailers and brands that it's up to them to meet the needs of these shoppers, not the other way around. "Consumers are like water — they will find their way to the brand they like," he said. "Our job is to understand them."
In a lively and entertaining presentation, Hughes laid out the eight key values shaping Gen Z:
1. Freedom: This generation "thinks anything is possible, because they grew up in a technological world of omnichannel, AI and voice," said Hughes. "They believe everything should work the first time." Gen Z views things like a 30-year mortgage or even a two-year mobile phone contract as "brand handcuffs." That puts the onus on retailers to "build a business that's strong enough for them to choose you," said Hughes. "Why make the consumer go along the customer journey the way you want them to? Have the confidence to set your customer free, and make a brand that's solid, based on authenticity, genuine communication and high-quality products."
2. The "Weconomy": "This group has grown up inside a natural collaborative environment," said Hughes. "They've been sharing opinions and experiences from the beginning via peer networks on social. We're moving to a time when access will be more important than ownership. Why would they own clothes when they can rent them? Why would they own a car versus taking Uber?" For retailers, this value means redefining what they mean by the ultimate consumer: "If they just feel like the 'end consumer,' they will never feel loyal to you," said Hughes.
3. Flexibility: Hughes gave the example of hotels that still charge for WiFi, a holdover from the days when they made much of their revenue from in-room phone calls. "We're not delivering as much flexibility as we think we are," he noted. "The customer journey has become very complicated, but you need to have inherent flexibility and be all about the customer's needs. This generation likes the startup company culture, and they want to work in a place with that kind of energy, and get it from retailers."
4. Desire for instant gratification: "This is an entire generation of Veruca Salts," the spoiled rich girl with the catch phrase "I want it now!" from Willy Wonka and the Chocolate Factory. These "dancing dots" consumers can see when someone else has read their message and is typing their response on a Messaging app, and they are impatiently waiting for the response. For retailers, that means they need to provide "immediate delivery on whatever their promise is, whether that involves supply chain, customer service, relevance, authenticity or product advancements," said Hughes.
5. Expectancy: This generation has been fed a diet of "everyone can make it," said Hughes. The proliferation of YouTubers has given them the idea that everyone, including themselves, has "a strong voice that can make a change in the world." Expectancy shifts the traditional balance between brands and consumers, meaning that retailers must "get it right the first time, every time," he noted.
6. Phygital: This is the first generation of consumers growing up completely inside a world of physical-digital (a.k.a. "phygital") collision. "Having store systems that are unconnected to the online experience just can't happen anymore," said Hughes. "Forget omnichannel; you need to be omnipotent. That means being the same in every place, every time the customer interacts with you."
7. Customization: This value is an outgrowth of the Amazon effect, which has allowed online retailers to use cookies and other technologies to immediately remember and recognize customers as soon as they come back to a site. "For retailers, the message is 'Customize or die!'" said Hughes. "Remember, it's not a transaction; it's a person."
8. Authenticity: "Why is street food so popular all around the world? People want the real thing," said Hughes. "You have to imagine that your brand is the Frankenstein monster, and it's your job to inject the energy and life into it. You will need to give your brand true heart and soul for the next generation to think your experience is relevant."
Hughes finished his keynote with a reference to the "blue dot" consumer, who has grown up with Google Maps technology that immediately put him or her at the center of the grid. That's a contrast to the process of reading a traditional map, where it's necessary to find where you are in relation to other landmarks. "With a paper map you're a small part of a bigger world, versus you are at the center of your world," said Hughes. "If you keep the shopper at the center, you'll succeed."