Celebrated on March 8 every year, International Women's Day is dedicated to honoring women's achievements throughout history, and forging connections between women worldwide as they work toward greater equality in the workplace and in the world. With a rich history that dates back more than 100 years, the holiday has transformed into a marketing phenomenon over the past five years, particularly as #MeToo and #TimesUp have dominated social conversations.

The impact goes well beyond one month of the year. Although gender-based advertising and the use of feminist messaging to engage women consumers is certainly not new, it has clearly reached a tipping point. As a result, there's a new term to describe it: femvertising.
"In the last five years we have seen a deluge of ads featuring feminist ideals," said Katie Martell, author and producer of the forthcoming documentary and book, Pandermonium, which explores the collision of social movements and marketing. "It is fast becoming the 'new normal' and marketers are wise to see this as a powerful business opportunity."

There's a strong caution for retailers and brands, however. If marketing campaigns don't align with pro-equality policies within the company or are seen as a once-a-year, insincere nod to feminism, consumers may see them as hypocritical pandering. Marketers also are being warned that it's not enough to simply earmark a pro-female charity that will benefit from purchases. What's needed, experts say, are sincere community-building efforts that offer the opportunity for consumers and businesses to be directly involved in supporting a greater cause.
An Opportunity For Differentiation
Companies that have adopted more authentic storytelling in their marketing have seen positive impacts in both the perception of their brand and their bottom line. For example, after the lingerie and loungewear brand Aerie vowed to stop using Photoshop in its ad campaigns in 2014, it began to successfully differentiate itself against one of its key competitors, Victoria's Secret. Female consumers, particularly Millennials, began to feel truly seen and served, especially as Aerie began to spotlight women of different sizes and shapes as well as women with disabilities and conditions such as vitiligo.
Now, consumers are increasingly expecting brands to take a similar stand on social issues, with 60% saying they want brands to share their core values during the decision making process. Additionally, women drive nearly 80% of all consumer purchases, so embracing International Women's Day to drive trust, engagement and sales is a clear opportunity for marketing teams that want to see positive returns and improved brand loyalty.
"As brands decide whether to implement a campaign for International Women's Day or Women's History Month, they should be weighing the skepticism of consumers who have now been inundated with hundreds of campaigns."

Katie Martell, Author, Pandermonium
Diageo Backs Up Messaging With Action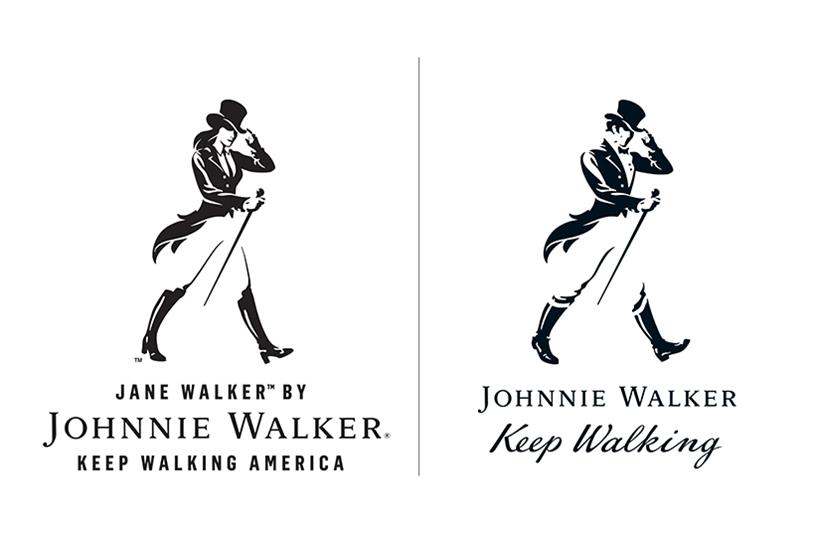 In terms of International Women's Day specifically, there are brands that have risen to the occasion, using their campaigns to drive tangible change.

For Women's History Month, liquor maker Diageo introduced a limited-time special edition to the Johnnie Walker Black Label scotch, replacing it with a female version: Jane Walker. On the surface, it is a fun play on the brand while giving a nod to women, but the company did much more that connected to the heart of what the holiday is all about, including:
Donating up to $250,000 to organizations supporting women's progress, including Monumental Women and She Should Run;
Joining the CEO Action for Diversity & Inclusion;
Speaking openly about the importance of inclusion at the organization, with Deirdre Mahlan, President of Diageo North America, being a powerful advocate for the mission; and
Closing the gender gap within its organization: half of Diageo's board is comprised of women, while 40% of the global executive team is female.
"Jane Walker is an example of a campaign that did not pander to the movement," Martell said. "It was authentic to the business and represents a company whose values align with that of consumers."

Other brands also are attempting to stand out beyond IWD by evolving beyond simple "girl power" messaging and showing the realities of being a woman. Thinx and Billie are two direct-to-consumer (DTC) brands that Martell points to featuring "taboo" elements to relate to, not dehumanize, their target audience.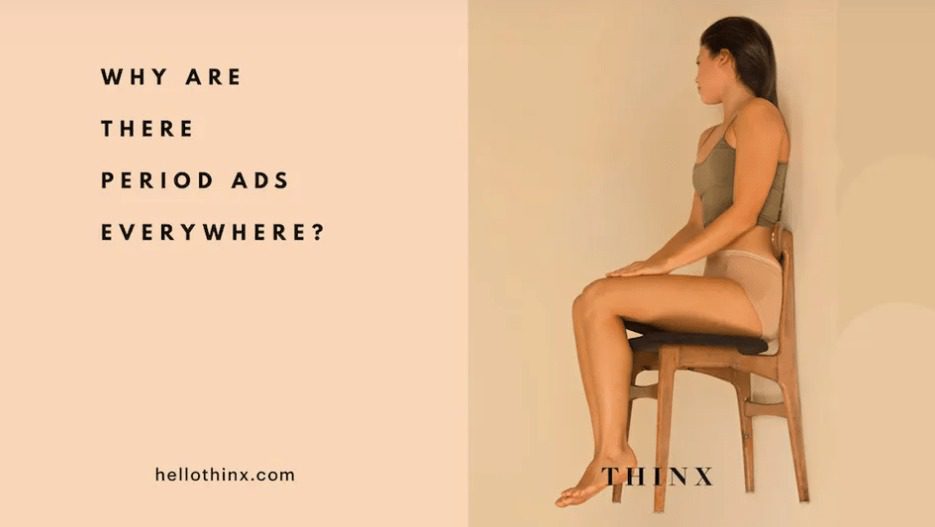 Inauthenticity, Lack Of Community Leave IWD Campaigns Floundering
Author and consumer behavioralist Ken Hughes agrees that retailers and brands are now adding International Women's Day to their Rolodex of shopping holidays, slotting it between Valentine's Day and Mother's Day activities. However, because many brands' activities follow a very similar model, they're struggling to make an impact.

"I think what we're seeing is just brand noise," Hughes said in an interview with Retail TouchPoints. "Every brand is jumping on a bandwagon, without anything really genuine to say."

Though well-intentioned, these campaigns can lead to severed trust — especially when they lack authenticity. "When you use any kind of [current event or cause] in a standalone campaign, that's not really connection, it's just communication," Hughes explained. It's just a brand awareness and marketing communication strategy and consumers see through it."

New studies reaffirm a new tipping point for femvertising, and specifically marketing around International Women's Day. Through a survey of more than 1,000 women aged 13 to 75, Persky and Berlin Cameron found that 30% believe brands only advocate for women in ads when they're trying to drive sales. Of the brands that are tapping International Women's Day to drive consumer engagement and loyalty, very few are resonating effectively, according to research from Kearney.

With the 2020 Women Consumers Survey, Kearney tested how effective consumer industries are at selling to women. While beauty garnered the most favorable response (78% deemed them effective and very effective), there is a significant gap between the leaders and the laggards. Only 17% of women said mass retailers were very effective at selling to them, while just 15% said the same about CPG brands.
"If you're going to have a successful campaign or a successful initiative around something like International Women's Day, I think as a brand you have to ask yourself: 'Why are we doing this and what are we doing?' A lot of brands try to tick both the brand awareness box and the corporate responsibility box, it needs to have both…what's still missing, though, is building that sense of community."

Ken Hughes, Author and Consumer Behavioralist
Over-saturation of similar messaging and visuals is one reason consumers are growing increasingly jaded by International Women's Day marketing. Authenticity (or lack thereof) is at the core of waning consumer response, according to experts. Consumers are increasingly skeptical of brands' intentions, especially if a marketing campaign doesn't accurately represent a business' values.
"In a world where 96% of consumers don't trust ads already, hypocrisy will only make matters worse," Martell said. "Trust is the number-on charter for marketers, as no meaningful relationship is built without it. We may be well-intentioned, but we're making it worse."
This trust disconnect is forged by a widely adopted campaign strategy — encouraging people to make a purchase to donate a percentage to a specific cause or organization. While this may help evoke good feelings, it doesn't help build community or connection, which is the heart of what International Women's Day is all about, according to Hughes.
"If you actually want to connect with your customer, you have to make them feel that they belong to something," Hughes said. "International Women's Day is about being part of a collective, but brands miss out on that connection in order to just be part of the hysteria and have a share of voice. They forget that the whole purpose is to be a part of something together."
Humor also is an effective way to build community connections. Hughes cited a campaign from Shapemint, a shapewear brand, that does this well. Titled "Feel Like the Masterpiece You Are," the ad spot puts a humorous spin on the Venus de Milo, using consumers' feedback to guide the messaging around pivotal life moments that forced them to love their bodies.
Being 'Pro-Female' Starts From Inside The Organization
Although marketing has the power to help shift perceptions, drive behaviors and ignite movements, messaging and creative can only go so far. More consumers are looking not just at what brands are putting into the world, but how these initiatives reflect what happens within the walls of the company.
The deluge of brands participating in IWD and Women's History Month is leading more consumers to take a deeper look into how brands operate, the values they have, and ultimately, whether they truly support women within the organization. Alex Fitzgerald, Manager in Kearney's Consumer practice, believes the motivation for this closer analysis is the distinction between being "pro-female" and "gender-progressive."
Pro-female, empowerment marketing is influencing the greatest female purchase behavior, according to Kearney research: 39% try to only buy from these companies, or it is a primary purchase consideration. Conversely, gender-progressive marketing, such as showing a man doing the dishes or taking care of the children, was rated as a least-important indicator for purchase decisions.
"Women value brands that are visibly pro-female more than gender-progressive," Fitzgerald said in an interview with Retail TouchPoints. "Pro-female goes beyond the marketing campaign. For the most passionate women that only try to buy from certain companies, it's about female leadership within the organization."

"International Women's Day is the platform for companies to authentically share their commitment to female advancement with consumers. To achieve this authenticity, companies must transform their entire organization — from R&D and product innovation to the board room — to support the advancement of women and cater to the unique needs of females in the category."

Alex Fitzgerald, Manager, Consumer Practice, Kearney

The Kearney survey also found a correlation between women's perceptions of female-run companies, and their ability to offer female employees more professional opportunities and advance women's issues within society. Most of all, they believe female-run companies are more equipped to offer products and services that better meet their needs.
However, another critical reason why consumers are paying closer attention to how organizations operate and actually support women's issues is evidence of hypocrisy.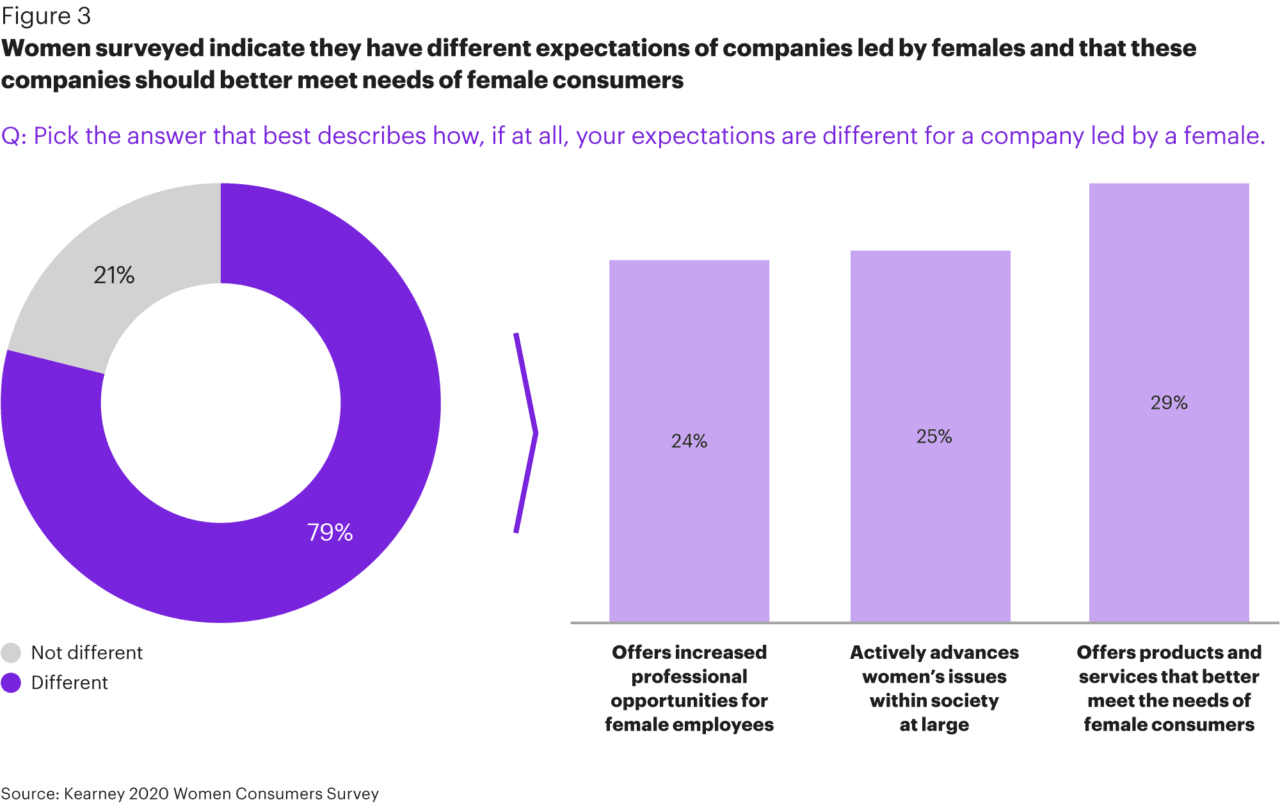 "Marketing and branding is a promise made," Martell said. "Pinkwashing and brand pandering refers to the disconnect between promise and reality. Marketers are saying what consumers want to hear, in order to gain trust. That is textbook pandering. That promise is broken."

Martell points to Dove as a brand that has seen backlash for poor execution. While its "Campaign for Real Beauty" was voted the number-one campaign of the 21st century by Advertising Age, its parent company also has released a campaign called the "AXE Effect" that reeked of sexism. Additionally, while a 2017 commercial from Dove promoting its new body wash bottle shapes touted "love your body" messaging, it sparked accusations of racism. This hypocrisy is all too common in marketing, according to Martell, and consumers are taking note.

Research reaffirms that more consumers want to connect with brands that align with their core values and beliefs. It also shows that more female consumers are willing to be loyal to brands that support the betterment of women. However, in order for brands to truly make an impact during IWD, they must think beyond the holiday and one-time actions.

Additionally, brands' claims of sincerity and authenticity need to be validated with actual respect, and that can only be shown through actions. "Create proof points behind your claims," said Martell. "Validate your femvertising with real action. Give consumers something tangible to celebrate you for beyond the positive campaign message itself. Because profiting off the women's rights movement while embodying the opposite is not clever, it's exploitation."