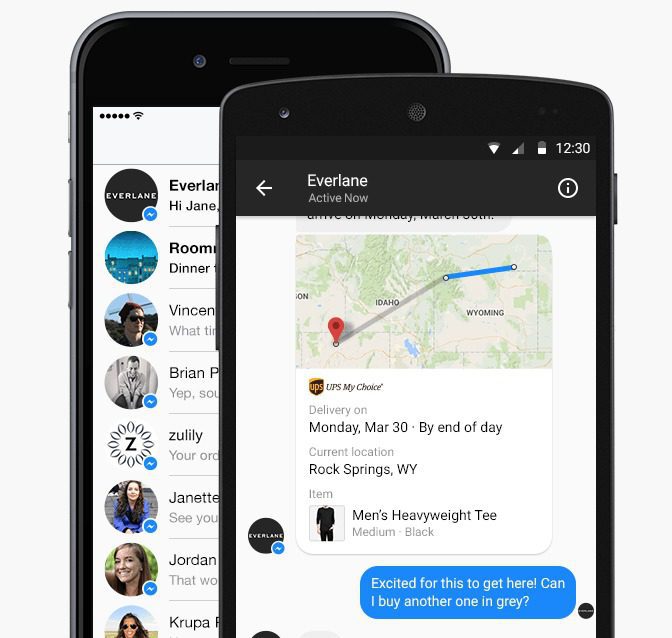 Many consumers visit social networks to learn about a brand, its products and even ask questions. According to the 2014 State Of Multichannel Customer Service report from Parature, 35% of consumers said they have tapped social networks to ask a service question. Moreover, 51% of this group said their experience gave them a more positive view of a brand.
Facebook is trying to make the social customer service experience more interactive and interpersonal with its new Businesses on Messenger service. Announced during the annual F8 developer conference, the solution is designed to eliminate the need to engage with brands and retailers on the phone, according to Facebook Founder Mark Zuckerberg. The social giant will provide a new suite of features that will allow businesses to provide more personalized digital service to customers.
"I actually don't know anyone who likes calling businesses," Zuckerberg said during his presentation. "It's just not fast or convenient and it definitely doesn't feel like the future."
Zulily and Everlane are the first retailers to embrace Businesses on Messenger as part of their customer service strategies. Team members will be equipped to chat with customers in real time as well as deliver order information such as tracking information and digital receipts.
"The core of our business is about delivering an exceptional experience for our customers every single day," said Dave Atchison, SVP of Marketing at Zulily. "We love innovation and communication platforms that facilitate conversations between our individual team members and our customers."
Five years since its inception, Zulily strives to ignite and further develop emotional connections with customers and brand advocates, Atchison added. "We're excited to be one of the first retailers to partner with Facebook to utilize Messenger as a platform to communicate with our customers especially since the majority of our North American orders are placed on mobile."
Facebook also is opening up Messenger to developers so they can integrate their own apps into the platform, making it easier for service reps to share videos, photos and other types of media more easily. To get more developers on board with Messenger, Facebook has released a new software development kit for the tool.
Accelerating The Speed Of Response
Facebook powered Businesses on Messenger offering by partnering with Zendesk, a customer service solution provider. The tool was developed through integration with Zopim, a chat product from Zendesk.
"Over the past month or so, our team has worked side-by-side with Facebook's engineering team, as well as our partners Zulily and Everlane, to provide scalable and responsive customer service to more than 600 million people worldwide who use Messenger," said Jason Smale, Global Product Strategy Director at Zendesk. "This was an amazing opportunity to help brands connect with their customers on such a popular and widely used platform. This integration demonstrates our belief in making sure we bring customer service to every channel where customers are communicating."
Together, Facebook and Zendesk are collaborating to "empower businesses to communicate to customers the same way customers communicate with friends," Smale said in an interview with Retail TouchPoints. "Customer service expectations are rising year over year and consumers are looking to brands to create a seamless experience on the social channels they are using."
Not only does the Businesses on Messenger allow brands and retailers to be present on Facebook in a more strategic way, it also empowers service agents to respond in near real time. Previously, consumers would have to leave a Facebook comment, wait for a response and share additional feedback through the site or via email or phone. Now, representatives can improve response times and overall satisfaction.
"One of the challenges to providing social care is that if you don't have a strategy implemented, tweets and timeline posts can languish overnight, driving a brands response time from just a few hours to 10 or 20 hours later," Smale said. "Now, with Businesses on Messenger, customers can receive order information and interact with the companies through Messenger, while retailers and businesses can engage with customers and manage support requests from Messenger in a single customer service platform, through Zendesk's Zopim integration."
Customer service teams can manage multiple Messenger chats at once, Smale noted, as well as collaborate with one another to solve a customer's issue, and access chat history to easily continue conversations.
The Zopim integration for Messenger will roll out in the coming months. During the initial rollout, Zendesk will collaborate closely with Facebook, Zulily and Everlande to refine the product.