Lori Gatto, VP of Marketing, TomboyX
More than 300 retail executives gathered in New York City on September 18 for the Bluecore Summit, to share insights via presentations, roundtables and breakout conversations. Attendees represented a variety of retailers and direct-to-consumer brands, including Nordstrom Rack, BCBGMAXAZRIA, Express, Hammacher Schlemmer and many more.
One of the high-level takeaways from the summit was that retailers need to do a better job executing their personalization strategies, noted Shar VanBoskirk, VP, Principal Analyst at Forrester. Successful personalization strategies deliver:
• 62% better customer loyalty;
• 55% better cross-sell/upsell opportunities;
• 50% more relevant product recommendations; and
• 41% better ROMS (Return on Marketing Spend).
Without relevant personalization strategies in place, retailers will see:
• 32% customer attrition;
• 31% wasted marketing spend;
• 30% wasted product inventory; and
• 28% loss of competitive advantage.
VanBoskirk outlined the macro trends driving today's retail experiences, focusing on recent Forrester research commissioned by Bluecore. Additionally, Shutterfly President Jim Hilt (previously at Express and Hibbett Sports) discussed prioritizing strategies for better outcomes.
In addition to high-level perspectives on business practices, leadership and consumer challenges, the Bluecore Summit specifically focused on email marketing strategies, the core of Bluecore's offerings. Retail execs from Jockey, BCBGMAXAZRIA and TomboyX provided case study examples and high-level recommendations for improving personalization and overall business results with better email marketing solutions.
'Ruthless Prioritization' Drives Better Execution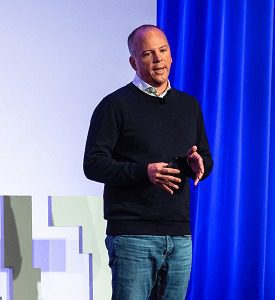 When Hilt joined Shutterfly in March 2019, he brought a hyper-focus on "cutting out the work that isn't going to make enough of a difference" — his definition of "Ruthless Prioritization."
In one previous quarter at Shutterfly, Hilt explained, the company conducted 123 tests but ended up implementing just two. Hilt asked: "How many made a difference?" and the answer was "Somewhere around 12." Then he asked, "How many were sustainable enough to implement?" and the answer was "Two."
The example was not to call out Shutterfly as an outlier, Hilt explained: "This is not unlike most companies. We reward A/B testing but rarely have the roadmap to put that into implementation."
To mitigate this challenge, he suggested that company leaders create level one, two and three priorities. "This will enable bringing the brand to life in a clear and focused way; creating experiences that create real connections; and investing in technology that will deliver value and ROI," said Hilt, adding "People will feel more rewarded in the work they do every day."
The Tale Of Two Retails
During her presentation, Forrester's VanBoskirk told the "Tale Of Two Retails," explaining that it's both the best and the worst time for the industry. "Retail has grown by $50 billion in the last five years, up 5% this summer, but at the same time more and more stores are closing."
VanBoskirk explained that the availability of low-cost technology is changing the way people try out new experiences: "The ability to try something new without a cost is making them hyper adoptive," she noted. In response, businesses must move forward with digital disruption, leveraging technology to create new business models.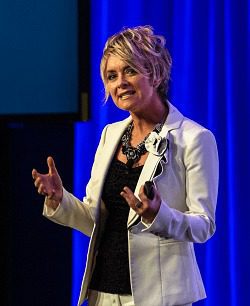 The bottom line (which should be no surprise to retailers) is: "The customer must be at the center of the entire operating model," said VanBoskirk. "Yet customer experience scores haven't improved in three years. Businesses' efforts are out of sync with customer expectations."
In a study collecting responses from 176 marketing technology decision-makers (conducted by Forrester, commissioned by Bluecore), 81% said omnichannel experiences are "very important" or "important" for business success, and 76% said the same about personalization. "But only a handful is good at either one," VanBoskirk noted. In fact, just 12% of consumers believe retailers are good or effective at delivering personalized experiences.
How Advanced Email Strategies Can Improve Personalization
Email marketing is a critical element of today's personalization strategies. In a 2018 Adobe report, at least 50% of consumers said email is their preferred communication channel with brands. The roles email plays for consumers during the purchase process include:
• 37%: Giving me additional incentives to purchase;
• 27%: Making me aware of a brand I wasn't familiar with;
• 19%: Reminding me of a purchase I need to make; and
• 17%: Helping me select between products I'm considering.
Retailers and brands are seeing success from improving their email marketing strategies. Examples shared at the Bluecore Summit include:
TomboyX used Bluecore to launch Lifestyle and Triggered emails, generating a 75% increase in cart size and a 15% click-through rate, according to Lori Gatto, VP of Marketing; and
BCBGMAXAZRIA reported a 20% increase in average order value (AOV) with sophisticated segmentation, and a 32% increase in AOV with journey building.
Don't Abandon Batch-And-Blasts
While it's undoubtedly vital to improve personalization efforts, more traditional group communications are still relevant. During a roundtable discussion following a presentation by BCBGMAXAZRIA Manager of Marketing Jennifer Chiang, executives from Nordstrom Rack and other brands asserted that, in addition to specifically targeted and personalized email campaigns, the "batch-and-blast" approach is still relevant and necessary. By sending some emails to larger groups of customers, the brands can appease those suppliers that expect promotional efforts for their products. Additionally, the execs noted, batch-and-blasts still do deliver valuable revenue results.