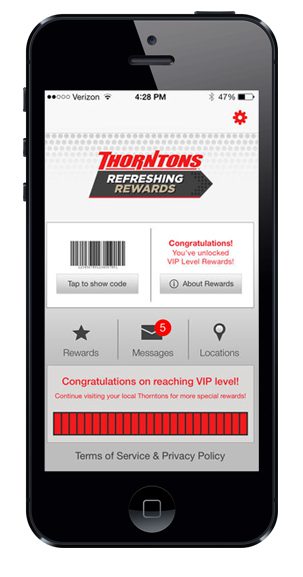 Loyalty and rewards programs have been mainstays in the retail marketing mix for decades. But with the rise of mobile devices, some industry players are questioning the effectiveness of plastic cards and general offers and coupons.
But gasoline and convenience store chain Thorntons is turning the traditional rewards program model on its head by partnering with Paytronix Systems, which provides rewards program solutions to restaurants and retailers.
Since introducing the Refreshing Rewards program in March 2014, Thorntons has met and exceeded registration goals. Response has been so positive, in fact, that the retailer is aiming to have one million customers signed up by the end of Q1 2015. By extending Refreshing Rewards to all 180 locations, the retailer also is generating one additional visit per member per month.
At the time of adoption, Thortons had the primary goals of "quickly engaging with our customers, increasing both visits and the number of transactions per visit, and increasing gross profits," said Jeff Keune, CMO of Thorntons. "We also wanted stronger insights into our customers' buying habits, and be able to move them in and out with a bigger basket ring per customer."
Developed with the Paytronix Rules and Wallets engine, the Thorntons Refreshing Rewards program segments registered customers based on how often they visit a store or purchase gas. Thorntons can then deliver varying levels of rewards based on guest visit, spending and purchase behavior.
A Tiered Approach To Rewards
To amplify engagement and increase purchase frequency, the rewards program features three distinct levels: Welcome, Premium and VIP. Paytronix technology identifies customers with high potential value and nurtures them to boost conversions. With in-depth data highlighting customer buying patterns and preferences, Refreshing Rewards program managers can release targeted offers and promotions.
"At the Welcome Level, we give members a 10-cents-per-gallon discount on gas for the first 30 days," Keune explained. "This is the big hook that captures their attention and gets them to sign up. They also get personalized perks based on the things they purchase the most, frequent purchase rewards and automatic 'sweepstakes' entries."

After 10 visits, Thorntons moves Refreshing Rewards members up to the Premium Level, they receive all Welcome Level perks as well as 10-cents-per-gallon discounts on their birthdays, and email receipts, Keune explained. "After 25 visits, members automatically move up to the VIP Level where we add on personalized VIP graphics, a 24-hour low-fuel-price guarantee at the purchase location and three-cents-per-gallon savings on every fill."
The Refreshing Rewards program kicked off with a marketing plan in Lexington, Kentucky and Nashville, Tennessee.
"We used a 10-cent discount on each gallon of fuel to get customers to register for the program," Keune said. "Our radio and out-of-home campaigns centered on the idea that Refreshing Rewards would be a valuable savings opportunity."
Thorntons uses the web site and Refreshing Rewards mobile app to bring ease-of-use and personalized benefits to consumers. The retailer also educates consumers on the program benefits by using social media and digital advertising techniques and a detailed promotional calendar.
Moving forward, Thorntons is working to develop campaigns that target members on a specific day and time to encourage extra purchases. The retailer will continue to share rewards program data with brand partners to determine the effectiveness of promotional offers and ensure in-demand products are available in all locations.